'Been a nightmare:' Karen Spencer's disappearance haunts family members, investigators 31 years later
The Reading teenager is still missing after vanishing without a trace along I-275 in 1989
Updated: Jan. 18, 2021 at 9:33 PM EST
CLERMONT COUNTY, Ohio (FOX19) - For more than three decades, the disappearance of a Reading teenager has remained an unsolved mystery, but even as time ticks by, investigators and relatives are not giving up.
During the overnight hours on Dec. 29, 1989, and Dec. 30, 1989, Karen Spencer and her then sister-in-law, Christy, were in a vehicle together driving on I-275 in Clermont County.
Investigators say Karen had been staying at Christy's apartment in Miami Township and that the pair had been arguing that day. At some point, they pulled onto the side of the interstate, and Karen got out of the car.
"Whether she was asked to get out of the car, whether she wanted out of the car, that's debatable, but basically, she got out of the vehicle on 275 heading toward 71 between Wards Corner and Loveland Madeira, and [that's the] last we've seen or heard of her," Jim Campbell, one of Karen's brothers, said.
Witnesses came forward, police said, claiming they had seen Karen walking along the highway overnight.
Family members, including Karen's parents Richard and Diane, and her six siblings, searched far and wide for days but found nothing.
"We walked, the family did, and other people, walked both sides of the expressway, all the way from Milford to 71," Richard said.
At the time, Karen was a high-school senior. Her relatives said she had a steady job and was looking forward to the future, as her 18th birthday was only weeks away. She had plans to move to Florida with a relative.
"Just energetic, just light-up-a-room, just a typical little sister," Campbell said. "There was nobody like her. In my eyes, there was nobody like her."
Karen's loved ones say there has always been a small part of them clinging to the idea that Karen may still be alive. Age progression photos have been created over the years to paint a picture of what Karen may look like if she is out there somewhere.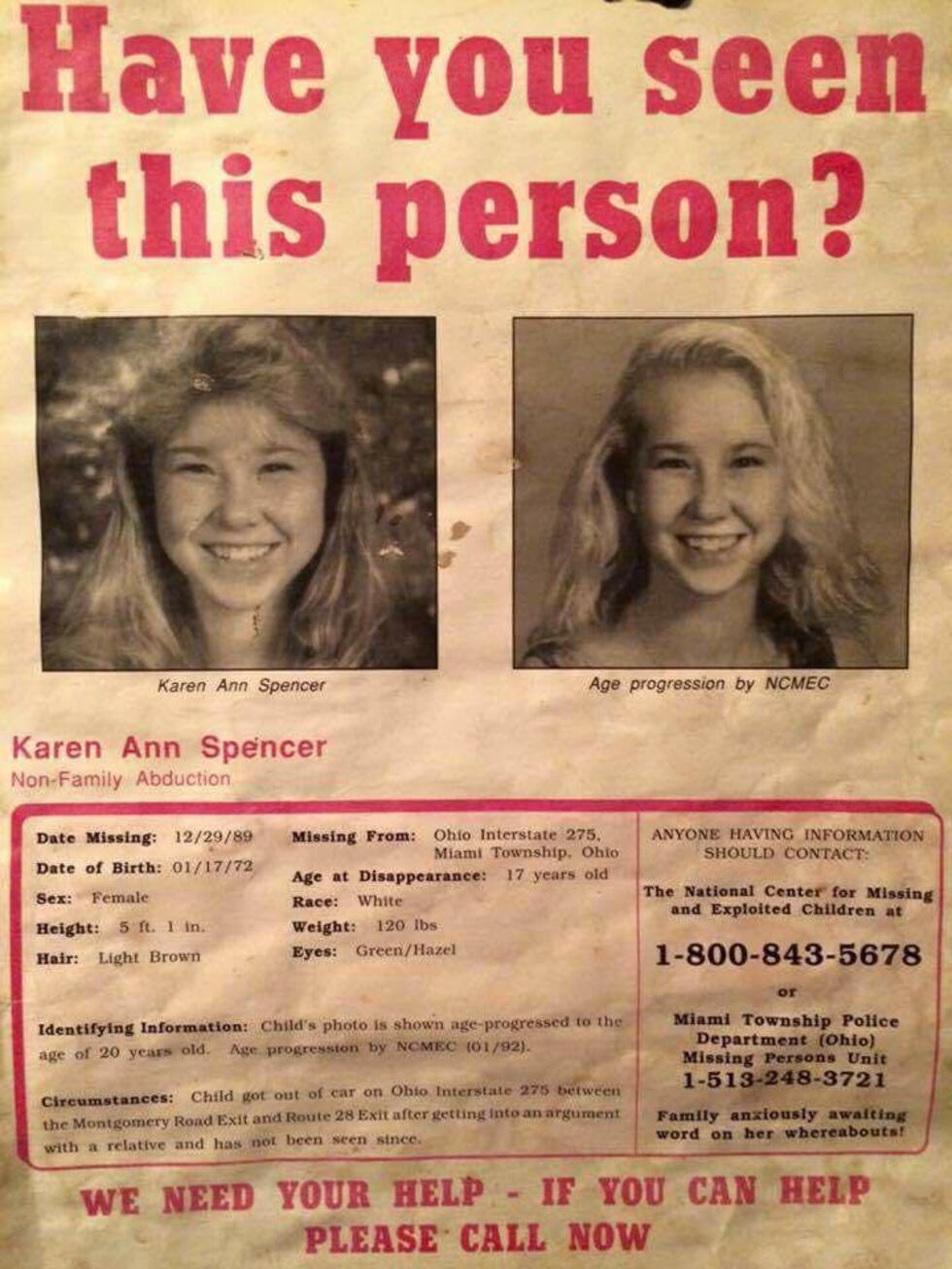 However, investigators, like Miami Township Lt. Greg Jenkins, believe the facts point to something more sinister.
"There was no indication at that time that there was foul play involved, but now the length of time has went by, it's obvious that she's deceased," Jenkins said. "We have conducted extensive checks with every person with that name across the United States and have not been able to find anybody that matches Karen."
Jenkins says there have been several different suspects over the years. A man in a red vehicle claimed he had stopped and offered to help Karen when he saw her walking along the highway, but said had Karen turned him down. His story has been heavily scrutinized by the public and police alike.
"That subject has been interviewed extensively. There are discrepancies in both sides of the story, but at this point, there's been no evidence that would indicate that he's responsible for Karen's disappearance," Jenkins said.
Prison inmates, police say, have taken responsibility for killing Karen, but all of them turned out to be false confessions.
Although detectives have Karen's DNA, they admit that it is difficult to narrow down details of her disappearance without more physical evidence.
"Through the years, we found that there were a lot of serial killers that were perusing the interstates in the southern parts of Ohio at that time," Jenkins said. "So, it could have been anything. It could have been anybody."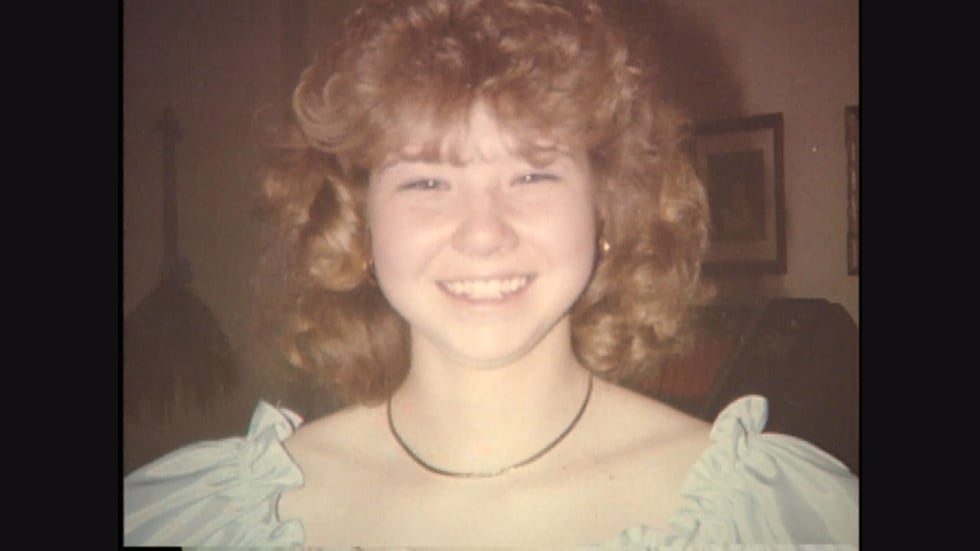 In 2000, investigators got what initially felt like a big break in the case. A man called the wrong number and left a voicemail that was intended for Karen's family.
The message said: "I'm assuming this is the parents of Karen Spencer, that girl that disappeared back in 1990. I know something about this, and I'd like to talk with you all about this. Her body can be located near Renfro Valley, Kentucky."
Sadly, the tip was another fake, and the caller was arrested.
Over the years, police have looked for Karen in many areas, including Lake Isabella. Now, even though the case is considered active, detectives said they are searching for something new.
"We just really need that one break. We need something. We need it more not because we're looking to prosecute somebody, but because that family needs closure," Jenkins said. "The Spencers need to know what happened to Karen."
More than three decades of waiting and wondering has taken a toll on Karen's relatives.
"Make no mistake – there's a person out there walking around who killed our sister 31 years ago," Campbell said. "They say time heals all wounds, and I guess to a certain extent it does, but there's always those reminders. I still live in Milford, and I come across that 275 bridge over in Loveland probably 300 times a year to and from work. You can't help but think about her at that point."
Somehow, Karen's family members have found the strength to replace the hate in their hearts with understanding. Campbell says it is because of their faith and because of their never-ending love for Karen.
"At this point in my life, you know, all I want to do is get closure, and I can forgive them. I don't even have to think hard about that. Now at one time, I couldn't have done that. I could do that now," Richard said.
Karen's relatives say they have parted ways with Christy, Karen's sister-in-law at the time of her disappearance. They explain tensions were high after Karen's disappeared since Christy is believed to be one of the last people who saw Karen alive.
FOX19 NOW reached out to Christy to try to talk with her about what she remembers, but she has not agreed to an interview or shared any information so far.
Anyone with information on Karen's case is urged to call Miami Township Police at 513-248-3721 or anonymously call Crime Stoppers at 513-352-3040.
See a spelling or grammar error in our story? Click here to report it. Please include title of story.
Copyright 2021 WXIX. All rights reserved.