2 more Ohioans charged in violent U.S. Capitol protest
One of the men allegedly tried to make off with stolen government property even after being stopped by federal agents.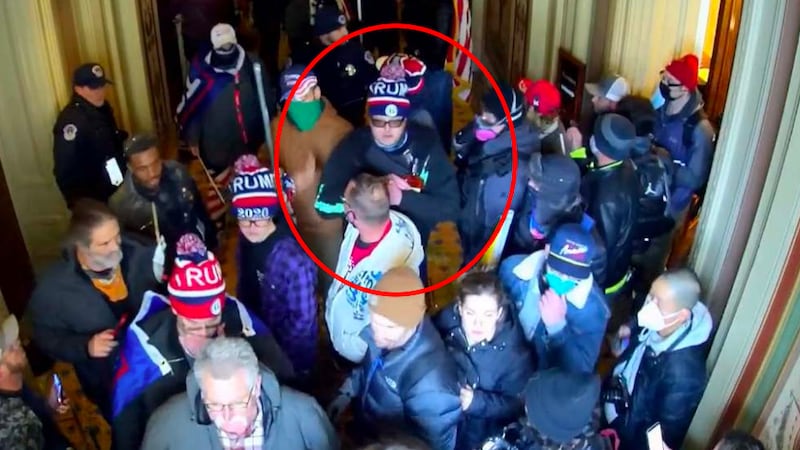 Updated: Jan. 25, 2021 at 8:06 PM EST
CINCINNATI (FOX19) - Two more Ohioans have been charged in connection with the violent U.S. Capitol protests on Jan. 6 in which five people, including a Capitol Police officer, died.
The first set of charges, including conspiracy charges, were announced against two Ohio militia members last week.
Robert Lyon, 27, and Dustin Thompson, 36, both of the Columbus area, were charged Friday in the U.S. District Court for the District of Colmbia.
An FBI investigation found Lyon and Thompson both entered the Capitol building during the protest and allegedly made off with a coat rack and a bottle of bourbon.
U.S. Capitol Police special agents first confronted the men around 6 p.m. near the end of the protest. The pair were waiting for an Uber. USCP agents told them they couldn't wait in the area, which was restricted. Then Thompson, with the agents watching, allegedly tried to take the coat rack as he was leaving. The agents told him to put it down, which he did before running away, according to an FBI affidavit.
Lyon remained. A search of his bag produced marijuana, two pipes and an open bottle of bourbon, the affidavit says.
Days later, FBI agents reviewed Lyon's phone data, messages and camera photos, which allowed them to determine Thompson's identity and tag the pair for having stolen the coat rack and bourbon.
Initially Lyon told FBI agents he had not entered the Capitol despite a message from his phone to Thompson timestamped during the protest saying, "We need to get the [expletive] out with this trophy,' referring to the coat rack, according to the affidavit.
Surveillance video stills reproduced in the affidavit appear to show Thompson enter the building alone at first, take the bourbon, then return minutes later with Lyon in tow. They enter a room, then exit with Thompson holding the coat rack.
The pair are charged with knowingly entering or remaining in any restricted building or grounds without lawful authority and violent entry and disorderly conduct on Capitol grounds.
Thompson is also charged with theft of government property.
See a spelling or grammar error in our story? Click here to report it. Please include title of story.
Copyright 2021 WXIX. All rights reserved.