Brent Spence Bridge project could get funding boost from Biden's infrastructure bill
The bridge carries three percent of the country's annual GNP, but it's a congestion nightmare.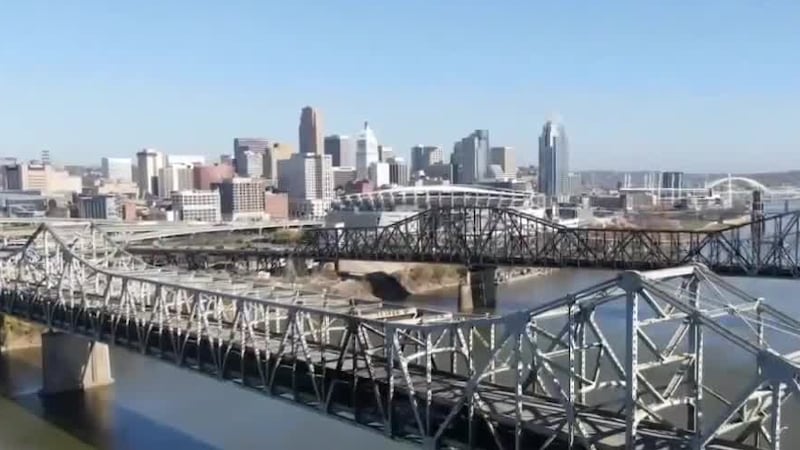 Updated: Mar. 31, 2021 at 6:15 PM EDT
CINCINNATI (FOX19) - The Brent Spence Bridge project could receive a significant injection of federal funds from the Biden Administration's $2 trillion infrastructure bill.
President Joe Biden unveiled the American Jobs Plan Wednesday in Pittsburgh, touting investments in the country's beleaguered roads, bridges, ports, airports and transit systems.
Among an array of provisions, the bill promises to fix the "ten most economically signifiant bridges in the country in need of reconstruction," according to the White House summary.
That could include a $2.5 billion revamp of the Brent Spence Bridge corridor, which would return the bridge to its original lane striping and throughput while adding a second bridge beside it.
>>Biden announces huge infrastructure plan to 'win the future'
The bridge is a vital component of our national highway system and one of its busiest by freight volume, carrying three percent of the nation's annual gross national product, according to the Northern Kentucky Chamber.
Originally designed to carry 85,000 vehicles per day, the bridge carries about 163,000 at present, earning it an ODOT designation of functionally obsolete.
It remains structurally sound, but it's undoubtedly a bottleneck. Recently the American Transportation Research Institute ranked the Brent Spence Bridges second among the country's most congested bridges.
A fiery crash at the end of 2020 shut down the bridge for months, drawing attention to its importance as a freight thoroughfare. The crash, as well as anticipation surrounding Biden's infrastructure bill, pushed regional and national chambers of commerce to plead for action.
"This Brent Spence Bridge cog in the artery, and it is a daily impact," Jill Meyer with the Cincinnati Regional Chamber said in late February. "It is not even limited to just the Cincinnati metro area. From Michigan down to Florida, [we] hear from chambers along that corridor saying, 'When are you going to fix this? It is impacting businesses here as well.'"
Whether the Biden Administration considers the Brent Spence Bridge among those ten "in need of reconstruction" remains to be seen, if only on the technical basis that most of the project involves constructing an entirely new bridge.
Senate Minority Leader Mitch McConnell would be surprised if wasn't included, according to our media partners at the Enquirer.
"If there is any project in America that is eligible, this would be it," McConnell said on Wednesday, adding he does not support the current bill. "And somewhere in the bowels of this multi-trillion dollar proposal that the president is going to offer today, there's hopefully a solution."
Ky. Gov. Andy Beshear has voiced support for the bridge's inclusion. The governor spoke to FOX19 NOW earlier this month after moderating a panel with other governors and U.S. Secretary of Transportation Pete Buttigieg.
"I mentioned that if there is a large transportation package moving through Congress, that's certainly a place the Brent Spence should be considered for," Beshear said. "[Buttigieg] was certainly aware of the project. He did mention the importance of it. It's good to know it is top of mind as he is coming into this new job."
The governor noted the project requires "significant buy-in" and "substantial dollars" from the federal government.
>> Covington mayor, commissioners decry 'fatally flawed' Brent Spence Bridge proposal
Progress is happening slowly on initial phases in Ohio. ODOT has committed $130 in state TRAC grants for approach work in Ohio. The most recent grant application shows property acquisition and utility relocation is underway.
Indeed, Cincinnati City Council has approved two property transfers in Queensgate to ODOT since 2019 anticipating the project. Detailed design work is scheduled to begin later this year.
The most controversial payment option for the project would use tolls, which Ohio leaders have historically supported while their Kentucky counterparts have not.
Kentucky legislators may have learned a harsh lesson now that a toll-based bridge corridor project in Louisville, completed in 2016, faces long-term financial strain due to fewer than anticipated users.
A bill introduced to the Kentucky General Assembly in February by a Florence state representative would increase the gas tax from 26 to 34 cents per gallon, though the bill does not earmark the funds for a specific project.
See a spelling or grammar error in our story? Click here to report it. Please include title of story.
Copyright 2021 WXIX. All rights reserved.