Cincinnati City Councilman Wendell Young indicted
Updated: Apr. 15, 2021 at 2:33 PM EDT
CINCINNATI (FOX19 - For the fourth time in just over a year, a member of Cincinnati City Council is charged with a crime committed in connection with his elected office.
Councilman Wendell Young was indicted Thursday by a Hamilton County grand jury on a felony charge of tampering with records, court records show.
If convicted, Young, 75, of North Avondale, faces a maximum punishment of three years in prison.
"At some point between January 3, 2018, and October 16, 2018, Young knowingly and with the purpose to defraud, destroyed text messages that belonged to a government entity," Special Prosecutor Patrick J. Hanley said in a news release.
"The grand jury has decided that probable cause exists that Councilman Young has committed a violation of the law, tampering with records. It is my intention of taking that charge into court and establishing he is guilty of that offense beyond a reasonable doubt."
Hanley has been investigating whether to criminally charge Young and four current and/or now-former Cincinnati City Council members, Tamaya Dennard, P.G. Sittenfeld, Chris Seelbach and Greg Landsman, over text messages they exchanged secretly deciding public city business in 2018.
"I reviewed the indictment and we intend to defend it vigorously," said Young's lawyer, Scott Croswell.
Young received a summons to go to court April 23, according to Croswell.
Representing the five council members, the city admitted in March 2019 that the elected officials violated Ohio's Open Meetings Act. The city paid a $101,000 settlement and released thousands of text messages.
The council members texted they wanted to keep then-City Manager Harry Black after Mayor John Cranley announced he asked him to resign and the issue erupted into a public City Hall feud.
Black quit in April 2018, literally moments before a special city council meeting convened to terminate him.
Earlier Thursday, Young's lawyer told FOX19 NOW he anticipated charges against Young.
"After talking to Pat yesterday, I anticipate charges to be filed today but you would have to confirm that with him," Scott Croswell said. "You can quote me, but Wendell will not be giving interviews."
Croswell then added: "I assume that this will come to a conclusion today one way or the other. I don't even know that he is going to file charges. That's all I know.
"I don't think it's political. There are political aspects of it, but I don't believe the prosecutor is acting politically. Obviously, politics surround this whole thing, but I don't think the prosecutor is acting politically. I don't believe my client has committed a criminal offense, but that's why we have trials."
This is the fourth time in just over a year that a member of council is facing criminal charges.
Councilman Jeff Pastor, Sittenfeld and Dennard were all charged in separate bribery cases, starting in February 2020 with Dennard's arrest.
Sittenfeld and Pastor were arrested just over a week apart from each other in November.
Pastor and Dennard were indicted on federal charges including bribery for allegedly soliciting money in exchange for favorable development votes.
Sittenfeld was indicted on similar charges with federal prosecutors accusing him of taking PAC contributions in exchange for favorable votes.
Dennard resigned in March, pleaded guilty to one count of honest services wire fraud and was sentenced late last year to 18 months in federal prison. Her sentence has been delayed until March over the coronavirus pandemic.
Federal officials, who launched an investigation in 2018, announced late last year there is a "culture of corruption" in the city.
Sittenfeld and Pastor have pleaded not guilty and are free on their own recognizance.
Both are now suspended from council, and a Hamilton County judge has appointed temporary replacements.
Young was one of the five council members known as the "Gang of Five" after they were named in a 2018 lawsuit by an anti-tax activist.
The lawsuit described the Democrats as "a cabal of five rogue members" of council holding illegal, secret meetings via email and text messages to discuss Mayor John Cranley asking the then-City Manager Harry Black to resign in violation of Ohio's Sunshine Law and the city charter.
The suit sought their private text messages and emails to prove they were privately conducting publicly city business in violation of state law.
In all, the Gang of Five situation cost the city $176,000 including the settlement money and outside legal costs, city records show. Thousands of text messages also were released.
City taxpayers also will foot the bill now for this special prosecution.
Hanley is paid $250 an hour to work as a part-time special prosecutor.
The cost of his bill so far to taxpayers for this case was not immediately available Wednesday.
Hamilton County Common Pleas Court Judge Robert Ruehlman told the council members they should resign when they appeared in his courtroom the day he approved the lawsuit settlement in March 2019.
MORE: Judge: 'Gang of Five' city council members should resign | Gang of Five: Council's secret texts are out - and they're explosive | Council texts: Former mayor strategized with 'Gang of Five' | Five Cincinnati City Council members may face criminal prosecution over text messages | Gang of Five: 'Special master' finishes review of council texts, prosecutors dig in
The judge later considered but decided against a contempt of court charge for Young after Young deleted text messages off his cell phone that were evidence in the lawsuit.
Investigators with the Hamilton County Prosecutor's Office examined Young's at least twice and could not determine when he deleted the message, before or after a judge's order to retain them.
There's "not enough evidence to find him in contempt. I think it's important to just bring this all out. Important to explain to the public and press all of what happened," Ruehlman said during a hearing on the matter in May 2019.
"I'm not looking to throw him in jail...you work for the public, you don't work for yourself and you have a duty to serve the public. The people of the city can make their own decisions."
MORE | Council texts: Harry Black needs counseling, mayor 'flat out lied' | 'Amen! We're the new Gang of Five: Secret council text messages released ahead of hearing | Council texts: Former mayor strategized with 'Gang of Five' | Five Cincinnati City Council members may face criminal prosecution over text messages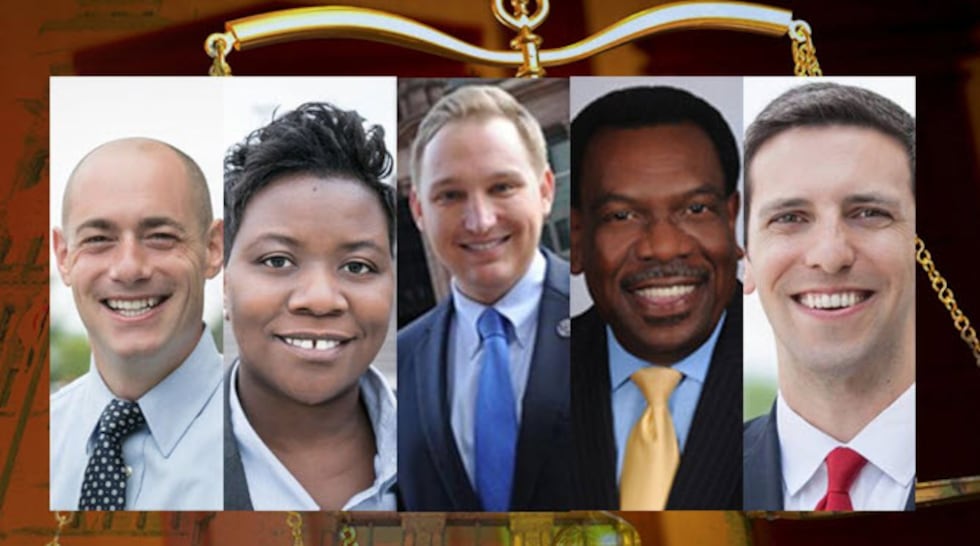 In September 2020, Hanley informed Hamilton County Prosecutor Joe Deters he wouldn't prosecute Cincinnati City Council's so-called "Gang of Five" on a misdemeanor charge of dereliction of duty that Ohio Auditor Keith Faber recommended over the texting scandal.
But, he wrote in his letter to Deters at the time, the investigation was continuing.
A Hamilton County judge appointed Hanley to handle the case in December 2019 after Faber's recommendation to avoid conflicts of interest with city and county prosecutors.
Young has been on city council nearly 11 years. He was appointed to Cincinnati City Council in June of 2010, filling the vacancy left by Councilmember Laketa Cole.
He has been elected three times since.
The lifelong city resident grew up in Avondale, where he attended Cincinnati Public Schools, graduating from Hughes High School in 1963, according to his biography on the city's website.
After graduation, he enlisted in the U.S. Air Force, serving until honorably discharged in January 1967. He returned home and joined the Cincinnati Police Department, where he rose to the rank of sergeant.
Copyright 2020 WXIX. All rights reserved.