Capacity limits increased at Kentucky stadiums and arenas
More than 400k vaccine doses are currently available, with 150k more due in Kentucky on Tuesday.
Updated: Apr. 19, 2021 at 3:37 PM EDT
FRANKFORT, Ky. (FOX19) - New guidance from the Kentucky Department of Public Health on Monday increases capacity limits at stadiums and arenas in Kentucky to 50 percent.
Only facilities with total capacities over 1,000 are affected by the new guidance, which Gov. Andy Beshear announced, along with supplemental documents for various industries, on Monday.
"They have done a very good job at ensuring everyone remains masked," Beshear said of how large venues have performed so far in the pandemic. "We have seen very little spread through them. In fact, we have seen some of the best mask adherence at them, so they'll go to 50 percent."
The governor continued: "We have fought really hard to get where we are – a much better place than in the fall and winter – allowing us to streamline some of our guidance./ I hope people are able to enjoy some of these capacity increases. We can do so safely if we continue to wear our masks."
>> Ovation Music Pavilion | Grand opening of new concert venue in Newport, KY postponed
Events with 1,000 or fewer occupants in a single space are limited to the lesser of 60 percent capacity or the maximum number of individuals that permits social distancing.
The altered capacity restrictions are part of a new, simplified Healthy at Work guidance issued for Kentucky businesses.
"I look forward to the day when we put COVID behind us and none of these requirements are necessary," KDPH Commissioner Dr. Steven Stack said. "The way we get there is for everyone to make the choice to get vaccinated. These vaccines are amazing tools to help us get our lives back."
>> Capacity Limits | Kentucky will lift most health orders at 2.5 million vaccinations: 'This is our exit strategy'
Previously Beshear placed a 2.5 million vaccination goal for lifting most of Kentucky's health orders, including all capacity limits on businesses.
Currently, 1,665,196 Kentuckians have gotten at least one vaccine dose.
That's 834,804 away from the 2.5 million goal but reflects half of all Kentucky adults aged 18 and over, according to Beshear.
The governor believes the number of administered first doses is low following a KDPH security update last week. "We hope to get caught up soon," he said.
He also reiterated his point of last week that Kentucky will see a fourth wave of COVID-19 cases if vaccinations do not increase.
>> Fourth Wave | Beshear urges vaccinations as dreaded 4th wave grows more likely
There are currently around 400,000 available vaccine doses in Kentucky ahead of the state receiving its weekly allocation of 150,000 doses on Tuesday.
Beshear showed a graph of Kentucky COVID-19 deaths by week in long-term care to demonstrate the effectiveness of the vaccine, whose rollout began just before the state's post-holiday case surge.
"Look at what happened," he said. "These are folks that the virus comes for, and the vaccine virtually eliminated deaths. These are miracles. They can protect you. They can get us through the pandemic."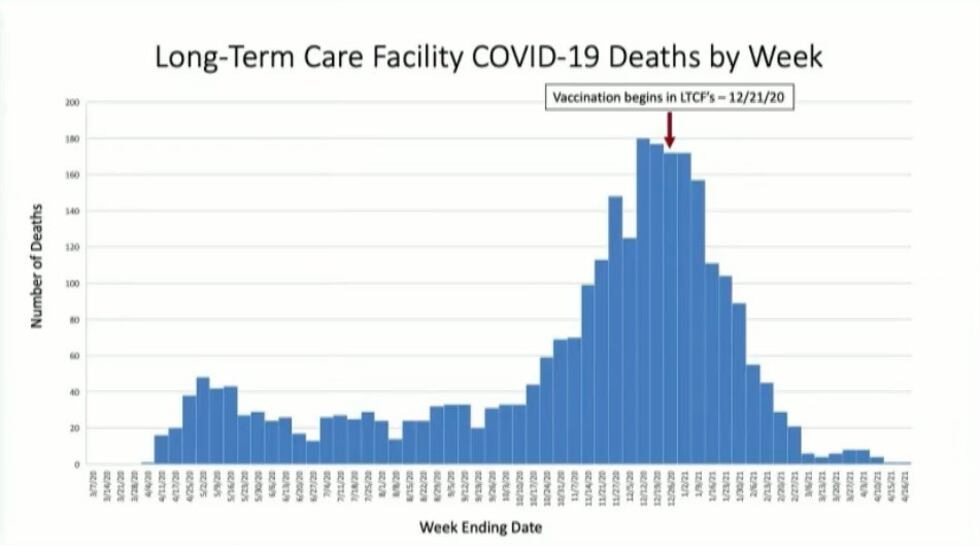 Kentucky recorded 231 newly confirmed cases of COVID-19 on Monday.
It also recorded 4 new virus-related deaths and added 5 new deaths from its ongoing COVID-19 mortality audit.
The current positivity rate is 3.46 percent.
See a spelling or grammar error in our story? Click here to report it. Please include title of story.
Copyright 2021 WXIX. All rights reserved.