Lawsuit: Former inmate alleges 'violent and racist' attack at Butler County Jail, part of 'systematic problem' there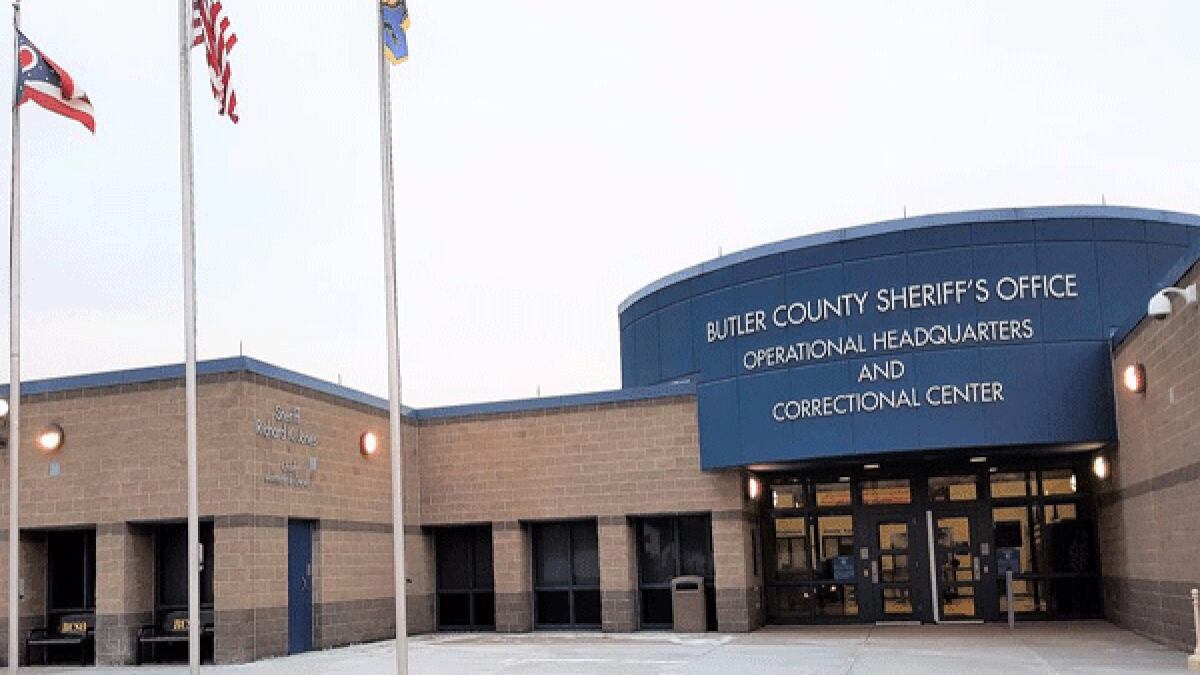 Published: Jun. 1, 2021 at 12:10 PM EDT
HAMILTON, Ohio (FOX19) - A former inmate at the Butler County Jail is accusing two correction officers of assault and battery, claiming in a federal lawsuit they broke his collarbone in a pattern of excessive force that is part of a "systematic problem" at the facility.
The civil rights action alleges Joel Y. Thurkill and Jeremiah C. Morgan subjected Mauricio Benty of Middletown to "a violent and racist attack" while he was detained at the jail in 2019.
The suit, which names Butler County and the two officers, also claims intentional race discrimination, aiding and abetting unlawful race-based discrimination and infliction of emotional distress.
The complaint notes counsel has received eight similar reports of excessive force against inmates at the county jail over the years.
"The Butler County Jail had a custom, policy, and practice governing their use of force on detainees, as demonstrated by the attack on Mr. Benty and similar attacks on numerous other detainees."
The lawsuit "seeks to hold Butler County and its leadership responsible for inadequate training and oversight of staff at Butler County Jail, and for adopting customs, policies, patterns, or practices leading to the brutalization of detainees, including Mr. Benty."
FOX19 NOW reached out to county officials for comment, including Sheriff Richard Jones, a spokeswoman for the Butler County Sheriff's Office, which runs the jail, and Butler County Administrator Judi Boyko.
We did not hear back.
Specifically, Benty claims the two guards tried to bash his head into a wall in May 2019, but it impacted his shoulder instead, breaking his collarbone in two places.
At the time, Benty was at the jail for pretrial detention from March or April 2019 until approximately July 23, 2019, court records state.
"While there, Mr. Benty was the victim of a brutal and unprovoked attack at the hands of two corrections officers and sustained a left shoulder fracture that will continue to cause him pain and limited mobility for the rest of his life. During the attack, a corrections officer threatened Mr. Benty 'I'll knock your gold teeth out, you f------ n-----,'" according to the suit.
When a jail nurse determined Benty's collarbone was broken, the corrections officers covered up and made false allegations about him, the suit states, and Benty's grievance with the jail went nowhere.
Benty's family members also called Butler County Jail staff to report the alleged attack.
He underwent surgery, during which a plate was inserted, but the jail didn't give him the pain medicine he was prescribed as a result, according to the suit.
Benty will have pain for life as a result of his injuries - and that pain will worsen as he ages, court records show. Since it affects a nerve, the pain has spread down to his abdomen and will spread down his leg in the future.
This will likely require regular medical intervention and physical therapy.
Before the injury, Benty earned income as a physical laborer, primarily in warehouses, according to his lawsuit. Now, he is now unable to do physical labor for the rest of his life, and, as a result, has lost substantial income as well as his livelihood.
He attended Miami University where he served as a senator and as a vice president of the student government before graduating with an Associate's Degree in Social Science with a minor in English Education in 2009, according to the lawsuit.
During college and after graduation, Mr. Benty co-founded and ran multiple community programs in Middletown for local youth to learn and compete at chess.
Further, the lawsuit alleges Butler County's "failure to adopt adequate practices to ensure the safe use of force on Mr. Benty and others is appalling and conforms with a disturbing pattern and practice of civil rights violations. Mr. Benty's counsel have received reports from eight other individuals who have shared that they were beaten by correctional officers in a similar matter while held at Butler County Jail, even though many of the individuals are afraid of facing retaliation for revealing what happened to them.
"All these beatings happened over the past several years. Most recently, an individual was beaten up for praying. It is a systemic problem at Butler County Jail."
Benty's suit cites as an example another federal lawsuit, one filed late last year against the Butler County Jail and the Butler County Board of Commissioners.
That suit alleges two Immigration and Customs Enforcement (ICE) detainees detainees were beaten by corrections officers.
"The Butler County Jail had a custom, policy, and practice governing their use of force on detainees, as demonstrated by the attack on Mr. Benty and similar attacks on numerous other detainees," the suit states.
The 2020 lawsuit was filed on behalf of Bayong Brown Bayong, a refugee from Cameroon, and Ahmed Adem, who was born in Somalia but has lived in the U.S. since he was a child.
Benty's lawsuit states: "For a specific and detailed example, see pending case Bayong, et al v. County of Butler of the State of Ohio, regarding a civil rights violation at Butler County Jail where correctional officers repeatedly assaulted and used racial slurs against Mr. Ahmed Adem and Mr. Bayong Brown Bayong."
"Defendants have repeatedly taken similar actions (and failed to take preventive action) that result in serious bodily injury and the risk of death to inmates and detainees.
"Defendants were and are well aware of systemic failings with regard to their use of excessive force at the Butler County Jail, having received reports concerning the above-referenced incidents and numerous other similar incidents detailing the use of excessive force at the jail."
In the suit filed about the jail last year, Bayong claimed his bottom teeth were knocked out after a corrections officer pushed him down a flight of stairs.
Adem claimed he was beaten by an officer after his cell mate requested medical help.
A jury trial in those suits is scheduled for Oct. 31, 2022 before U.S. District Court Judge Timothy Black, the latest court records show.
Lawyers on the case said at the time it was filed that it also was part of a series of racial slurs and physical assaults at the jail.
A key witness in the case who was planning to testify was deported shortly after the lawsuit was filed, according to the attorneys.
Mory Keita had lived in the U.S. since he was 3-years-old, court records state.
Human rights organizations and attorneys have received reports, via letter, phone or in person, from more than 12 immigrants detained at the jail "corroborating multiple incidents of physical and verbal abuse of ICE detainees," the complaint states.
More than 50 signed a letter detailing abuse, despite their fear of retaliation, according to the suit.
Attorneys for the county have since denied the allegations in court records and asked that the court throw the lawsuits out.
Last week, Sheriff Jones announced (ICE) detainees will no longer be accepted at the Butler County Jail and he gave the federal agency 60 days to remove them from the facility.
The sheriff's office has been in a contract with ICE and Homeland Security since around 2003. It allowed the sheriff's office to house immigrants while awaiting immigration hearings.
Sheriff Jones said last week he feared more ICE detainees will come through his jail and then be released into the community on a "technicality."
"With the crisis at the border getting worse, it concerns me that the feds will ship detainees to my facility, then release them to the streets of my community under some technicality," he said.
"Unlike the current administration, I'm still a firm believer that our government should strictly enforce the immigration laws, and I will continue to promote that stance at every opportunity."
See a spelling or grammar error in our story? Click here to report it. Please include title of story.
Copyright 2021 WXIX. All rights reserved.