'Let's shock the world': Charles Booker announces run for U.S. Senate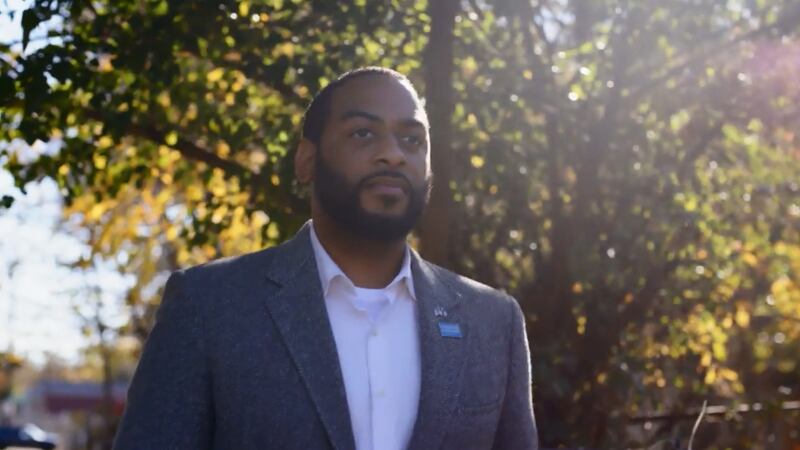 Published: Jul. 1, 2021 at 8:57 AM EDT
|
Updated: Jul. 1, 2021 at 7:06 PM EDT
LOUISVILLE, Ky. (WAVE) – Democrat Charles Booker announced Thursday he would launch another bid for U.S. Senate.
The long-expected campaign was met with cheers from hundreds of supporters at the Kentucky Center for African American Heritage where Booker promised to "change the narrative" and listen to the people of Kentucky.
"In our politics, the politicians, they tell us what we deserve, they play games while we're struggling, they dismiss our needs, they ignore us. So if I want to step into this space to fight for change but I can't do it without the people," he said.
Booker, a former state lawmaker, made a name for himself amid protests and advocacy work following the fatal police shooting of Breonna Taylor. He also rose to prominence when he narrowly lost the U.S. Senate Democratic primary in 2020 to Amy McGrath, who was later defeated by Sen. Mitch McConnell.
In April, Booker launches an exploratory committee to gauge support for another U.S. Senate bid. Booker said Thursday he received an outpouring of support for his candidacy.
During his announcement, Booker had harsh words for his likely competition in the general election, two-term incumbent Republican Sen. Rand Paul.
"Rand Paul thinks we are a joke," Booker said. "He mocks us. Whenever he opens his mouth, he is mocking us."
Paul told WAVE 3 News on Thursday he saw Booker's views as "outside of the mainstream."
In a statement, Republican Party of Kentucky Chairman Mac Brown called Booker radical:
"Charles Booker's extremist agenda has zero chance with Kentucky voters. He supports the radical socialist policies of D.C. Democrats like defunding the police, the Green New Deal and forcing taxpayers to pay for reparations. Kentuckians reject far-left ideas like these every chance they get, and Charles Booker's campaign for the U.S. Senate will be no different."
On Thursday, Booker called criticism billing him a "radical" distraction.
"I'm going to cause some good trouble, I'm going to speak up for you, I'm going to represent the people of Kentucky, from the hood to the holler and everywhere in between," he said.
Booker will face some competition in the Democratic primary, so far, educator Ruth Gao has publicly announced her candidacy.
A video posted to Booker's social media platforms early Thursday officially launched his campaign. The video said, "Let's make freedom ring. Real freedom, from the hood to the holler. We can start by taking our seat back from Rand Paul. I'm running. Are you with me? Let's shock the world."
Copyright 2021 WAVE 3 News. All rights reserved.