3 people, family dog dead in West Chester fire
Published: Jul. 13, 2021 at 4:51 AM EDT
|
Updated: Jul. 13, 2021 at 8:05 AM EDT
WEST CHESTER TOWNSHIP, Ohio (WXIX) - Three people and their dog are dead following a fire at a mobile home in West Chester Township early Tuesday, fire officials say.
A police officer on patrol saw a large amount of smoke pouring from the trailer on Erie Circle near Ohio 747 just before 1 a.m., according to West Chester Fire Chief Rick Prinz.
First responders found three residents inside and pulled them out.
All of the residents were given CPR while they were taken to hospitals in West Chester and Fairfield, but they were pronounced dead, Prinz said.
"We have information that potentially up to six people lived there, three that we rescued then three others that were elsewhere this evening for whatever reason. At work or visiting other family, I'm not sure, but potentially up to six people that lived there," Prinz said.
The dog was dead when firefighters found him.
A firefighter suffered heat exhaustion and is in the hospital, the chief said.
"He has some severe dehydration, which has actually affected the function of his kidneys," Chief Prinz explained. "So, he is being monitored at the hospital. We expect he will be released in 24 to 48 hours and make a full recovery."
The cause of the fire, which appears to have started in a back bedroom, remains under investigation, according to Prinz.
He said the back bedroom looks suspicious as a potential point of origin.
Chief Prinz says when firefighters arrived, they could not hear any smoke alarms going off. Just because they could not hear the alarms, does not mean they were not in working condition, he added.
The chief said the fire could have caused the smoke alarms to fail.
Officials with the State Fire Marshal's Office joined West Chester fire crews to assist the investigation.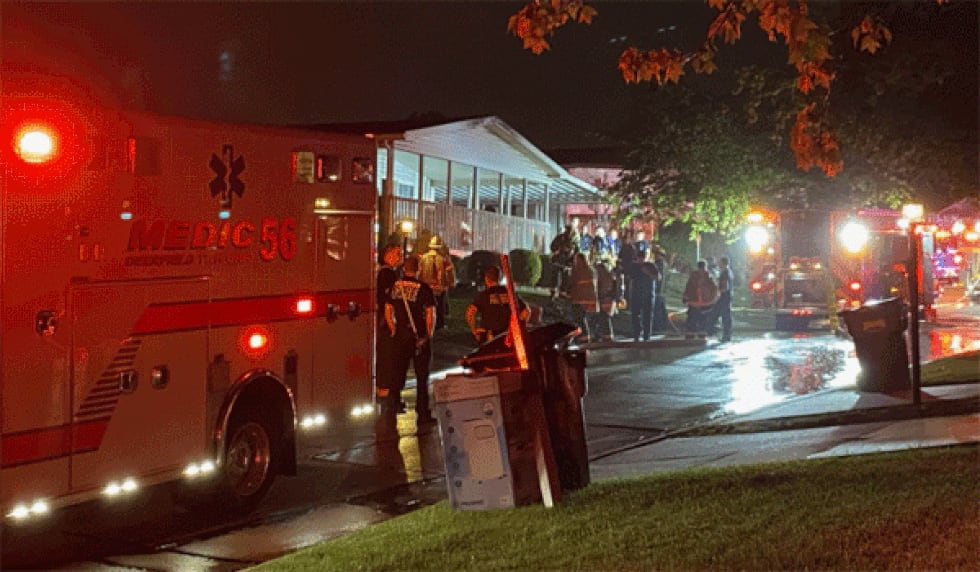 See a spelling or grammar error in our story? Please include the title when you click here to report it.
Copyright 2021 WXIX. All rights reserved.