Ballistic evidence, blood patterns take center stage in Pike County massacre trial
Published: Sep. 16, 2022 at 8:15 AM EDT
|
Updated: Sep. 16, 2022 at 10:55 AM EDT
CINCINNATI (WXIX) - A special agent with the Ohio Bureau of Criminal Investigation testified Friday in the Pike County massacre trial.
Special Agent Shane Hanshaw was the only witness to take the stand, testifying for the seven hours about ballistic evidence, blood patterns and shoe prints found in the trailer belonging to Chris Rhoden Sr., where his body and the body of Gary Rhoden were found.
MORE | FOX19′s live tweet thread on Friday's testimony | Pike County massacre: Complete trial coverage
The veteran investigator who first became a peace officer in 1990 is now a certified expert in criminal investigations, ballistics and bloodstain analysis. He joined BCI in 2005 from the Lawrence County Sheriff's Office, where he began his career.
Hanshaw is one of the many law enforcement officials who converged on the Rhoden family property off Union Hill Road on the morning of April 22, 20216. He was assigned to gather evidence at the trailer, one of three crime scenes that day.
He told jurors he saw bullet holes in the trailer wall and door frame but not in the door itself, leading him to believe the door was open when shots were fired.
Hanshaw explained how he carefully documented and photographed as much of the property as possible. He had a 3D scanner brought in to take images, measurements and elevations.
"What I want to do is paint a picture for the purposes of why we are here today," he told the jury. "I want to walk you through what I would have seen and show to you."
He showed them several photos he took of the layout of the property, showing several vehicles, a semi-truck, the trailers where the family lived, a chicken coop, and barn where dogs and other large livestock were kept.
He then showed patterns of spatter stains throughout the trailer, including on the ceiling. Blood evidence further indicates, according to Hanshaw, that at least one body was moved from the living room to the kitchen and then to the bedroom, where it was ultimately found.
He documented multiple shoe prints where someone tracked blood around the apartment. He the prints were dry when investigators arrived and that he marked them by covering them with parchment. He then used Leucocrystal Violet to hold the blood in place and preserve the prints, which is standard practice.
Investigators photographed and documented the footprints before cutting out them out of the floor. The prints were photographed multiple times, both before and after the application of the chemical preservatives and under various lighting conditions and with various lenses, according to Hanshaw.
He unsealed three cut-out sections of floor containing three separate prints. His preliminary, nonexpert judgement at the scene was that the tread of the shoe from which the prints were left did not show wear.
Hanshaw then referred to evidence showing a trail of blood near and inside the kitchen. He said he found it "remarkable" that the blood trail on the floor in the kitchen going toward the bedroom was stamped with footprints indicating whoever dragged the bodies to the bedroom returned by the same path.
Before the day ended, the prosecutor briefly returned to ballistic evidence, a shell casing found in the kitchen. Hanshaw said he submitted it for DNA testing on the small chance it would yield a result even though the heat of firing the weapon usually destroys DNA.
Pike County Common Pleas Court Judge Randy Deering is allowing all witnesses to decide if they want their testimony recorded and shown.
More first responders, including top law enforcement officers such as Pike County Sheriff Tracy Evans and Sheriff's Corporal Adam Ball, are opting out. Hanshaw agreed to allow his testimony to be recorded and shown after originally only opting for the audio.
Two men who testified Thursday about one of the victims, Kenneth Rhoden, also allowed their testimony to be taped and shown: his son, Luke Rhoden, and his cousin, Donald Strong.
Strong was visibly emotional on the stand.
At times, Kenneth's good friend and cousin wiped away tears as his voice shook while answering questions.
George Wagner IV is accused of killing Kenneth Rhoden and seven other members of the Rhoden family in Waverly on April 21-22, 2016.
He has pleaded not guilty to all charges.
Wagner IV, 30, is the first member of his family of four to go on trial.
The victims are Christopher Rhoden Sr., 40; his older brother, Kenneth Rhoden, 44; his cousin, Gary Rhoden, 38; his former wife, Dana Lynn Rhoden, 37, and their children: Clarence "Frankie" Rhoden, 20, Hanna May Rhoden, 19, Christopher Rhoden Jr., 16, and Frankie's fiancé, Hannah Gilley, 20.
They were all shot execution-style, most as they slept and several times.
George IV's younger brother, Jake Wagner, and his mother, Angela Wagner, will testify against him in a couple of weeks and are considered the star witnesses in this trial.
Both pleaded guilty for their roles in the slayings last year.
Download & Listen on Spotify or Apple: Cincinnati's Crime Vault | Beyond the Broadcast: Pike County Massacre - Parts 1, 2 and 3
The trial itself will last some six to eight weeks, prosecutors have said.
The slayings are considered the state's biggest and most complex homicide investigation.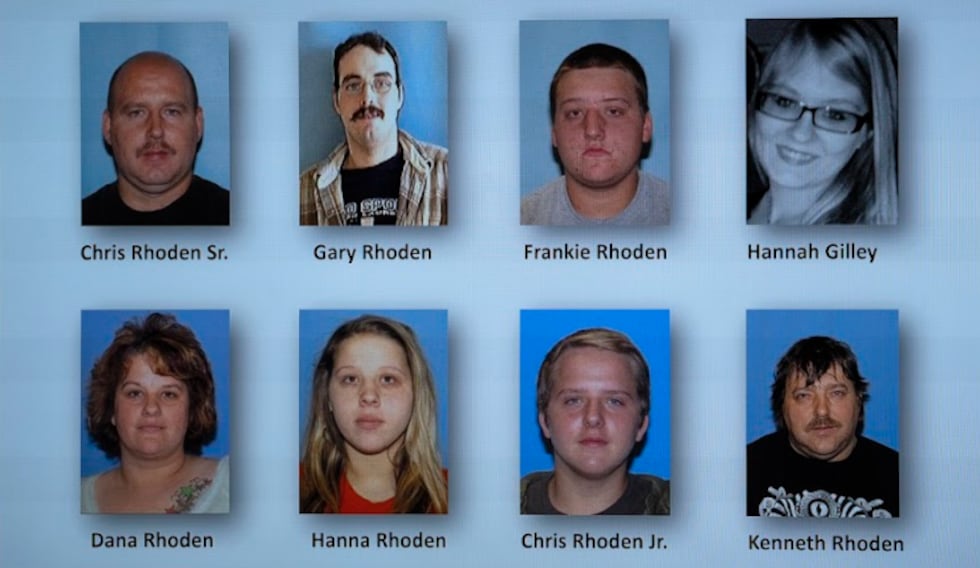 The other Wagner still facing trial and accused of actually shooting and killing anyone is the family patriarch, 50-year-old George "Billy" Wagner III.
He has pleaded not guilty and remains locked up at the Butler County Jail.
He is charged with eight counts of aggravated murder, four counts of aggravated burglary, three counts of tampering with evidence, two counts of unlawful possession of dangerous ordnance and single counts of conspiracy, forgery, unauthorized use of computer or telecommunications, interception of wire, oral or electronic communication, obstructing justice and engaging in a pattern of corrupt activity.
Copyright 2022 WXIX. All rights reserved.