Dolphins QB Tua Tagovailoa feeling 'much better' after suffering concussion during Bengals game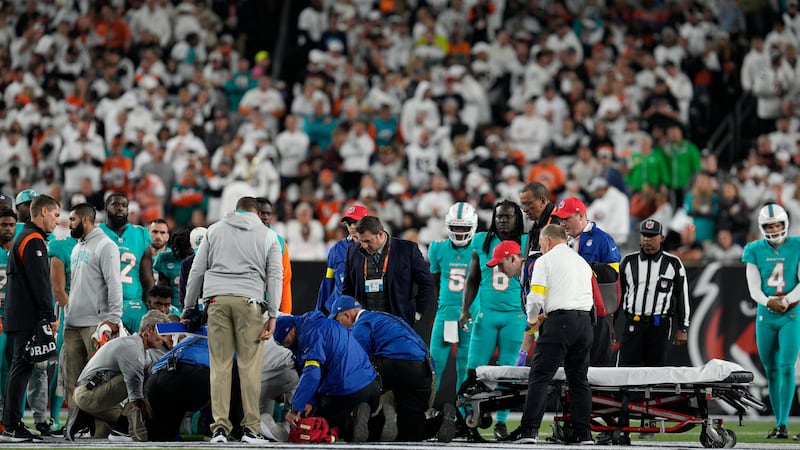 Published: Sep. 29, 2022 at 9:45 PM EDT
CINCINNATI (WXIX/ASSOCIATED PRESS) - Miami Dolphins quarterback Tua Tagovailoa suffered a concussion after being slammed to the ground Thursday night against the Cincinnati Bengals.
He was taken by stretcher from the field to the University of Cincinnati Medical Center. The team later tweeted he was conscious and had movement in all his extremities.
He was released late Thursday night and flew back with the team to Miami.
Sources also told ESPN he was in "good spirits" and that initial tests showed no structural damage.
Tagovailoa had a headache Thursday night and Friday morning, Dolphins coach Mike McDaniel said. The team was waiting still for results from the MRI, which McDaniel said was done out of "extra precaution" on top of the CT scans and X-rays taken the night before.
McDaniel said he had no timetable on when Tagovailoa might be able to return.
"I'm not even really thinking about timetables or anything regarding him as a player right now," McDaniel said. "It's all about Tua the person."
Tagovailoa issued the following statement through the Dolphins social media Friday night:
"I want to thank everyone for all of their prayers and support since the game last night. It was difficult to not be able to finish the game and be there with my teammates, but I am grateful for the support and care I've received from the Dolphins, my friends and family, and all the people who have reached out. I'm feeling much better and focused on recovering so I can get back out on the field with my teammates."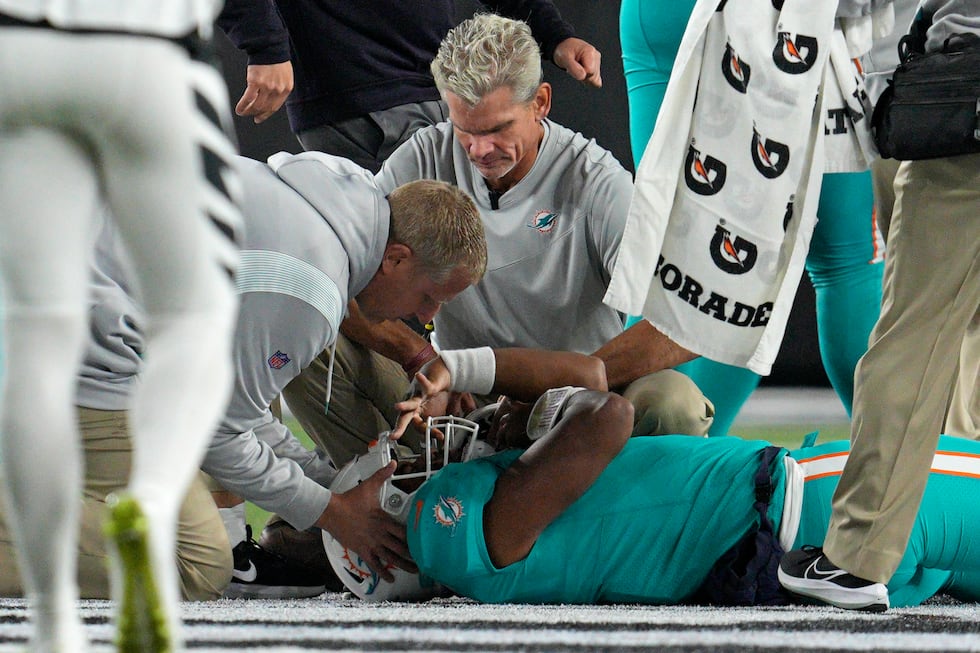 Tagovailoa suffered the injury during a sack in the second quarter with about six minutes left in the first half of the game.
Footage of him on the ground offered the disturbing visual of his hand appearing to posture involuntarily.
He remained on the ground for several minutes and was ultimately taken off the field on a stretcher. He was officially ruled out with head and neck injuries.
Tagovailoa left last Sunday's game against the Buffalo Bills due to a hit after which he stumbled returning to the huddle with what the team originally said was a head injury. He returned to the game after the team said he was not in concussion protocol.
Tagovailoa said he "hyper-extended" his back after getting his legs caught under someone on a quarterback sneak.
ProFootballTalk broke the news on Monday that the NFL Players Union exercised its right to initiate an investigation of the decision to allow Tagovailoa to return.
See a spelling or grammar error in our story? Please include the title when you click here to report it.
Copyright 2022 WXIX. All rights reserved. The Associated Press contributed to this report.