George Wagner IV trial in Pike County massacre enters fourth week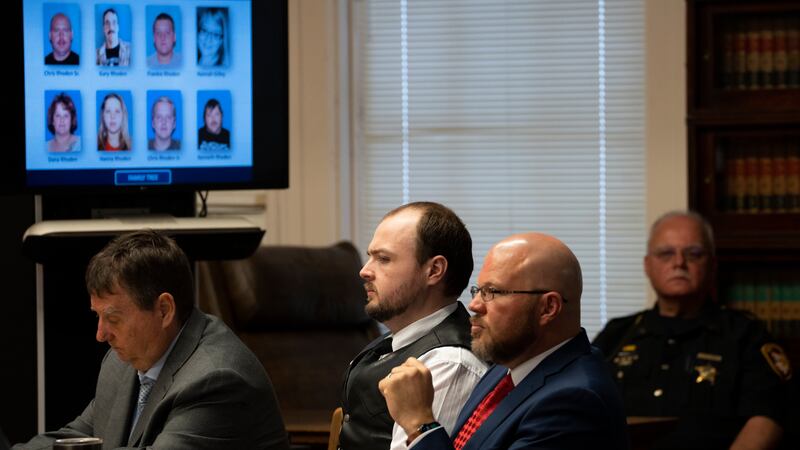 Published: Oct. 3, 2022 at 8:48 AM EDT
|
Updated: Oct. 4, 2022 at 9:05 AM EDT
WAVERLY, Ohio (WXIX) - George Wagner IV's murder trial in the 2016 Pike County massacre case resumed Monday with more testimony as the trial enters its fourth week.
Pike County massacre: Complete trial coverage
Chelsea Robinson, the mother of Frankie Rhoden's first child, took the stand again after testifying Friday. Wagner IV's lawyers cross-examined her.
Robinson's cross-examination comes after two Rhoden family relatives testified Friday and provided background about the Rhodens and the Wagners.
Those relatives included Dana Rhoden's sister-in-law, April Manley. She told jurors Friday about the stormy relationship between Hanna Rhoden and Jake Wagner.
They had their daughter when Hanna May Rhoden was 15 and Jake Wagner was 20 but broke up. Hanna May Rhoden began seeing someone else and had another baby with that man.
The custody of that child was the motive in what has become Ohio's biggest and most expensive homicide investigation to date.
Sophia was just 2 years old when her mother and seven of her mother's relatives were all shot to death at four separate residences overnight on April 21-22, 2016.
April Manley described Jake and his family as controlling and said Hanna was afraid of the Wagner family.
George Wagner IV's ex-wife, Tabitha Claytor, also testified on Monday. Prosecutors will continue questioning Claytor on Tuesday.
During her opening statement, Special Prosecutor Angela Canepa said George Wagner IV and his family abused and controlled Claytor when they were married.
Claytor tried to flee once but, Angela Wagner threw a 2-by-4 at her — and the family kept their son, Bulvine, Canepa told jurors.
The Wagners won a custody arrangement that allowed Claytor to only see her child "if and when the Wagners said so," according to Canepa.
Claytor's mother told Hanna May in a Facebook message not to sign custody papers after what happened to Tabitha.
"I won't sign papers ever it won't happen they will have to kill me first," Hanna May wrote, Canepa has told the jury.
Download & Listen on Spotify or Apple: Cincinnati's Crime Vault | Beyond the Broadcast: Pike County Massacre - Parts 1, 2, 3 and 4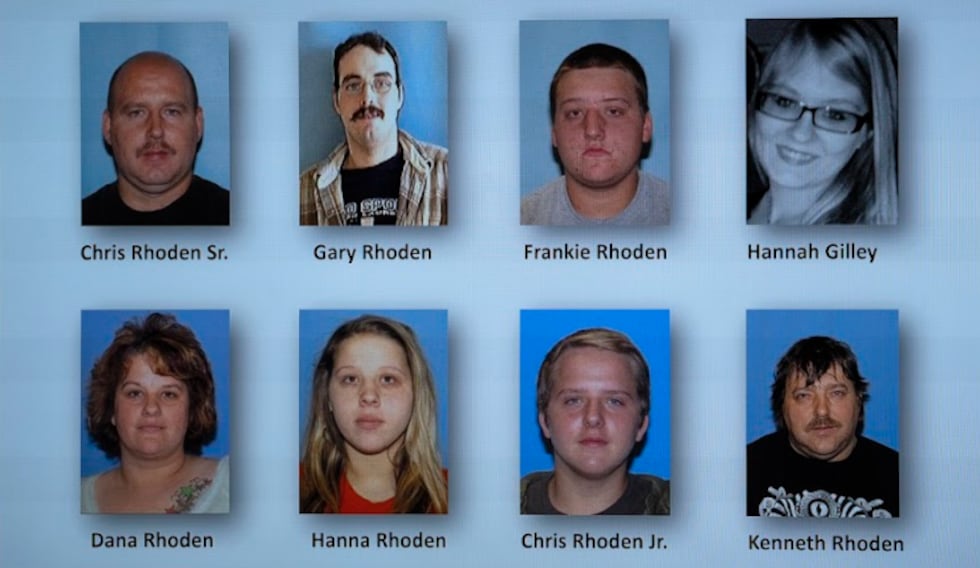 Wagner IV is the first of his four family members to go on trial in the April 21-22, 2016 killings of eight members of another family, the Rhodens.
Wagner IV, 30, has pleaded not guilty to eight counts of aggravated murder and other charges.
His 2018 indictment says Wagner IV, his father, George "Billy Wagner III, his mother, Angela Wagner and his younger brother, Jake Wagner, all carefully planned for months to kill the Rhodens. The motive was to gain "custody and control" of the 2-year-old daughter of Jake Wagner, and one of the victims, 19-year-old Hanna May Rhoden, prosecutors say.
All of the victims were shot to death, mostly execution-style in their beds as they slept, at four separate trailers on two properties in or near Piketon.
In addition to Hanna May Rhoden, the other victims are her father, Christopher Rhoden Sr., 40; two of her uncles, Kenneth Rhoden, 44 and Gary Rhoden, 38; her mother, Dana Lynn Rhoden, 37, and both of her brothers: Christopher Rhoden Jr., 16 and Clarence "Frankie" Rhoden, 20, as well as Frankie's fiancé, Hannah "Hazel" Gilley, 20.
Jake Wagner, 28, and Angela Wagner, 51, both pleaded guilty for their roles in the killings last year.
They are scheduled to testify against him soon.
Also called to testify Monday was 48-year-old Jeff Tackett, who claims he knew Bill Wagner since he was a young teenager. Tackett, a bricklayer, said he worked at the Wagner's Flying W farm when he was laid off.
Tackett said he also knew the Rhodens and when he learned that Jake was dating Hanna Rhoden, he tried to warn Chris Sr. and testified that he warned him to watch out.
"Be careful, they will hurt you. They will kill you," Tackett said on the stand. He added that Billy Wagner said he "went to Mexico and shot a bunch of people over there one time."
Tackett testified that about a week before the murders, he was in Billy's bedroom at the Flying W Farm and saw a .22 caliber hornet gun, bulletproof vests and ammunition.
He said he suspected the Wagners were involved in the killings when he heard about the murders watching TV news.
When Tackett saw the guns in Billy Wagner's bedroom, he said he told Wagner, "You're going to get ready to kill somebody. I don't know who it is, but they're dead."
When he asked why he didn't report Billy to the police, Tackett said, "he might kill me."
Tackett also claimed that Chris owed Billy Wagner $20,000.
George Wagner IV's defense team had Tackett admit that he wore a wire for investigators four or five times while at the Wagner's home on Peterson Road in Peebles, and said that he began to notice that Billy Wagner was giving him the cold shoulder.
Samantha Staley was next on the stand.
She said hung out with George IV and Jake from a very young age.
Staley said she dated Frankie Rhoden when she was in the 7th grade.
The prosecution asked Staley about the relationship between Jake and her now former boyfriend, Frankie.
"One incident that was told to me by George that Frankie and Jake had got into it because Jake had punched Hanna and Frankie was defending his sister," Staley said on the stand.
She also testified that Jake Wagner texted her saying no one was allowed to babysit Sophia except his mom and Hanna's mom.
George IV's ex-wife, Tabitha Claytor, also testified Monday.
This story will be updated later with information from her testimony.
Jake Wagner has pleaded guilty to eight counts of murder and 15 other charges including gun specifications, conspiracy, burglary, possession of dangerous ordnance and tampering with evidence.
In exchange, prosecutors say they will drop the possibility of the death penalty and Jake Wagner agreed to serve eight life sentences without parole.
His lawyer said Jake Wagner "knows he's going to die in prison without any judicial relief."
He is held at the Franklin County Jail.
His mother pleaded to conspiracy to commit aggravated murder, several counts of aggravated burglary, tampering with evidence, and other charges as part of a plea deal. The remaining eight counts of aggravated murder were dismissed.
The prosecution is recommending that she serve 30 years in prison with no possibility of the death penalty.
She currently is held at the jail in Delaware County.
George "Billy" Wagner III, 50, is continuing to fight his charges and will be the next one to go on trial.
He has pleaded not guilty and remains locked up at the Butler County Jail.
Copyright 2022 WXIX. All rights reserved.