Pike County Trial: Agents reveal how they linked Wagners to killings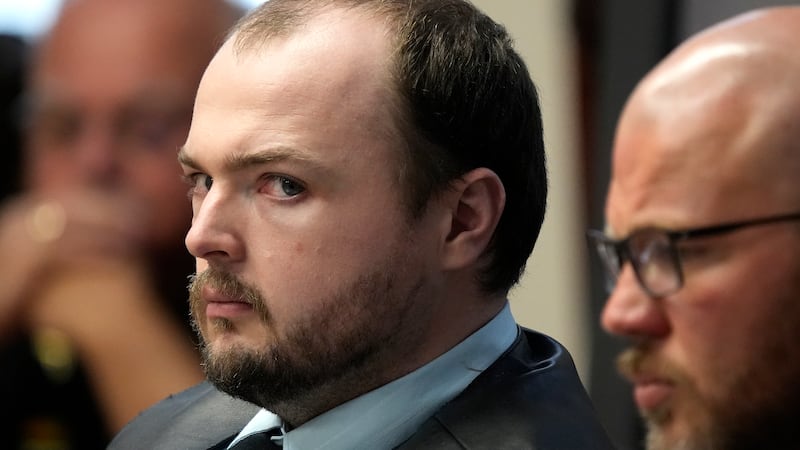 Published: Oct. 6, 2022 at 8:39 AM EDT
|
Updated: Oct. 7, 2022 at 7:31 AM EDT
WAVERLY, Ohio (WXIX) - Three state law enforcement agents who investigated the Pike County massacre returned to the stand Thursday to reveal new details about the case and how they honed in on the Wagners as the prime suspects.
Pike County massacre: Complete trial coverage
Agents with the Ohio Bureau of Criminal Investigation searched the family's Peebles farm in Adams County after they sold it in the spring of 2017 to move to Alaska but before the new owners took possession.
Prosecutors say the Peterson Road home, which is 13 miles from the Rhoden property on Union Hill Road where 7 of the 8 victims were found shot execution-style in three trailers, is where the Wagners planned the murders.
The first search, on May 10, 2017, was low-key to keep the Wagners from finding out, former BCI agent Bryan White testified.
What agents found in that first search - shell casings from a .22-caliber long rifle - prompted them to return two days later, on May 12, 2017, with more manpower and equipment.
"This search, unlike the first one, this search was an exhaustive search which means we were going to do everything we possibly could," White explained. "We had rakes, shovels, we had sifters. We had all kinds of different things. Tools to use to really go through and search the outside of the property."
The second search uncovered hundreds of shell casings on the ground outside, including ones that tests showed matched some of the shell casings found at the two of the crime scenes, according to BCI.
Jurors were shown photos of the shell casings for more than three hours.
Tests determined all the fired .22-caliber long rifle cartridge cases were fired from the same firearm.
BCI's firearm expert, Matthew White, returned to the stand Thursday afternoon.
He testified last month that all of the shell casings found at the crime scenes were fired from the same three guns:
.40-caliber casings from a Glock pistol

.22-caliber casings from a Walther Colt 1911 pistol

.30-caliber rounds from an SKS rifle.
White told jurors previously he compared the .22-caliber long rifle shell casings from two crime scenes: the trailer where Dana Rhoden and her children, Hanna May Rhoden and Chris Rhoden Jr. were found and another trailer where Frankie Rhoden and Hannah "Hazel" Gilley lived, both at Union Hill Road.
On Thursday, he told jurors that 12 of the recovered .22-caliber long rifle cartridge casings investigators recovered at the Wagner's home were fired from the same gun used to killed five of the Rhoden victims.
That gun was a .22-caliber Walther Colt 1911, which leaves unique markings on the spent cartridge casings and and a unique firing impression, he said.
Casings from a .22 hornet gun also were found.
A previous witness testified that he saw a .22 hornet gun on Billy Wagner's bed while he was living at his mother's Flying W Farm in Lucasville.
George Wagner IV, who turned 31 on Thursday, is the first of the four family members to go on trial in what has become the state of Ohio's biggest and most expensive homicide investigation.
His attorneys objected profusely throughout the presentation of the shell casing evidence, but Pike County Common Pleas Court Judge Randy Deering overruled them each time.
Assistant Prosecutor Andy Wilson argued the shell casings were just part of the state's evidence as they continue to present their case.
However, George Wagner IV's defense wasted no time in pointing out to the jury that BCI agents neglected to mention an important fact after all their evidence-gathering, test-running and analysis.
"You don't know who fired that weapon, do you?" Attorney John Parker asked White.
"No, sir. I can not say that," he responded.
"Thank you, judge, no further questions," Parker said and returned to the defense table.
Jurors also heard about a burn pit with a charred black box inside that agents found on the Wagner property.
Prior testimony revealed that a DVR was hooked up to security cameras on a shed housing a marijuana grow on Chris Rhoden Sr.'s property, but it was missing.
The prosecution failed to clarify if the black box was a DVR and the defense again pounced on that omission.
"Now with respect to that burnt electronic device you showed the jury, do you know what that is?" Parker asked White.
"Do I know what it is? No," he told Parker.
Billy Wagner and his wife, Angela Wagner, and their two sons, George Wagner IV and Jake Wagner, were all charged with killing members of the Rhoden and Gilley families over the custody of their granddaughter, Sophia, the daughter of their son, Jake Wagner and one of the victims, Hanna May Rhoden 19.
George Wagner IV's lawyers insist he wasn't involved in the shootings and only found out about them afterward when his brother got a phone call.
On Wednesday, jurors listened to a recording of George Wagner IV's father, Billy Wagner, during an interview with state law enforcement agents about six months after the eight victims were found fatally shot inside four residences on the morning of April 22, 2016.
The couple had their daughter when Hanna May Rhoden was 15 and Jake Wagner was 20 but broke up. Hanna May Rhoden began seeing someone else and had another baby with that man.
All of the victims were shot to death, mostly execution-style in their beds as they slept, at four separate trailers on two properties in or near Piketon.
In addition to Hanna May Rhoden, the other victims are her father, Christopher Rhoden Sr., 40; two of her uncles, Kenneth Rhoden, 44 and Gary Rhoden, 38; her mother, Dana Lynn Rhoden, 37, and both of her brothers: Christopher Rhoden Jr., 16 and Clarence "Frankie" Rhoden, 20, as well as Frankie's fiancé, Hannah "Hazel" Gilley, 20.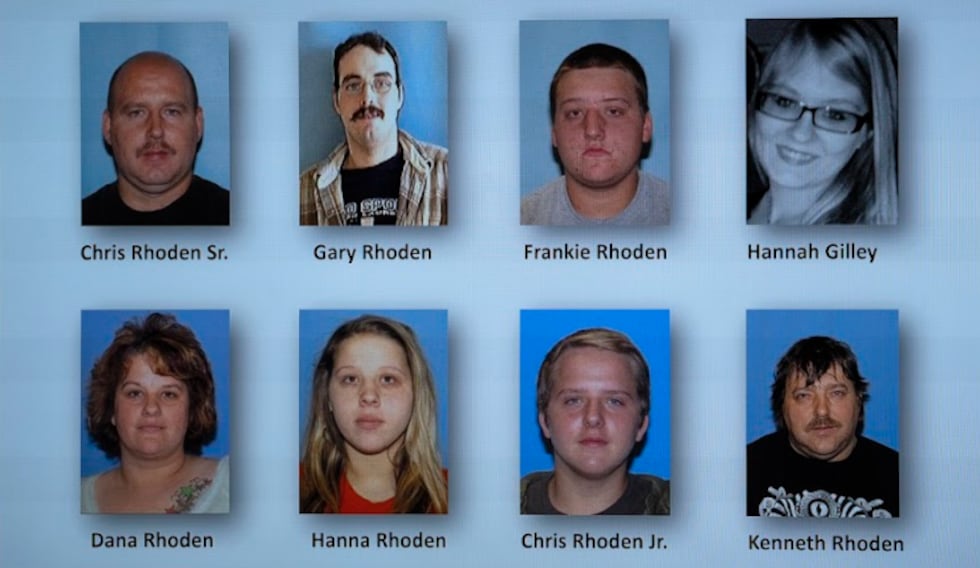 The third BCI special agent who testified on Thursday, Ryan Scheiderer, told the jury he interviewed Jake Wagner who told him there were no custody issues with his daughter.
However, Scheiderer said he noticed ammunition on the ground that looked similar and when he asked Jake Wagner what type of punishment would be appropriate for someone who committed this kind of crime, he responded: "It depends on whether they are a trigger person."
Jake Wagner, 28, and Angela Wagner, 51, have both since pleaded guilty for their roles in the killings.
They are scheduled to testify against George Wagner IV soon and will once the family patriarch, Billy Wagner, 50, goes on trial.
Billy Wagner, who also has pleaded not guilt, remains locked up at the Butler County Jail.
Officials with the Butler County Sheriff's Office tell FOX19 NOW his "behavior has been good" and he is not being held in any special custody or security.
He does not have any jobs at the facility and could presumably be keeping up on the latest TV reports of his son's trial.
"Mr. Wagner is able to watch television," Lt. Joe Fuller confirmed when we asked this week. "Inmates do not have access to computers or the internet."
Earlier this week, on Thursday, the prosecution played a recording of an interview BCI agents did with Billy Wagner in a vehicle parked at the Waverly Kroger store about six months after the slayings.
In his profanity-filled summation to BCI, Billy Wagner repeatedly suggested his lifelong friend and one of the victims, Christopher Rhoden Sr., may have been killed over his drug involvement and was "drunk" at one point during the last week of his life.
"I think you boys are going in the wrong direction," he told the agents, according to the recording.
Billy Wagner made references to Chris Rhoden Sr. possibly owing money to a Cincinnati drug dealer, having "weed coming in" and the so-called "Cornbread Mafia" (Kentucky pill mills).
Whoever did it, he told them, "That is some real Seal Team 6 s***."
Copyright 2022 WXIX. All rights reserved.