3 men damage 'sacred' Jewish structure at Miami University's Hillel: VIDEO
The men have turned themselves in, officials say.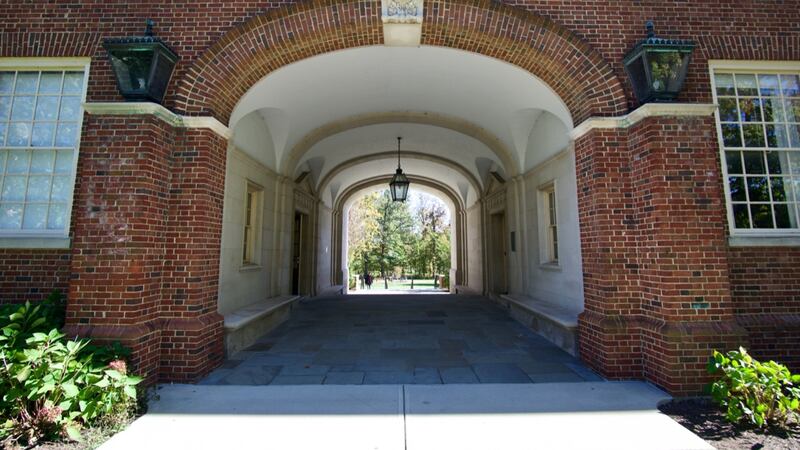 Published: Oct. 26, 2022 at 6:44 PM EDT
OXFORD, Ohio (WXIX) - Three people are caught on surveillance camera upending a Jewish religious structure outside the Hillel building at Miami University.
It happened on Oct. 15 around 3 a.m., according to an Oxford PD incident report.
The Hillel building is located on Walnut Street a block West of Campus Avenue and a block south of High Street.
The suspects trespassed into the backyard of the Hillel building and pushed the structure, called a Sukkah, over on it side, which caused it to collapse, per the report.
A Sukkah is a temporary structure constructed for use during the week-long Jewish harvest festival of Sukkot. The festival, according to Jewish religious texts, commemorates God providing for the Israelites in the wilderness after they were freed from slavery in Egypt.
Sukkahs are traditionally made of wood and cloth sometimes adorned with branches and other autumnal decorations.
The suspects, as shown in Hillel surveillance video footage obtained by police, entered into the Sukkah before pushing it over.
The police report notes the Sukkah had suffered no apparent damage prior to the incident.
An Oxford police spokesperson says the surveillance video is being withheld due to the ongoing investigation. Hillel, however, posted their surveillance video to social media.
Hillel Executive Director Whitney Fisch in a written statement said the suspects violated a "sacred space" and called the experience "devastating."
The suspects, all male, have since confessed and are now part of two ongoing investigations conducted by Miami University PD and Oxford PD, Fisch says.
Miami University President Gregory Crawford penned a letter to students dated Oct. 21 seeking to "reaffirm that Miami University does not tolerate acts of vandalism, violence, or hate. We are a community committed to inclusion and tolerance."
Crawford continued: "Many Miami community members, particularly Jewish community members, may be understandably distressed and feel unsafe after learning about this incident. We are committed to every Jewish student, faculty, and staff feeling welcome and included as part of the Miami community. As a university, Miami is committed to a safe environment for all students, faculty, and staff regardless of race, religion, sexual orientation, and socioeconomic background. We condemn the vandalism and desecration of the Sukkah, and all acts of vandalism and hate."
The alleged vandalism comes as anti-Semitic incidents appear to be increasing in the United States.
An Anti-Defamation League study found 2,717 anti-Semitic incidents of assault, harassments and vandalism reported in 2021, a 34 percent increase from 2020 and the highest count since ADL began tracking such incidents in 1979.
Incidents of vandalism were up 14 percent from 2020. Incidents at Jewish institutions were up 61 percent from 2020.
ADL CEO Jonathan Greenblatt noted it's difficult to pinpoint what's underlying the increase.
"But we do know," he said, "that Jews are experiencing more anti-Semitic incidents than we have in this country in at least 40 years, and that's a deeply troubling indicator of larger societal fissures."
The vandalism at Miami University's Hillel also tracks closely with the leak of a Kanye West interview in which he voiced anti-Semitic views.
See a spelling or grammar error in our story? Please include the title when you click here to report it.
Copyright 2022 WXIX. All rights reserved.