Woman killed, 7 injured in sprawling I-75 crash
Published: Dec. 20, 2022 at 5:25 PM EST
WARREN COUNTY, Ohio (WXIX) - Interstate 75 was closed in Warren County Tuesday after a deadly crash.
A 58-year-old Middletown woman is dead and an out-of-state semi truck driver has life-threatening injuries, according to Ohio State Highway Patrol's Lebanon Post.
The eight-vehicle crash happened at 4:48 p.m. on northbound I-75 in Turtle Creek Township at the 32-mile post, OSP says.
It wasn't until around 7:45 a.m. Wednesday that the interstate was fully reopened.
OSP released only a partial crash narrative and no cause.
At some point, a 2016 Volvo VLN commercial semi truck overturned on top of the median concrete barrier separating the northbound and southbound lanes.
The semi driver, 53-year-old Mohad Mohamed Abdi, of Minneapolis, Minnesota, was transported to a hospital with life-threatening injuries.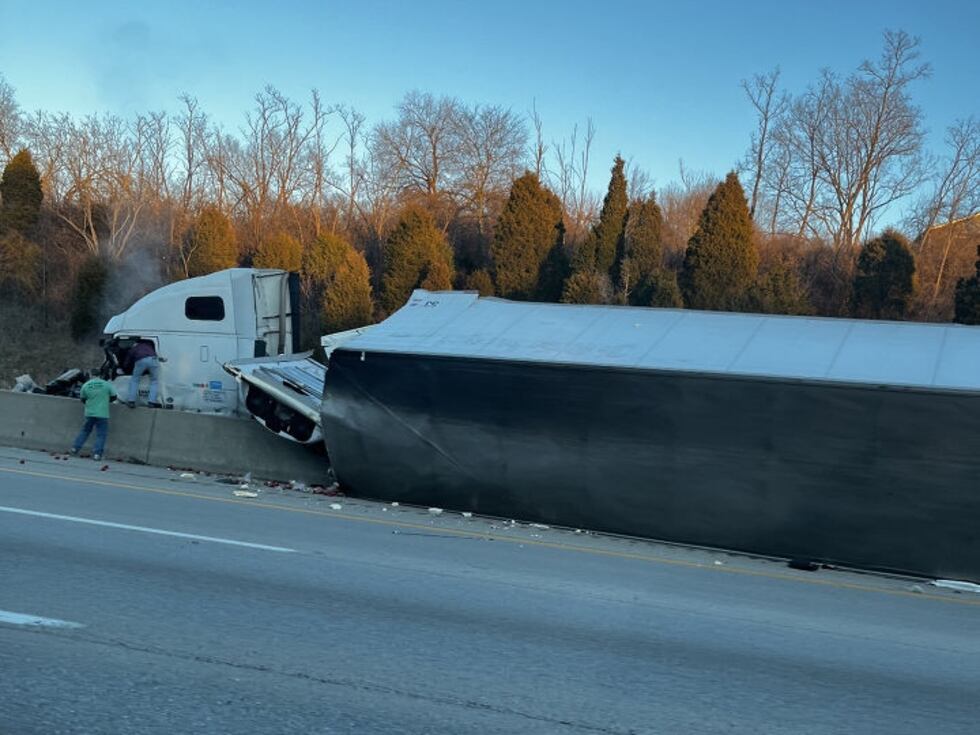 At some point, six vehicles "became disabled in the roadway [...]as a result of the crash," OSP says.
Those vehicles and their occupants are as follows, together with their injury statuses:
A 2022 Ford Bronco driven by 58-year-old Judy Ashley, of Middletown — transported to Atrium Medical Center, where she died;

A 2014 Ford Escape driven by 60-year-old Duane Glass, of Franklin — transported with serious injuries;

A 2012 Toyota Camry driven by 27-year-old Brent Rhodes, of Middletown — transported with his passenger, 26-year-old Courtney Osterman, of Cincinnati, both with minor injuries;

A 2012 Toyota Scion 13 driven by 55-year-old Daryl Turner, of Dayton — transported with serious injuries;

A 2017 Chevrolet Cruz driven by 27-year-old Drew Calvert, of Carlisle — had minor injuries but refused treatment at the scene; and

A 2015 Ford Edge driven by 38-year-old Brandy Foister, of West Chester — not injured.
At some point, a 2022 Mercedes-Benz GLC300 driven by 50-year-old Jenny Bowell, of Centerville, came to a stop off the right side of the roadway in the northbound lanes. She was transported to a hospital with minor injuries, though it's unclear how she suffered them.
No charges have been filed. OSP is investigating the crash.
Other responding agencies included the Warren County Sheriff's Office, Monroe PD, Turtle Creek Township Fire and EMS, Middletown Fire and EMS, Joint Emergency Medical Services and ODOT.
Videos below from Facebook user Adrien Edwards. WARNING: Videos contain graphic language.
See a spelling or grammar error in our story? Please include the title when you click here to report it.
Copyright 2022 WXIX. All rights reserved.