UC Medical Center's healthcare providers thanked at Sunday's Bengals/Ravens game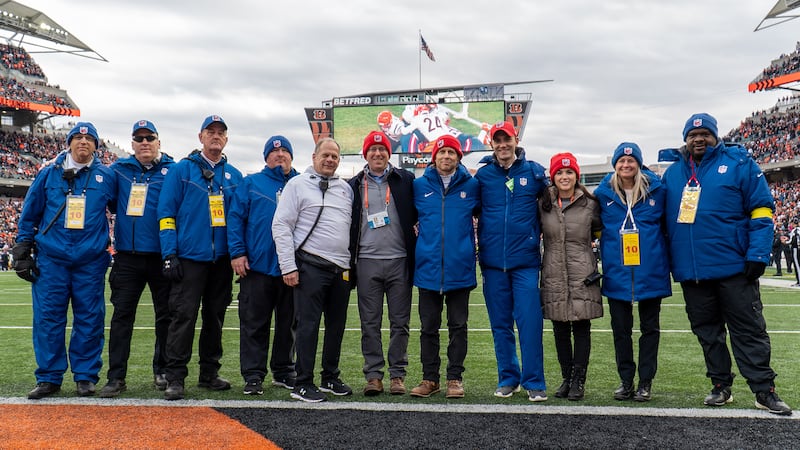 Published: Jan. 8, 2023 at 5:08 PM EST
CINCINNATI (WXIX) - The University of Cincinnati Medical Center's healthcare providers who were part of the on-field response in support of Damar Hamlin were honored at the Cincinnati NFL home game Sunday, according to a statement from UC Health.
"On behalf of our extensive multi-disciplinary medical care teams, we're deeply honored to be recognized, and more importantly, we're happy that Damar is making continued progress in his recovery," said Rob Wiehe, executive vice president and chief operating officer, UC Health, and chief administrative officer, University of Cincinnati Medical Center.
The UC Medical Center is a critical part of the NFL Emergency Action Plan at home NFL games in Cincinnati, representing the 30-person on-field medical team at all games, UC Health officials said.
"We're privileged to be the region's only adult Level 1 trauma center, delivering 365, 24/7 lifesaving care, via our medical specialists, to anyone at any time," Wiehe said. "As the only adult academic health system in the region, we conduct extensive research to deliver the latest medical breakthroughs and treatments, which provide patients with the most advanced medical care in the region."
UC's Medical Center is a part of UC Health and remains the Greater Cincinnati region's only verified adult Level I trauma center for the last 25 years.
According to UC Health officials, their trauma services program is a national leader in clinical and scientific research related to traumatic injuries.
See a spelling or grammar error in our story? Please include the title when you click here to report it.
Copyright 2023 WXIX. All rights reserved.