This OTR shop is where the Bengals get their locker room cigars
'The city is winning because of what's happening with the Bengals. And it's just cigars are part of it.'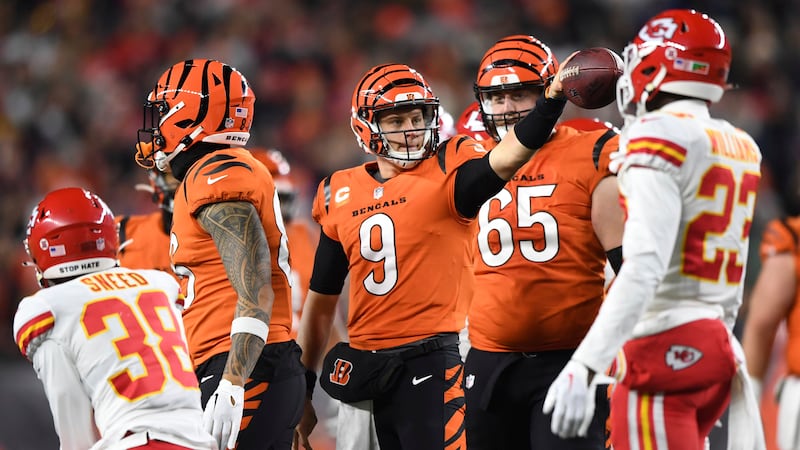 Published: Jan. 13, 2023 at 7:08 PM EST
CINCINNATI (WXIX) - Whether it is sunglasses, fashion or how he plays on the field, Joe Burrow is today's "Joe Cool."
But when photos of the Bengals quarterback enjoying a celebratory cigar after winning a national championship in college surfaced online, cigars and winning became his thing. Now many fans celebrate the same way.
The team has passed around one particular type of cigar to celebrate the AFC North Championship. What started with Burrow has become a team thing... and even, a Cincinnati thing.
Dave Macejko of Over-the-Rhine's Premium Cigar shop says photos of the boys smoking cigars in the locker room have helped his business.
"Yes, just like last year, and it's starting earlier this year because of the success that the Bengals have enjoyed," Macejko said.
Macejko opened his store four years ago. He loves these moments and notices the brand of cigars the team is celebrating with.
"You can see on some of the videos that the cigar Joe is smoking appears to be a Cohiba from Cuba," Macejko explained. "But he originally smoked La Flor Dominicana. And that was the cigar he smoked at LSU."
But not all of the players have the same taste as Burrow.
"Drew Estates and Padrone Perdomo [are some] of the famous celebratory cigars," Macejko said. "EP Carillo [is a] very popular cigar with some of the coaches. Mixon smokes the Drew Estates and Topaz."
Like beer, cigars have a rich history in Cincinnati. The building that is home to OTR Premium Cigars on Elm Street was built in 1885 where cigars were once rolled.
That continues with Bengal wins today... and there is a cigar for every type of celebration.
See a spelling or grammar error in our story? Please include the title when you click here to report it.
Copyright 2023 WXIX. All rights reserved.