Bengals dominate Bills wire-to-wire: 'Our guys were built for this'
A patchwork offensive line took over in the second half to give the Bengals an AFC Championship Game berth.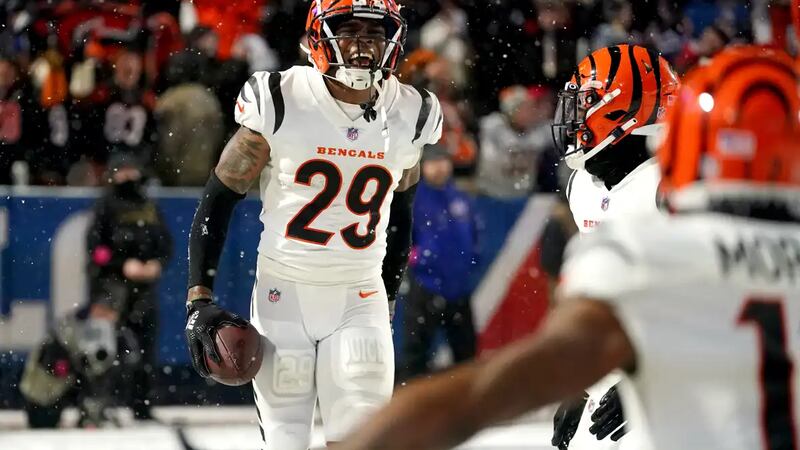 Published: Jan. 22, 2023 at 6:04 PM EST
CINCINNATI (WXIX) - Bengals quarterback Joe Burrow unleashed a 28-yard touchdown strike to wide receiver Ja'Marr Chase to cap the first drive of the game, and Cincinnati didn't look back.
The Bengals, now unbeaten in their last ten games, defeated the Bills 27-10 Sunday evening in white-out conditions at Orchard Park to advance to the AFC Championship Game.
The defense held the Bills to a season low in points. Buffalo hadn't scored fewer than 17 points in a game all season until Sunday.
"Our guys believed," said head coach Zac Taylor. "They came out onto the field ready to attack."
Taylor called it a "comprehensive performance in all three phases."
Taylor is now among only 12 coaches in modern NFL history to have won at least five of their first six playoff games. Burrow's five wins are the most by a former No. 1 overall pick in the NFL draft during his first three seasons.
"It might be our most complete game of the season," Burrow said postgame.
Asked about the NFL selling neutral-site AFC Championship Game tickets before the Bengals and Bills played, Joe Burrow quipped, "Better send back those refunds."
Burrow excelled, completing 23/36 for 242 yards and two touchdowns. He completed his first ten passes and put the Bengals ahead early to make Buffalo play catch-up.
The difference in the first half was Burrow's ability to sit in a well-formed pocket and find the soft middle of the field against Buffalo targeted blitzes and two-high safety coverages.
The game was effectively over when Bills free safety Dean Marlowe went down in the third quarter, forcing second-string strong safety Jaquan Johnson to play out of position because the Bills did not dress a backup at that spot. The Bengals took advantage, targeting Johnson several times on the next drive, including Hayden Hurst's hurdle and a Joe Mixon toss where Johnson notably got washed in a swell of pulling offensive linemen. Mixon would score three plays later.
Burrow is now 7-0 in games where the starting temperature is at or below 35 degrees. He is the only undefeated quarterback in so-called cold-weather games since 2020. (Ja'Marr Chase, who professed to never having played in the snow, finished with 61 yards and two touchdowns, one of which was called back on a controversial video review decision.)
"The bigger the situation, the calmer he gets, and the team feeds off of that," Taylor said of Burrow.
The defensive line also stepped up big, forcing Buffalo to abandon its running game in the first half while making life difficult for Allen in the pocket. "Our defensive line led the way by harassing him," Taylor said.
Meanwhile, slot cornerback Mike Hilton was an absolute pest, coming on blitzes (including one would-be Josh Allen fumble) and taking away the short crossing routes.
Rookie cornerback Cam Taylor-Britt got his first postseason pick late to secure the win. He recorded six solo tackles and two passes defensed.
But the story of the game is undoubtedly the Bengals' suddenly potent rushing attack, which also benefited against those two-high Buffalo coverages.
Cincinnati came into Sunday with as patchwork an offensive line as you'll find in the NFL. The team's stats showed it; for the last third of the season, the Bengals were dead last in rushing efficiency.
The team was down three starters and playing a guard at left tackle in Jackon Carman. Another starter, Ted Karras, played through a knee injury. The Bengals nevertheless rushed for 173 yards, grinding the Bills defense to a pulp in the second half after dominating through the air in the first.
Bengals center and team captain Ted Karras said of Carman, "He's proved he's a left tackle in this league."
Even Andrew Whitworth took notice.
Running back Joe Mixon finished with 105 yards on 20 carries and one touchdown.
Samaje Perine added 33 yards on seven carries, and Burrow had 32 yards on four carries.
In the end, the Bengals dominated on offense from start to finish. They led in first downs (30 to 16), total yards (412 to 325) and time of possession (33:54 to 26:06).
Now the team can look forward, once again, to Kansas City.
See a spelling or grammar error in our story? Please include the title when you click here to report it.
Copyright 2023 WXIX. All rights reserved.