Bengals' Hurst finalist for Salute to Service Award honoring work with military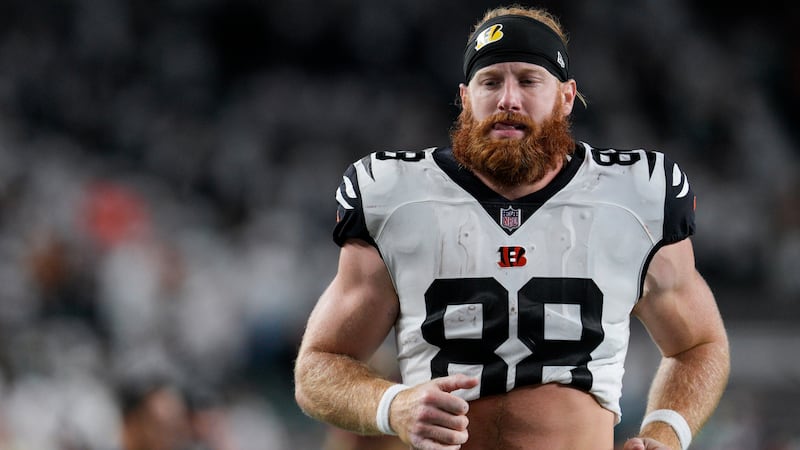 Published: Jan. 25, 2023 at 11:44 AM EST
CINCINNATI (WXIX) - Bengals tight end Hayden Hurst is a finalist for this year's Salute to Service Award for his work and support of military members.
Hurst's work with the military started in 2020 after he shared his experiences of depression and anxiety.
That year, he and his family produced a video with a message to Marines in support of Suicide Prevention Month, which helped introduce Hurst to the mental, emotional and psychological challenges faced by current and former military members.
Since then, he has remained dedicated to veteran outreach, working with several organizations around the country through the Hayden Hurst Family Foundation
Hurst pledged $20,000 to Top Dogg K9 Foundation, an Atlanta-based nonprofit that trains and pairs service dogs with disabled veterans struggling with mental health challenges post-deployment. Hurst played for the Atlanta Falcons before joining the Bengals.
At the third annual Hayden Hurst Family Foundation Golf Tournament in February, Hurst and his mother, Cathy, worked with Acadia Healthcare to fly in a foursome of military patients that were honored before participating in the event. Proceeds from the tournament benefited the Youth Crisis Center, an organization that helps children with depression and anxiety in Hurst's hometown of Jacksonville, Florida.
In August, Hurst partnered with the Cincinnati-based Armed Forces Tickets Association to provide four tickets for an active-duty service member and their family to watch the Bengals' preseason game against the Los Angeles Rams at Paycor Stadium.
The Hayden Hurst Family Foundation is actively collaborating with Acadia Healthcare to host military-appreciation events in the Greater Cincinnati area, while also working with the behavioral health science department at the University of South Carolina, Hurst's alma mater, on military engagement projects.
The other two finalists for this year's Salute to Service Award are San Francisco 49ers tight end George Kittle and Washington Commanders Head Coach Ron Rivera.
"All three of this year's finalists for the Salute to Service Award presented by USAA serve America's military community in different but impactful ways, with each deserving recognition for their exemplary commitment to those who wear the uniform," said Vice Admiral (Ret.) John Bird, USAA Senior Vice President of Military Affairs. "From caring for the mental health of veterans, to connecting with military families, and the unwavering support of active-duty servicemembers, USAA thanks and salutes Hayden, George, and Coach Rivera for their commitment to our military, veterans and their families, and to all NFL fans for helping determine this year's worthy finalists."
The Salute to Service Award recipient will be announced on Feb. 9 at NFL Honors.
See a spelling or grammar error in our story? Please include the title when you click here to report it.
Copyright 2023 WXIX. All rights reserved.