Do the Bengals need extra motivation against Kansas City?
The Bengals, a team that has thrived on disrespect, travel to Arrowhead as road favorites.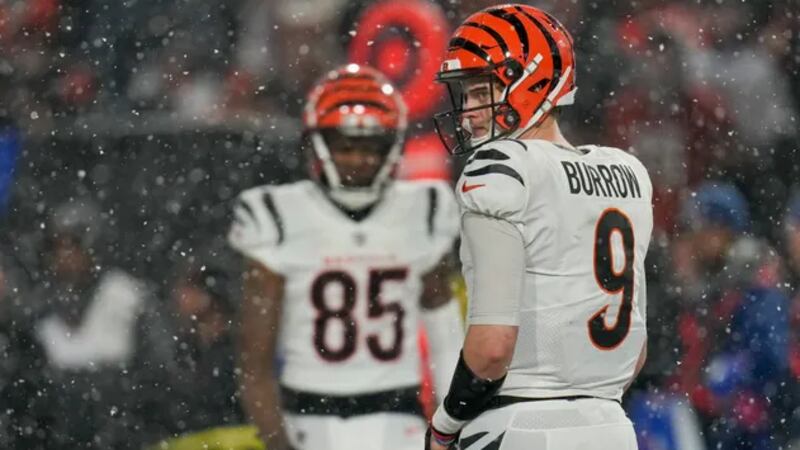 Published: Jan. 25, 2023 at 3:54 PM EST
CINCINNATI (WXIX) - Joe Burrow says the Kansas City Chiefs are still the team to beat in the AFC.
The Bengals have defeated the Chiefs each of their last three meetings, all with Burrow at the helm. But Kansas City has been to five consecutive AFC Championship Games and won a Super Bowl in that span.
"We know the team we're playing, a team that's been to this game the last five seasons, and they've all been in that stadium, so to me, they're still the team to beat," Burrow said. "And we're coming for them."
The Bengals have thrived on perceived disrespect from pundits and even the league itself, using slights (real or imagined) as bulletin-board material on their way to a 10-game unbeaten streak capped by last Sunday's drubbing of the Buffalo Bills. Now that so many are taking notice of what's going on in Cincinnati, does the team risk losing focus? Not according to Burrow.
"Nobody in that locker room needs any more motivation than what's inside of them, and that's why we're so good," Burrow said.
It was Burrow who drew most of the praise coming out of Buffalo. He played a near-flawless game, showcasing a measured, methodical patience in consistently making completions and moving the chains. By contrast, Bills quarterback Josh Allen was erratic, missed easy checkdowns and appeared to be spooked thanks to a masterclass gameplan from defensive coordinator Lou Anarumo.
Said Burrow, "You're trying to find the balance of taking your shots and taking risks and pushing the ball downfield... and also taking care of the ball, especially when your defense is playing so well. You've always got to find a balance as a quarterback, and it changes game-to-game."
Burrow continued: "Sometimes, you know, if you want to push the ball down the field or put it in a tight window because you know you can, there may not be a reason to. In a moment, like, if we didn't get up big last week, there might have been some throws where I try to push the ball downfield a bit more. But we were running the ball well and our defense was playing great, so maybe you take a checkdown here and there as opposed to fitting things in a tight window. So that's where I think we've made strides as a team, is understanding those situations and understanding when we can and can't take risks."
Burrow, known by a bevy of nicknames that all trace back to his poise under pressure, said he tries to play without emotion because it brings out his best.
"You can say what you want in the locker room and to you guys [the media], but then when you get on the field, it's all even-keeled," he said. "Can't be too high or too low, because bad things are going to happen throughout the game, and if you get too low, you can't get out of it."
Head coach Zac Taylor explained Burrow has "the right edge to him at the right times" but is able to pull back due to confidence in his preparation.
"We all know what it feels like to scramble at the last second when you're not prepared for something, and to give a presentation or to do something, and you know deep down you're not really ready. And you know the difference when you put in all the work and you walk up there and nail it. I feel like our team embodies that. They put in the work, and so then you all feel their confidence as they talk, because they know they're prepared."
Burrow noted this Bengals team is more experienced and well rested than last year's because players are taking care of their bodies better.
"I think last season did help a lot of guys in there understand how to take care of their bodies through the long, deep playoff run, and that's part of the experience that helps you win these types of games, not just the on-the-field stuff and going into those hostile environments, but being through these long seasons and understanding where you might have been better if you had done something different off the field last year," Burrow said. "I think guys have taken strides and taken that to heart."
Cincinnati should be ready for Chiefs to add new wrinkles into their gameplans, according to the Bengals quarterback.
"They're going to be studying all three of those games just like we are, so we're going to have to be ready for anything," Burrow said.
One thing that isn't a concern is the crowd noise. The Bengals dealt with it in last year's AFC Championship Game well enough, and Burrow is confident the team will follow suit next Sunday.
"It was definitely loud, but we excel in those situations. Our communication has been great on the road. It was flawless last week in Buffalo in a really loud, hostile environment, and that's something we take pride in is communication, being on the same page and going from there."
More from Burrow below:
On his leadership style
"I just try to be myself. I think that's the only way you can lead, because guys can tell if you're trying to fake it. So I think the best way to be a leader is to be yourself and go from there."
On the offensive coaching staff
"They do a great job. I think we have the best coaching staff in the league. They make adjustments better than anybody. Whatever we're seeing on the field, there's always great dialogue going on on the sideline. We're always trying to figure out what we can do to attack what we're seeing and get some explosive plays and stay on track and run the ball well. They do an unbelievable job through the week and then making adjustments on game days."
"I have so much faith in what we do here. That's what I love about this place. It's not, the coaches have their process and we have our process and we just do what they say. It's a collaborative effort. We're always talking and thinking about new ways we can attack a defense and get better throughout a week of practice, add a route here, add a play there, and that's why I think we're so good. We have great football minds up there that know gameplans and defense."
On Ja'Marr Chase being moved around and used in multiple ways:
"Man, he's one of the best. Anyone that watches on tape can see it. You can double him, you can cloud him, you can have a guy following him... he's gonna get his. You just got to find a way to get him touches because of how dynamic he is with the ball in his hands."
"I can see it on film[...] The guys are flying off of him and bouncing off of him like he's a wall. It's crazy how stout and strong of a guy he is with the ball in his hands. When he has the ball in space and guys are trying to tackle him and he's running through them like they're not there... You're not going to tackle him with an arm tackle. It's just not possible."
"You can just tell how much attention he attracts from the defense when you put him in different spots. He attracts so much attention because of how fast and big and strong he is that it opens up opportunities for other guys sometimes when he isn't the primary."
See a spelling or grammar error in our story? Please include the title when you click here to report it.
Copyright 2023 WXIX. All rights reserved.