KC chili joint welcoming Bengals fans with century-old recipe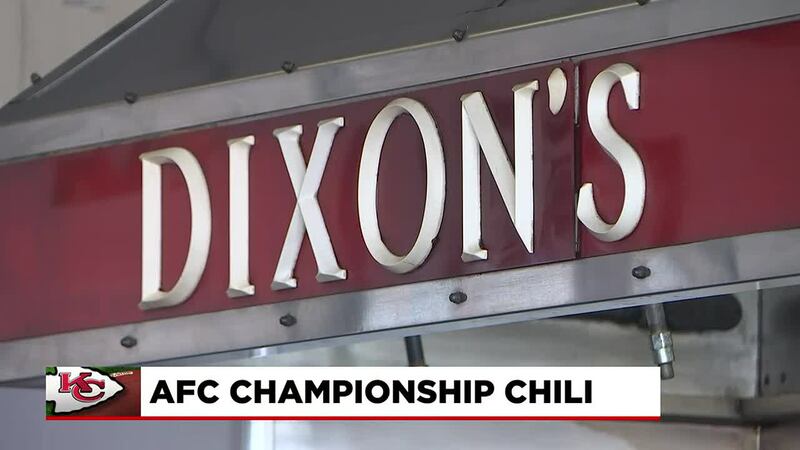 Published: Jan. 27, 2023 at 11:43 PM EST
INDEPENDENCE, Mo. (KCTV) - With the Chiefs taking on the Bengals, the usual food battle is BBQ versus chili. But, at one spot that's been around since before the Bengals were even born, it's chili versus chili.
Dixon's Chili was founded in 1919. It's one remaining location on 40 Highway in Independence has been dishing it up since 1961.
Steve Davis grew up in Independence then left 40-some years ago. The Chiefs bring him back annually. On Friday, he made a stop at Dixon's for nostalgia's sake.
"Mom and Dad would come here fairly frequently. It's just good memories. It looks the same way it did 60 years ago," Davis described.
General manager Stephen Steffes is the fourth generation in the family to run the restaurant.
"My great-great-uncle Vergne Dixon was the original owner," Steffes detailed. "He sold it to his nephew, which was my grandfather. And then he left it to his daughter, which is my mom."
They get a healthy crowd of local regulars, but Steffes has also had dealings with Bengals fan in town for games. Arrowhead is just a mile away.
"They'll say spaghetti red," Steffes recounted. "I'm like, 'What's that?'"
That's chili on spaghetti, which is an option on the Dixon's menu. But the flavor at Dixon's is nothing like Cincinnati-style, often known by the name of one of its most prolific brands: Skyline.
"I've eaten Skyline and it's good," said Davis, weighing in with a comparison. "It's sweeter. And I don't think it's as meaty. I didn't know that people put chili on top of spaghetti until I was in Cincinnati. It's like, 'That's really weird,' but I guess they do it here too. But this is a lot better."
"Our chili is more of a do-it-yourself-style chili," details Steffes. "It's not sweet at all. We give you meat and beans and you doctor it up yourself."
The beans are made separately and drained. Same with the meat. And one thing you won't find is tomato. His great uncle Vergne would not even allow ketchup.
"There would even be stories of people sneaking it in and him kicking them out," said Steffes. "Eventually my grandfather decided he'd let you put it on but there was a 15-cent fine."
That fine does not apply to burgers. Ketchup for that is on the house.
You can add in their own chili powder at the table along with a couple of vinegar options.
After last year's AFC Championship game, Steffes got a little sour on Cincinnati.
"I'll be honest, last year sucked. I left that game. It was the funnest game ever up until the end," he recounted. "I'm tired of them calling it Burrowhead and all that nonsense. They can still come eat though. We'll still take their money."
Copyright 2023 KCTV. All rights reserved.