Chiefs beat the Bengals in AFC Championship Game classic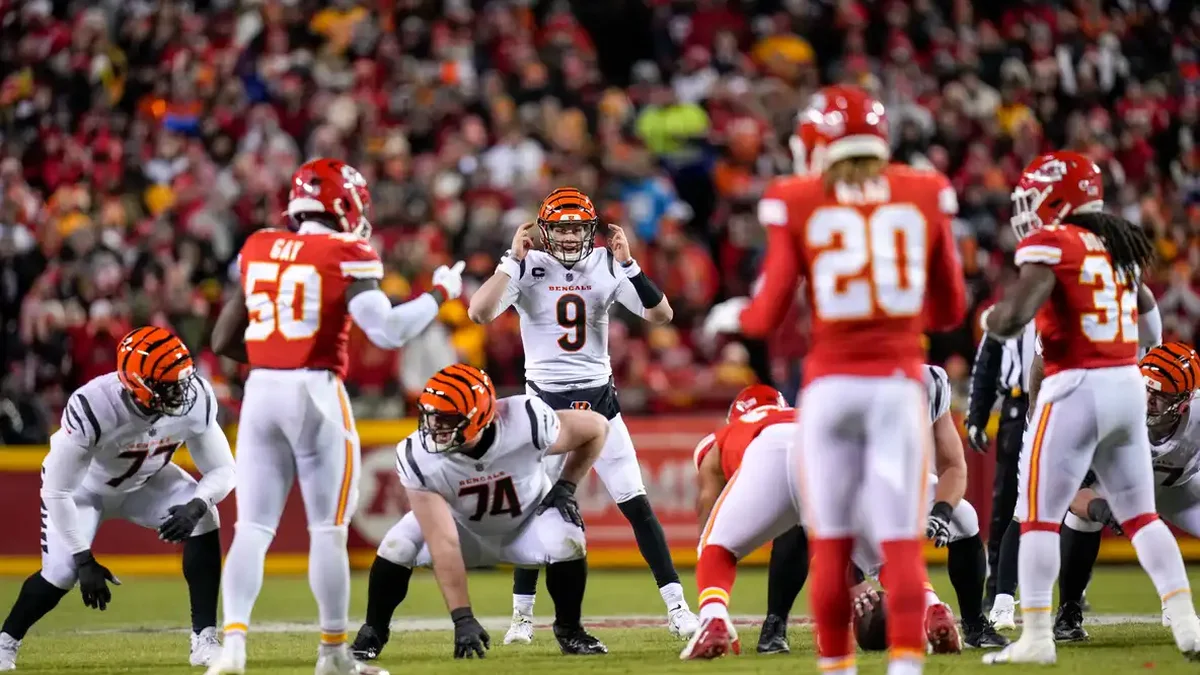 Published: Jan. 29, 2023 at 6:21 PM EST
FINAL: Kansas City kicker Harrison Butker put it through the uprights from 45 yards out to send the Kansas City Chiefs to the Super Bowl, where they will play the Philadelphia Eagles.
Chiefs 23, Bengals 20.
Cincinnati goes home after their 10-game win streak is snapped at Arrowhead Stadium.
Patrick Mahomes took over near midfield with 30 seconds left. A late hit penalty from defensive end Joseph Ossai put the Chiefs in field goal range.
The season is over for the Bengals.
Joe Burrow had the ball at the Bengals 16, first and 10, with two minutes remaining in a tie game. Burrow converted a third and 16 with a 23 yard completion to tight end Harden Hurst.
Third down and eight at the Bengals 33 yard line, forty four seconds left, Burrow was sacked by defensive tackle Chris Jones to force the punt.
--
UPDATE 3:13 4Q: The Bengals drive started at the 18 but got off to a bad start after a holding call that put Cincinnati back at the nine. Joe Burrow for a first down two plays later, scampering 14 yards up the middle.
Ja'Marr Chase couldn't locate the ball on a perfectly thrown Burrow pass in the next sequence. He threw an interception on the next play, and the Chiefs started at their own 18 yard line.
The Chiefs got to the Cincinnati 37 before punting back.
Three drives prior, a mistake by the officials could have cost the Bengals points. A Mahomes second-down pass to Jerick McKinnon fell to the ground, but the officials started the game clock anyways. The next play happened, the Chiefs failed to convert, and the punt team came onto the field... until the officials notified them they had stopped the third-down play to reset the clock without signaling. The Chiefs got the first down on the next play despite a Mahomes sack due to a defensive holding call on Eli Apple. Kansas City failed to convert on the next sequence, however, and punted to give Cincinnati back the ball. (Whew.)
--
UPDATE 0:55 3Q: Bengals defensive end Sam Hubbard recovered a fumble after the ball slipped backwards out of the hands of quarterback Patrick Mahomes. Cincinnati takes over at the Chiefs 44 yard line.
Its Mahomes' first lost fumble of his postseason career.
The Bengals ended the third quarter at the Chiefs 40 yard line with a fourth and five. On the next play Burrow launched a ball deep to Ja'Marr Chase, who rose over two defenders for the 35-yard catch.
Samaje Perine punched it in two plays later.
--
UPDATE 4:15 3Q: Chiefs wide receiver Marquez Valdez-Scantling pulls in a 19-yard touchdown pass over the middle against cornerback Mike Hilton. Hilton misses the pass breakup by the slimmest of margins.
Patrick Mahomes came up limping after a third-down completion earlier in the drive. He's nursing an ankle injury he suffered last week against the Jaguars.
The Chiefs are out of timeouts after their second challenge of the game on a pass play to Valdes-Scantling that was ruled short for a first down. KC won the challenge to get a first down, but a failed challenge earlier in the game means they're out.
--
UPDATE 9:54 3Q: Tee Higgins highpointed a Burrow pass for a 27-yard touchdown, and the Bengals pull even against the Chiefs 13-13.
Higgins started the drive with a nine-yard out route. Samaje Perine carried for seven yards and later got the Bengals across midfield.
Burrow converted a third down with his legs, scrambling for 11 yards to get the Bengals to the KC 31 yard line.
Chiefs defensive tackle Chris Jones pressured and leveled Burrow on pass that fell incomplete. The next play, third and six, Burrow launched the ball for Higgins. Higgins rose over rookie cornerback Jaylen Watson before safety Juan Thornhill could get to the spot, and Higgins plucked the ball out of the air for six.
--
UPDATE: Bengals wide receiver Tyler Boyd is questionable to return with a left thigh injury he suffered in the second quarter on a 24-yard catch.
--
UPDATE: Chiefs cornerback L'Jarius Sneed is officially OUT with a concussion.
Sneed is Kansas City's most experienced player at the position. The Chiefs are left with a pair of rookies in Trent McDuffie and Jaylen Watson, though the pair are already effectively starters with Sneed playing so much at the slot.
Bengals wide receiver Tyler Boyd took advantage of McDuffie with a pair of long catches out of the slot in the second quarter, but Boyd has returned sparingly since suffering a foot/leg injury on the second of those catches. Boyd is questionable to return.
Wide receiver Trenton Irwin is playing in his place.
--
HALFTIME: Joe Burrow marched the Bengals 90 yards down the field, but Cincinnati must settle for a field goal, and the Bengals go into halftime trailing 13-6.
The Bengals have run 34 total plays to the Chiefs 28. They trail the Chiefs in total yards 141 to 184. The Chiefs are averaging 6.6 yards per play.
Joe Burrow is 15-22 for 147 yards and an interception, his first in a month.
Patrick Mahomes, who is playing through an ankle injury, is 13-19 for 165 yards and a touchdown.
Bengals wide receiver Tyler Boyd has returned for just one play since suffering a foot/leg injury early in the second quarter on a 24-yard catch.
Burrow was sacked four times in the first half, three of which were the fault of the offensive line. The line protected better on the two-minute drive to end the half.
The Bengals started that drive at their own five yard line. They moved out of the shadow of their own end zone with a 27-yard pass interference call against Chiefs safety Bryan Cook on tight end Hayden Hurst.
A 17-yard Ja'Marr Chase catch two plays later put the Bengals over midfield.
Burrow found Tee Higgins on a short comeback for five yards and Samaje Perine leaking out of the backfield for four yards to get to the KC 40 yard line. Joe Mixon converted the third-and-one.
Higgins hauled in an 11-yard catch on an inside release the next play to get the Bengals into field goal range with 32 seconds left. Higgins caught a 50-50 ball one play later for 21 yards to get the Bengals inside the five yard line.
Consecutive passes to Higgins came up empty, and the Bengals elected to take the field goal with four seconds left.
--
UPDATE 2:03 2Q: Joe Burrow throws up a ball for a streaking Tee Higgins. The ball is underthrown, and Higgins can't locate it. The pass is intercepted by rookie cornerback Jaylen Watson.
It's Burrow's first interception since Christmas Eve against New England.
The Chiefs take over at the Bengals 39 yard line. Patrick Mahomes is inaccurate on three consecutive passes, and the Chiefs punt, pinning the Bengals at the five yard line.
--
UPDATE 3:53 2Q: Travis Kelce catches a 14-yard touchdown pass from Patrick Mahomes on a fourth-and-one where Mahomes rolled out and found the star tight end in the end zone. 13-3 Chiefs over the Bengals.
Mahomes found Marquez Valdez-Scantling twice on the drive, first for 11 yards and again on the next play for 29 yards to get the Chiefs near the red zone.
--
UPDATE 8:37 2Q: The Bengals get on the board with an Evan McPherson kick after the first productive offensive drive of the day. 6-3 Chiefs.
Wide receiver Tyler Boyd capitalized with slot cornerback L'Jarius Sneed under concussion evaluation (see below). Boyd caught a third-down ball for 17 yards on a deep comeback against rookie cornerback Trent McDuffie. Two plays later, Boyd caught a ball over the middle for 24-yards after wrong-footing McDuffie near his initial break.
Burrow suffered his fourth sack of the game early in the drive after rookie defensive end George Karlaftis beat right tackle Hakeem Adeniji.
Chiefs standout defensive tackle Chris Jones smothered Joe Mixon later in the drive after winning against center Ted Karras and a pulling Adeniji.
Tight end Hayden Hurst couldn't haul in a perfect Burrow throw that would have gone for six, setting up the field goal.
--
UPDATE: Wide receiver Kadarius Toney is questionable to return with an ankle injury.
Chiefs cornerback L'Jarius Sneed is being evaluated with a concussion. Sneed is Kansas City's most experienced player at the position. If Sneed can't return, the Chiefs will be left with a pair of rookies in Trent McDuffie and Jaylen Watson, who are already effective starters with Sneed playing so much at the slot.
--
UPDATE 6:27 1Q: The Bengals defense holds the Chiefs to another field goal in the red zone after a holding call wiped out a would-be touchdown from running back Isiah Pacheco. Chiefs lead 6-0.
The Bengals' streak of not allowing a first-quarter touchdown since Week 6 against New Orleans remains intact.
Pacheco got the Chiefs across midfield with a screen pass he took 18 yards to the Bengals 45 yard line.
Wide receiver Kadarius Toney got a first down on the next play with a 10-yard catch on a high-low with Travis Kelce running a deep corner post. Toney stayed out with an ankle injury and is questionable to return.
A Kelcie hook-and-latter play failed after Kelce caught the ball but pitched it errantly to a charging Jerick McKinnon.
Chiefs cornerback L'Jarius Sneed is being evaluated with a concussion. Sneed is Kansas City's most experienced player at the position. If Sneed can't return, the Chiefs will be left with a pair of rookies in Trent McDuffie and Jaylen Watson, who are already effective starters with Sneed playing so much at the slot.
The Chiefs have run 17 total plays to the Bengals' eight. The Chiefs have 109 total yards to the Bengals' zero.
--
UPDATE 6:27 1Q: Burrow took his third sack of the game on the Bengals' eighth offensive play, and Cincinnati goes three-and-out on their second drive.
The Chiefs on second down overloaded the right side of the Bengals offensive line where backups Hakeem Adeniji and Mac Scharping are starting. A false start gave the Bengals a 3rd and 18. Defensive tackle Chris Jones won against Scharping and sacked Burrow.
Crowd noise appears to be a factor early. The Bengals have been penalized twice, once for a false start and once for a delay of game.
The Bengals had two penalties last week against the Bills. They have three already early.
--
UPDATE 8:50 1Q: The Chiefs get on the board first with a 43-yard Harrison Butker field goal.
Kansas City lost a timeout challenging a Patrick Mahomes would-be 25-yard touchdown pass to wide receiver Kadarius Toney that slipped out of his grasp and hit the ground in the end zone. It was slot corner Mike Hilton on the coverage.
Travis Kelce got 16 yards running after a catch in the flat, appearing to show no signs of the back injury that rendered him questionable coming into the game.
--
UPDATE 12:23 1Q: The Bengals received the opening kickoff and got one first down but were forced to punt after a third-down sack.
Joe Burrow completed a pass over the middle to Ja'Marr Chase against cover-two from the Chiefs. He tried to go back to Chase on a similar route and was nearly bated by rookie cornerback Trent McDuffie into a pick with safety Juan Thornhill bracketing overtop.
A false start gave the Bengals a third-and-nine, and Burrow tried to move up in the pocket, forcing a sack that did not appear to be the fault of the offensive line.
Cornerback L'Jarius Sneed, the Chiefs most veteran corner, walked off with a possible concussion after tackling Bengals running back Samaje Perrine.
CINCINNATI (WXIX) - The Bengals take on the Chiefs at Arrowhead Stadium in Kansas City for a spot in Super Bowl LVII. Kickoff is at 6:30 p.m.
The Chiefs are 1.5-point favorites in the latest odds from Caesars Sportsbook. The over/under is set at 47.5 points.
The winner will face the Philadelphia Eagles, who defeated the San Francisco 49ers in the NFC Championship Game Sunday evening. The Eagles win eliminated the potential chance for a Cincinnati revenge game against the 49ers in Super Bowl LVII. The Bengals lost to the 49ers in Super Bowls XVI and XXIII.
The Bengals are riding a 10-game winning streak, the longest in franchise history, and are oozing confidence coming into Sunday's game.
Cincinnati has won its last three games against the Chiefs, including a come-from-behind 24-21 overtime win in last year's AFC Championship game, also at Arrowhead Stadium.
[D.J. Reader to Bengals fans: 'We see you having our backs. We got your back too']
WhoDey Nation appears to have traveled well again. Last week, defensive tackle D.J. Reader said away Bengals fans were so loud, he had trouble hearing the play calls from linebacker Logan Wilson. Some estimates put 10,000 Bengals fans in Buffalo; many at the game said that figure was low, perhaps by as much as half.
It's a gusty day in Kansas City. Game-time temperature is expected to be around 23 degrees. Temps will drop into the teens throughout the game.
Joe Burrow is the only NFL quarterback undefeated in cold-weather games since 2020. He's now 5-1 in the postseason after a near-perfect game against the Bills last week and hasn't thrown an interception in a month.
[Chiefs DC wowed by Burrow: 'It feels like he's got six eyeballs around his head']
Injuries to Chiefs quarterback Patrick Mahomes and tight end Travis Kelce could factor in the game's outcome. Mahomes is hobbled with a high-ankle sprain to his plant leg and is expected to play. Kelce is active but is dealing with a back injury he reportedly tweaked on Friday.
No surprises in the Bengals injury report. Cincinnati continues to be without three starters on the offensive line, including left tackle Jonah Williams and right guard Alex Cappa, who could be back for a potential Super Bowl.
The Bengals have thrived on perceived disrespect from pundits and even the league itself, using slights (real or imagined) as bulletin-board material on their way to a 10-game unbeaten streak capped by last Sunday's drubbing of the Buffalo Bills. Now that so many are taking notice of what's going on in Cincinnati, does the team risk losing focus? Not according to Burrow.
"Nobody in that locker room needs any more motivation than what's inside of them, and that's why we're so good," Burrow said on Monday.
[Kansas City players unimpressed by Bengals offense: 'We're gonna handle them']
Cincinnati's defensive gameplan against Mahomes has included simulating pressure looks and then dropping out of them. Bengals defensive coordinator Lou Anarumo often drops the strong-side defensive end into coverage upon the release of Chiefs tight end Travis Kelce and then rolls a safety to the other side of the formation. Anarumo also uses both ends in spy roles targeting Mahomes' scrambling ability—Mahomes led the league this year in touchdowns out of the pocket. (See Kurt Warner's Bengals-Chiefs film breakdown)
With Mahomes nursing that sprain, Anarumo could be tempted to bring more designed pressures to force Mahomes into awkward back-footed throws. He did just that against the Bills, blitzing nickel cornerback Mike Hilton from depth. Anarumo on Thursday described the 5′9″ Hilton, who pestered Josh Allen all second half, as "the best nickel back in the league."
The Bengals defense is giving up the fewest EPA per play in the NFL this season after halftime, according to Pro Football Focus.
On the other side of the ball, Kansas City defensive coordinator Steve Spagnuoloknows it's dangerous to pressure Burrow. But like all other defensive coordinators in football, he also knows it's dangerous not to.
"We're gonna pick our spots," he said of blitzing. "I don't think we're going to go completely away from it, but we gotta be careful, because we know what and his three running-mates can do if they do protect it—and they've found ways to protect it."
Kansas City's best defensive player is undoubtedly defensive tackle Chris Jones, who is one of the best at his position (if not the best) in the league. He recorded 15.5 sacks as a three-tech in 2022. He often comes on stunts and plays at the edge in some packages. The Bengals have been effective in scheming him out of plays, however, and Jones' worst game of 2022 was against Cincinnati.
Bengals running back Joe Mixon broke out against Buffalo with 105 yards on the ground and more than five yards per rush, but it was backup Samaje Perrine who gashed Kansas City during the teams' regular-season meeting eight weeks ago. Perrine's bruising downhill style could give the Bengals what they need against a talented Chiefs defensive line.
The Bengals trio of star wide receivers could go against a pair of rookie defensive backs in Trent McDuffie and Jaylen Watson with starter L'Jarius Sneed expected to play the slot/nickel cornerback role.
Bengals wide receiver Ja'Marr Chase needs 175 yards this game or this game and the Super Bowl to eclipse Randy Moss' record for most yards by a wideout in his first two NFL seasons, according to NFL Research. Moss had 3,189 yards in 32 regular-season games and four playoff games. Chase has 3,014 yards in 29 regular season games and six playoff games.
See a spelling or grammar error in our story? Please include the title when you click here to report it.
Copyright 2023 WXIX. All rights reserved.