NTSB report out on Ohio train derailment: Read it here
Published: Feb. 23, 2023 at 5:58 AM EST
|
Updated: Feb. 23, 2023 at 11:01 AM EST
EAST PALESTINE, Ohio (WXIX) - The National Transportation and Safety Board (NTSB) issued its preliminary findings Thursday morning into the Feb. 3 Norfolk Southern train derailment in East Palestine.
The report does not give a cause of the fiery derailment yet, but it does cite crucial evidence gathered as part of the investigation, which remains very much ongoing.
Norfolk Southern initially said there was an axle failure on one of the railcars. Surveillance video shows an axle on fire several minutes before the derailment.
The NTSB report confirms a wheel on the train was too hot in the moments before the derailment - and a sensor failed to alert the crew.
The NTSB has been looking into whether sensors on the rails called "hot boxes" that detect overheating and alert engineers to break and stop the train were there and if they were working.
Surveillance video showed what "appeared to be a wheel bearing in the final stage of overheat failure moments before the derailment," the report states. "The wheel bearing and affected wheelset have been collected as evidence and will be examined by the NTSB."
The detector on the rails about 19 miles from the accident site sensed that the bearing was more than 100 degrees hotter than the ambient temperature, but that was too low to set off the alarm, the report notes.
Another sensor alerted the crew to the failure only moments before the train went off the rails.
NTSB officials will discuss their findings during a 1 p.m. news conference in Washington, D.C.
U.S. Transportation Secretary Pete Buttigieg toured the site of the fiery train derailment earlier Thursday morning after being criticized for not going sooner to the community of about 4,300 residents near the Pennsylvania border.
He also is expected to deliver remarks Thursday afternoon.
"Future investigative activity, the NTSB report states, "will focus on the wheelset and bearing; tank car design and derailment damage; a review of the accident response, including the venting and burning of the vinyl chloride; railcar design and maintenance procedures and practices; NS use of wayside defect detectors; and NS railcar inspection practices."
The NTSB can issue safety recommendations to prevent future derailments.
In addition, the agency is looking into Norfolk Southern's policies and whether a specific rule or rules played a role.
Read the full NTSB report for yourself:
Thirty-eight of the 120 railcars aboard a Norfolk Southern-operated train derailed and burst into flames, damaging another 12 railcars.
There were 20 total hazardous material cars in the train, 11 of which derailed, according to a Feb. 14 NTSB preliminary report on the derailment.
A list of what the derailed cars were carrying is available on the EPA's website. The chemicals that leaked included vinyl chloride, a toxic substance used in the production of plastics. Five of the derailed cars contained this chemical.
There were no reported fatalities or injuries at that time.
Earlier this week, the U.S. Environmental Protection Agency ordered Norfolk Southern to pay for the cleanup as federal regulators took charge and assured residents they won't be forgotten.
Local residents have repeatedly expressed fears, however, about potential long-term environmental consequences.
The fire from the derailment burned for a few days afterward.
Although five cars containing vinyl chloride remained intact following the crash, the relief valve on one of the cars had malfunctioned.
A temperature change in one of the train cars caused fears of an explosion with the potential to disperse shrapnel as the fires continued to burn.
Gov. Mike DeWine activated the Ohio National Guard to assist local authorities in what he called "a matter of life and death".
Pennsylvania Gov. Josh Shapiro ordered an evacuation in areas of Beaver County that bordered the site.
Officials in both states went door-to-door to evacuate residents.
To prevent further explosions, emergency crews eventually conducted a controlled burn to release toxic chemicals from the train into the air, such as hydrogen chloride and phosgene.
Meanwhile, water in Sulfur Run near the derailment site is now grossly contaminated," according to the EPA.
A containment area was created on Feb. 8, the agency says.
Clean water from upstream is being pumped around the containment area to isolate any grossly contaminated water and sediments. This minimizes the amount of contaminants that could flow downstream, according to the EPA.
Contractors are working to remove the contaminated water in the containment area.
Sulfur Run flows into Leslie Run, which flows into Bull Creek, which flows into North Fork Little Beaver Creek, which flows into Little Beaver Creek, which empties into the Ohio River.
Last week, test results confirmed that East Palestine's municipal water was free from contaminants associated with the derailment, DeWine's office announced Wednesday.
Out of an abundance of caution, the Ohio EPA will independently test the municipal water once a week to ensure that this water source remains clean.
The most recent tests by the Ohio River Valley Water Sanitation Commission (ORSANCO) indicate no butyl acrylate or vinyl chloride have been detected in the Ohio River, DeWine's office says.
As a precaution, water intakes on the Ohio River were shut off over the weekend in Cincinnati and Northern Kentucky and reserves were used during the time the chemical plume from the derailment was expected to reach the area.
By then, the plume was "dissipated," DeWine has said.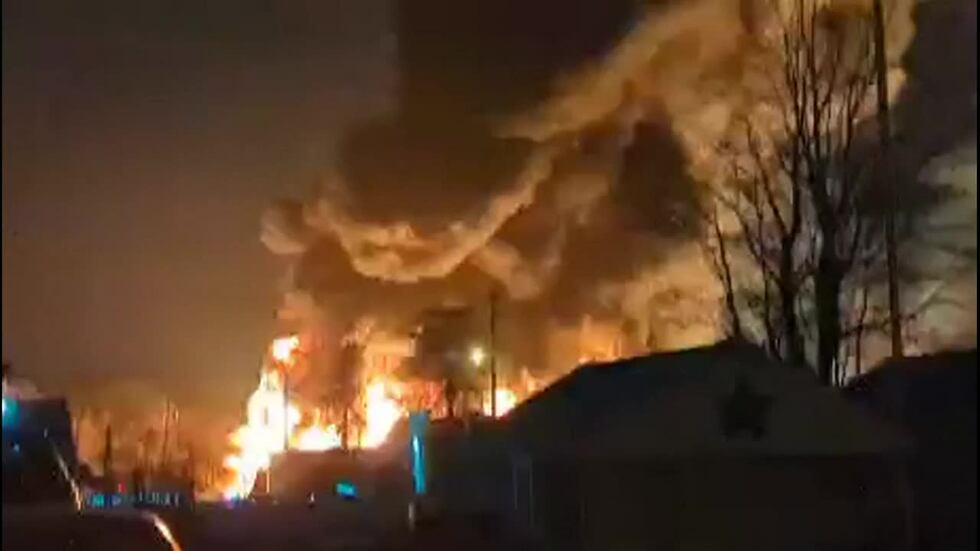 Norfolk Southern's CEO has promised to undertake the necessary steps to ensure the long-term health of the community and become a safer railroad.
Still, EPA took over the cleanup under the federal Superfund law to order Norfolk Southern to take all available measures to clean up contaminated air and water.
They can now require the railway to reimburse the federal government which will provide cleaning services for impacted residents and businesses.
EPA Administrator Michael Regan said in a news conference in East Palestine Tuesday that if Norfolk Southern fails to comply, the agency will perform the work itself and seek triple damages from the company.
Norfolk Southern Railway and/or Norfolk Southern Corp. now face a total of 10 lawsuits related to the derailment and, as one suit states, "chemical burn."
Norfolk Southern is the same company working to buy Cincinnati's municipally owned railway for $1.6 billion.
The lawsuits seek class-action status with more than $5 million in damages, court records show.
They allege similar claims of negligence and carelessness that allegedly caused the train derailment and subsequent unleashing of toxic chemicals.
One of the lawsuits filed last week alleges a train car was "sparking" and/or "burning" 20 minutes before it reached East Palestine and a "hot box" detector in Salem, Ohio, should have detected this activity and alerted the crew, but it is not known if this occurred.
Another lawsuit alleges the train derailment released 1.1 million pounds of the "cancer-causing vinyl chloride" into the air, "more in the course of a week than all industrial emitters combined did" in 2021.
The suit also says a mechanical defect alarm sounded on the train just before it derailed.
"An overheated wheel bearing was failing, and about to lead to catastrophe. Moments later, Train 32N derailed in East Palestine, Ohio. Fifty rail cars were derailed or damaged," the suit reads.
There were 20 total hazardous material cars in the train consist—11 of which derailed. Here's a list of the chemicals on board, including cancer-causing vinyl chloride and butyl acrylate, the NTSB says.
A plume of the spilled chemicals killed 3,500 fish in nearby streams, according to the Ohio Department of Natural Resources and then went into the Ohio River.
Several cars containing flammable and combustible materials breached, spilling approximately 688,000 pounds of polyvinyl, 273,394 pounds of Ethylhexyl Acrylate, 273,394 pounds of Ethylene Glycol Monobutyl Ether, 206,000 pounds of Butyl Acrylates, and igniting an inferno that would burn for days.
"This situation would never have occurred if not for failure on top of failure by Norfolk Southern. Train 32N should never have been operated in such a reckless manner that its wheel bearings would fail and cause (the) derailment of a train carrying highly toxic and combustible substances," the lawsuit states.
"Even after the derailment, the integrity of cars containing highly toxic and combustible substances should not have breached, and emergency pressure relief valves should have functioned as designed. Nevertheless, Norfolk Southern layered on yet more failures once it found its derailed train at imminent risk of catastrophic detonation.
"Norfolk Southern blew holes in its vinyl chloride cars, and dumped 1,109,400 pounds of cancer-causing Vinyl Chloride directly into the environment.
"For context, the highest emitter of vinyl chloride in the United States discharged 68,346 pounds of vinyl chloride in 2021. The total for all emissions of vinyl chloride in that year was 428,522 pounds. In other words, Norfolk Southern discharged more cancer-causing Vinyl Chloride into the environment in the course of a week than all industrial emitters combined did in the course of a year.
"Vinyl Chloride is persistent in the environment, and when dumped directly onto soil can leach into groundwater.
"Instead of properly containing and cleaning up its mess, and being responsible for a costly cleanup effort, Norfolk Southern had a different idea: 'Set it on Fire.'
"Norfolk Southern ignited a 1 million pound plus chemical burn pit that burned for days and covered Plaintiffs and Class Members in a large plume of thick black smoke. A mushroom cloud resulted from the blaze, dispersing toxic chemicals for miles and across State lines into Pennsylvania.
"There is a major problem with setting Vinyl Chloride on fire—it creates Phosgene Gas. Phosgene Gas is a chemical warfare agent banned under the Geneva Convention and was responsible for the deaths of about 85,000 people in World War I."
FOX19 NOW has repeatedly reached out to Norfolk Southern for interviews over the past few weeks. The company has not addressed questions.
A spokesperson told us earlier this week they are unable to comment on litigation.
They directed us to a statement from Norfolk Southern CEO Alan Shaw last week and a new website: https://nsmakingitright.com/
"Our company will be working tirelessly every day to get East Palestine back on its feet as soon as possible. We know we will be judged by our actions, and we are taking this accountability and responsibility very seriously," Shaw said in his statement.
Read it in its entirety here:
See a spelling or grammar error in our story? Please click here to report it and include the headline of the story in your email.
Do you have a photo or video of a breaking news story? Send it to us here with a brief description.
Copyright 2023 WXIX. All rights reserved.