Family shot in murder-suicide minutes before being evicted from foreclosed home, sheriff says
Published: Mar. 2, 2023 at 3:45 PM EST
|
Updated: Mar. 3, 2023 at 5:07 AM EST
CLERMONT COUNTY, Ohio (WXIX) - Investigators believe Theresa Cain shot her family members, killing three of them, just minutes before deputies arrived to serve them with eviction papers as they were removed from their foreclosed home, Sheriff Steve Leahy said Thursday.
The eviction was the culmination of a long history of financial problems for the family that appears to be the motive of the murder-suicide that left four relatives dead and a fifth fighting for her life, he said.
"It is tragic and unnecessary," Sheriff Leahy said. "'What can we do to keep this from happening again?' Well, I'm just not that sure that we can. When people are in crisis, it's not as easy as just reaching out and saying, 'I need help.' They are spiraling. Nothing makes sense.
"What we see here, you can't make sense of this. Murder is a senseless thing, but then you throw in suicide and the homicide of your family. It's all very sad. This lady had been totally cooperative the entire time."
[4 dead, 1 critical after potential murder-suicide in Clermont County, sheriff says]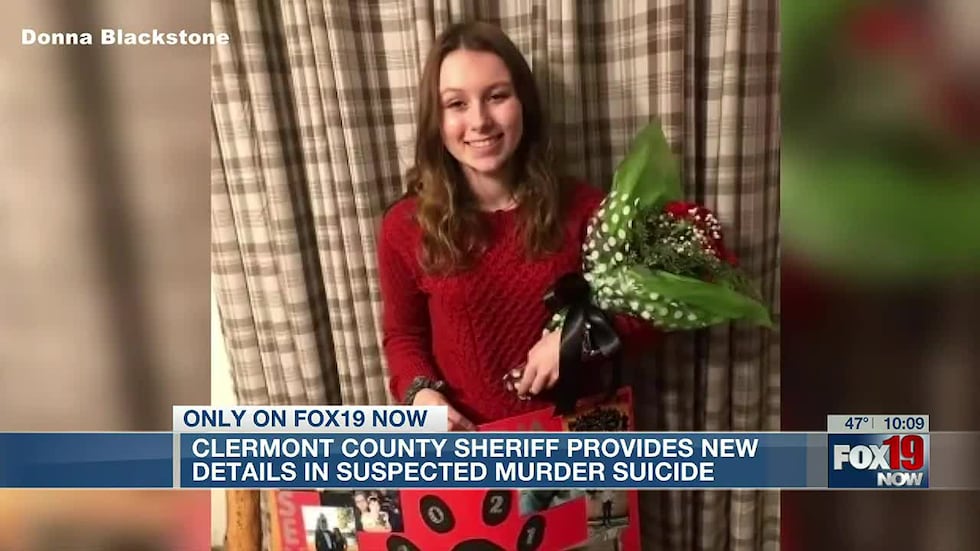 When deputies pulled up to the family home on Riebel Ridge Road in Ohio Township around 9:40 a.m., Monday, Theresa Cain was standing on the patio outside, the sheriff said.
Deputies expected no issues. They checked with her before Monday to ensure all would go smoothly.
She had been cooperative. She indicated she still had a few things to pack.
She requested and received a few extra hours but agreed the family would be ready to vacate the premises by 10 a.m. Monday.
More importantly, Theresa Cain assured the sheriff's office they had a place to go.
But as soon as she saw them pulling up, she quickly went inside the house, the sheriff said.
One of the deputies thought that was odd and immediately knocked on the front and back doors.
No one answered.
The deputy stepped inside the home and called out to her, announcing the sheriff's office had arrived.
He heard a muffled "No, no, no, no," the sheriff recalled Thursday, followed by a "very fast" succession of gunfire.
She fired five gunshots in just under 3.5 seconds, ones they now believe were meant to keep deputies away - and then turned the gun on herself, the sheriff said.
Once deputies could safely venture further into the home, they found her dead upstairs along with her 13-year-old son, Ethan Cain, and her 74-year-old father, William Felton, who lived with them.
Her daughter, Samantha Cain, 20, was critically hurt and remains in critical condition at the University of Cincinnati Medical Center.
Deputies found Theresa Cain's husband, Steven Cain, 50, on a downstairs couch.
The sheriff said their investigation determined she gunned her husband down first.
All the victims were awake when they were killed, likely aware of what was happening, and shot just minutes before deputies arrived.
As they walked through the home Monday, they realized not a single thing, not one box, was packed, leading them to believe Theresa Cain hid the eviction from her family right up until the end, the sheriff said.
"You would think," he said, "there would be resources for someone like them, but I think she kept this a very close secret. Hopefully, Samantha recovers and can help fill in some blanks."
A relative indicated Thursday she is in a coma, but doctors have given her a good chance of surviving.
Detectives recovered a. 38-caliber revolver they believe Theresa Cain used to kill her husband first. The Bureau of Alcohol, Tobacco, Firearms and Explosives is now tracing the weapon to see who owned it, the sheriff said.
Freedom Mortgage Corporation of Indiana foreclosed on the family's home in May 2022.
They have lived on the 3-acre property since moving there from Connecticut nearly eight years ago, according to court filings and the sheriff.
Steven Cain and Theresa Cain purchased the two-story, three-bedroom home built in 1990 for $212,000 in July 2015, auditor records show.
The mortgage company repurchased it at a sheriff's sale late last year and hired a crew to remove the family's belongings from the property Monday.
Deputies routinely assist at these scenes to keep the peace and ensure all goes smoothly, according to the sheriff's office.
The sheriff brought counselors in for his staff this week to help them cope. The crime scene inside the home was gruesome and disturbing.
He said he's been working closely with investigators all week and helping some of them realize that sometimes things like this happen that make absolutely no sense.
People go through financial hardships and evictions without killing their families and committing suicide.
He said they are looking into whether Theresa Cain had mental health issues.
The tragedy also has the New Richmond School District hard.
Both Cain children attended New Richmond schools.
Samantha Cain graduated from New Richmond High School.
Ethan Cain was a student at New Richmond Middle School.
Counselors have been at the schools all week.
The middle school students are lovingly memorializing Ethan with handwritten notes and pictures on a bulletin board in the hallway.
Superintendent Tracey Miller was at the middle school again Thursday, talking with students at dismissal time.
"Today was more normal than yesterday, and yesterday was more normal than the day before," he said afterward. "It will get better day by day. They had a 'Wear Blue Day for Ethan Day" yesterday. And they are still adding to the bulletin board.
"I think the hardest thing is we'll always have that question: could we have seen something? Is there something we could have done to make a difference in that family's life? And we'll just never know."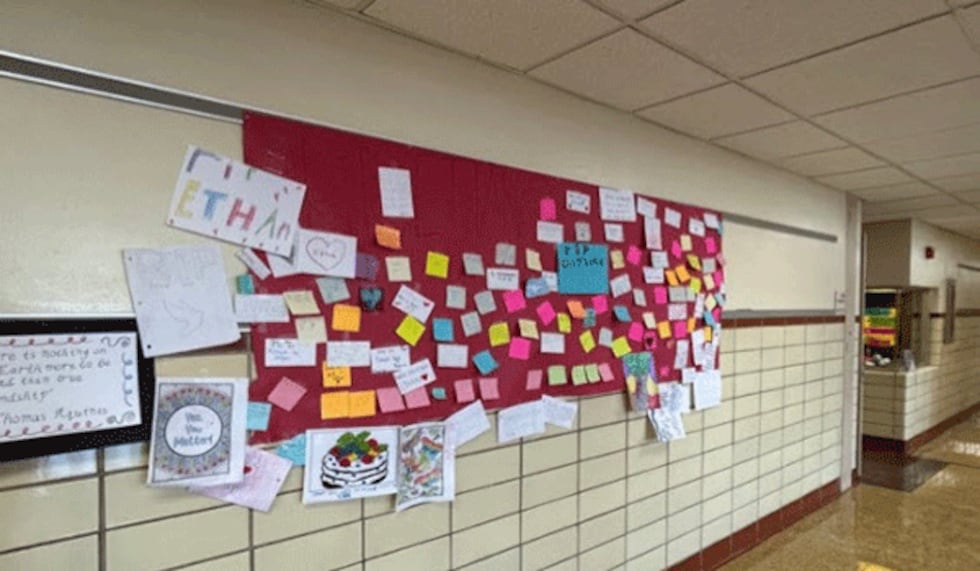 He said Ethan was a "little bit quiet but a nice, polite young man. He was very conscientious. He just really wanted to do a good job on his assignments and get them all done, and he made sure they were done. He would get upset with himself, and (his teachers) would say, 'That's OK. We'll make this work.
"He took over a piece of people's hearts here at the middle school. There was no shortage of Ethan stories. You just talk and remember some of the better times and the importance of taking care of your loved ones. Nobody's promised tomorrow. Look out for each other."
Samantha's sorority sisters at Northern Kentucky University established a Go Fund Me account to help pay for her medical care.
Some of the New Richmond School District student groups are going to get behind and do things for the fund, the superintendent says.
"Samantha currently remains in critical condition in the hospital, and we would like to try and raise money for any expenses that she might face when she wakes up," one of the Go Fund Me organizers, Kalie Clark, wrote on the page.
"Any donations and prayers that you can offer are greatly appreciated as we want to do everything that we can to be there for her during this time. Thank you."
So far, more than $21,000 has been raised toward the $25,000 goal.
Many donations are in small amounts, from $5 and up. The top donor, who is anonymous, gave $1,000.
An Amelia coffee shop and its workers also helped: $200 from "Annette DiTommaso and the Team at BIGGBY Amelia" and $100 from "Mills Family Biggby Coffee Stores."
Clark thanked everyone in the latest update on the Go Fund Me page.
"We are overwhelmed and overjoyed with the amount of support being given to Samantha! While she is still in the hospital and listed under critical condition, we know that once she wakes up, this will mean so incredibly much to her.
"We are still unsure of what exactly happened as Samantha has not been conscious thus far. However, we are just extremely grateful to see the community come together and support her in this way. Our goal is to raise as much money for her as possible for her to use for whatever expenses she will face once she is awake, as her life will have been changed completely. Please continue to share this link for donations, please continue to pray for this sweet girl, and please continue to give what you can."
Steven Cain was known as the lead singer of a local band, "Critical Khaos, which plays groove/thrash metal music, according to the band's website.
The band has urged people to donate to Samantha Cain's Go Fund Me account and one that Steven Cain's brother-in-law established to pay expenses to bury him and Ethan in Georgia, where Steven Cain and his sister Wanda Garrison grew up. Ethan also was born there.
"We are so blown away by all the love. Our family is strong," reads the latest post on the band's Facebook page.
"We always welcome everyone, and we will continue to welcome everyone into our Chaotic Family. One thing we really need to tell you, though.. we will soon have good news to share.. while we will always miss our brother in Khaos.. we know for a fact he would be pissed if we just sat around sobbing over our loss of Steve .. he would headbutt all of us... Lol.. (inside joke). So yeah.. we have some great news headed your way...We'll talk about it later."
See a spelling or grammar error in our story? Please click here to report it and include the headline of the story in your email.
Do you have a photo or video of a breaking news story? Send it to us here with a brief description.
Copyright 2023 WXIX. All rights reserved.