Why Cincinnati won't see highway caps on Fort Washington Way, I-75 any time soon
Capping the eight-lane trench dividing the business district from the riverfront has been a goal for decades.
Published: Mar. 6, 2023 at 8:04 PM EST
CINCINNATI (WXIX) - Cincinnati's application for federal money to advance the capping of Fort Washington Way came up short last week, sending local officials back to the drawing board yet again.
A review of the failed application could shed light on how local leaders might improve their chances next time. But for the moment, the idea of reconnecting Downtown Cincinnati's business district and riverfront remains just that—an idea.
A city spokesperson calls the news "disappointing" but notes the administration is not discouraged.
"The City of Cincinnati and our partners [...]will continue pursuing other grant opportunities to plan for decks over Fort Washington Way," the spokesperson said Monday. "There is broad community support for this important and transformational project."
Reconnecting Communities
The city and Hamilton County joined with the Cincinnati USA Regional Chamber of Commerce last year in applying for the first-of-its-kind U.S. Department of Transportation grant. Created by President Biden's Bipartisan Infrastructure Law, the Reconnecting Communities Pilot program aims to mend communities riven by highway construction beginning in the 1960s.
Interstate routes cut through low-income and minority communities where political resistance was weakest and decades of redlining suppressed land values. according to a DOT report.
The report reads: "In practice, this meant that urban interstates cut through low-income and minority communities more often than not. Done in coordination with urban renewal initiatives the construction of urban interstates was often used as a means to remove low-income housing, seen as slums or urban blight, to make way for new development. In fact, many of the communities destroyed by urban renewal and the construction of urban highways were once densely populated, vibrant, affordable, and accessible neighborhoods."
At least 1 million people and businesses were displaced in the buildout of the highway system, the DOT estimates.
Most Cincinnatians will think first of the construction of Interstate 75 through the West End, but upstream neighborhoods like Camp Washington and those like Bucktown on the east side of the urban core were largely hollowed out as well.
What would become Fort Washington Way was a dense strip of buildings between Cincinnati's business district and the riverfront shipping warehouses.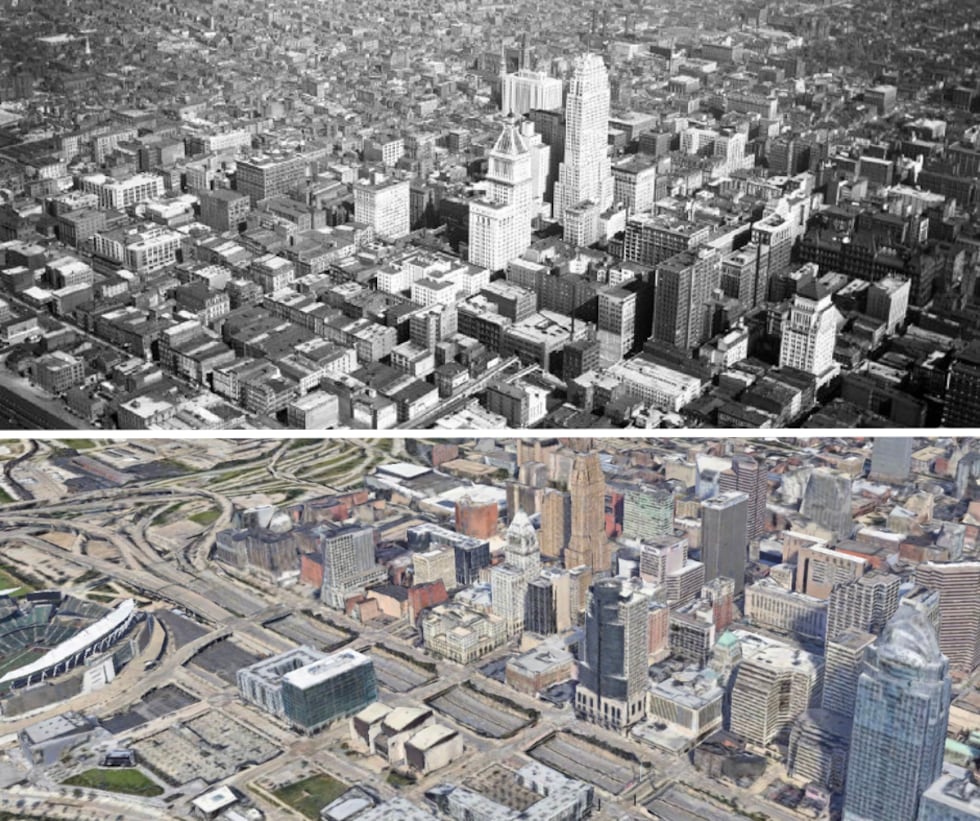 The Reconnecting Communities Pilot program exists as a planned remedy. It funds, according to the DOT, "transformative community-led solutions, including capping interstates with parks, filling in sunken highways to reclaim the land for housing, converting inhospitable transportation facilities to tree-lined Complete Streets, and creating new crossings through public transportation, bridges, tunnels and trails."
It proved incredibly popular. The DOT received 435 applications across 48 states seeking more than $2 billion in funding—10 times the amount available in the program's first year.
The DOT on Feb. 28 announced the 45 projects that would receive planning or capital grants.
Twenty-three grants will cap, lid, bridge or remove infrastructure barriers (sunken or elevated highways as well as railroad crossings) so the land can be repurposed.
Nine grants will fund planning studies targeting the same barriers. Six grants will build new dedicated bicycle and pedestrian trails across barriers. Five grants will create so-called "complete streets" with tree-lined medians, bike lanes and sidewalks. The final two grants will fund transit lines across barriers.
Federal transportation officials worked with the Environmental Protecting Agency and the Department of Housing and Urban Development to review the applications. They prioritized applications "from economically disadvantaged communities, especially those focused on equity and environmental justice, and that demonstrated strong community engagement and stewardship, and would catalyze shared prosperity in its development and job creation."
Fort Washington Way denied
The Fort Washington Way application envisioned two decks between Walnut and Race streets with green space bookended by public plazas.
Housing is possible on future decks, but federal regulations prohibit buildings taller than four stories. Public transit, including Cincinnati's streetcar, crosses the trench without issue.
The proposal is "shovel ready" in the sense that the trench's supports and ventilation system are already able to accommodate the decks.
Mayor Aftab Pureval said last year the proposal had the ability to unlock Cincinnati's "fullest potential." Chamber CEO Jill Meyer said it would create a one-of-a-kind regional asset that will spur economic development[...]"
"[W]e had a strong application with dozens of letters of support for the project," the city spokesperson said Monday.
In the end, it didn't matter, and local leaders are in the dark as to why—whether it was a good application that got lost in a sea of them or, alternatively, whether its promised benefits were mismatched with the program's stated priorities.
"We look forward to getting input from USDOT on how to improve our application for a future round," the spokesperson said.
The Reconnecting Communities Pilot program is funded with $1 billion over five years through 2026, with around $200 million in grants available each year.
Other grants are available to reconnect communities under the Bipartisan Infrastructure Law, including RAISE grants and INFRA grants. Cincinnati received a $20 million RAISE grant last September to improve multimodal infrastructure from Queensgate to Lower Price Hill. The City received a $127 million INFRA grant the same month for the Western Hills Viaduct.
The Inflation Reduction Act allocates another $3 billion to fund similar projects through the Neighborhood Access and Equity Grant program. The bill prioritizes grants that fund projects in economically disadvantaged communities. Grants can be used to build connections across highways and railroads, and to redesign roads that are dangerous to cross.
Brent Spence a no-go
Some local activists with an organization called Bridge Forward want the Brent Spence Bridge project changed to add caps on the I-75 approach west of Downtown Cincinnati. Is it feasible? The Ohio Department of Transportation says no, but ODOT is taking other steps to reconnect downtown to the West Side.
ODOT and the Kentucky Transportation Cabinet considered caps but determined they're infeasible. The interstate and its ramps must stay elevated over the Ohio River and as it crosses Cincinnati's CSX rail lines near Pete Rose Way. Caps in the area near the river would require steep roadway grades that wouldn't meet design standards and would create safety concerns, per ODOT.
The problem with capping the stretch between 5th Street and Central Avenue is it would require submerging or elevating nearby roads like Western Avenue in a way that would either render the caps inaccessible or substantially increase the whole project's footprint, impacting housing, schools, parks, historic structures, businesses and the street grid, ODOT says. The caps would also likely remove connections to downtown's east-west arteries as well as US-50.
Caps above Ezzard Charles are impractical because the interstate is already elevated, per ODOT.
But the BSB project does contain improved pedestrian and bicycle connections across I-75, according to an ODOT spokesperson.
New sidewalks and shared-use paths along existing streets crossing the interstate will improve overall connectivity, while added lighting and new decorations will create a "walkable urban sense of place," the spokesperson says.
See a spelling or grammar error in our story? Please include the title when you click here to report it.
Copyright 2023 WXIX. All rights reserved.