Cincinnati Zoo, Animal CARE release new information on Amiry the 'cocaine cat'
Cincinnati Animal CARE explained why charges were not filed initially and what could happen next.
Published: Mar. 10, 2023 at 6:51 PM EST
Video from previous coverage.
CINCINNATI (WXIX) - The serval who came to the Cincinnati Zoo last month with a broken leg and cocaine in its system has improved enough that it's moving into the zoo's Cat Ambassador Program, a zoo spokesperson said Friday.
The cat, named Amiry, received weeks of care from the veterinary facility at the zoo. He was moved to the CAP on Thursday.
Amiry is still recovering from the broken leg, so the CAP team isn't yet letting him bound around. Right now, the focus is on helping him get used to his new environment and care team.
"Amiry is young and very curious. He is exploring his new space and eating well, both great signs of progress. The CAP team is very excited to have him in our care. We are working on building trust and increasing his comfort as he adjusts to his new home," said the lead trainer of Cincinnati Zoo's Cat Ambassador Program, Linda Castañeda.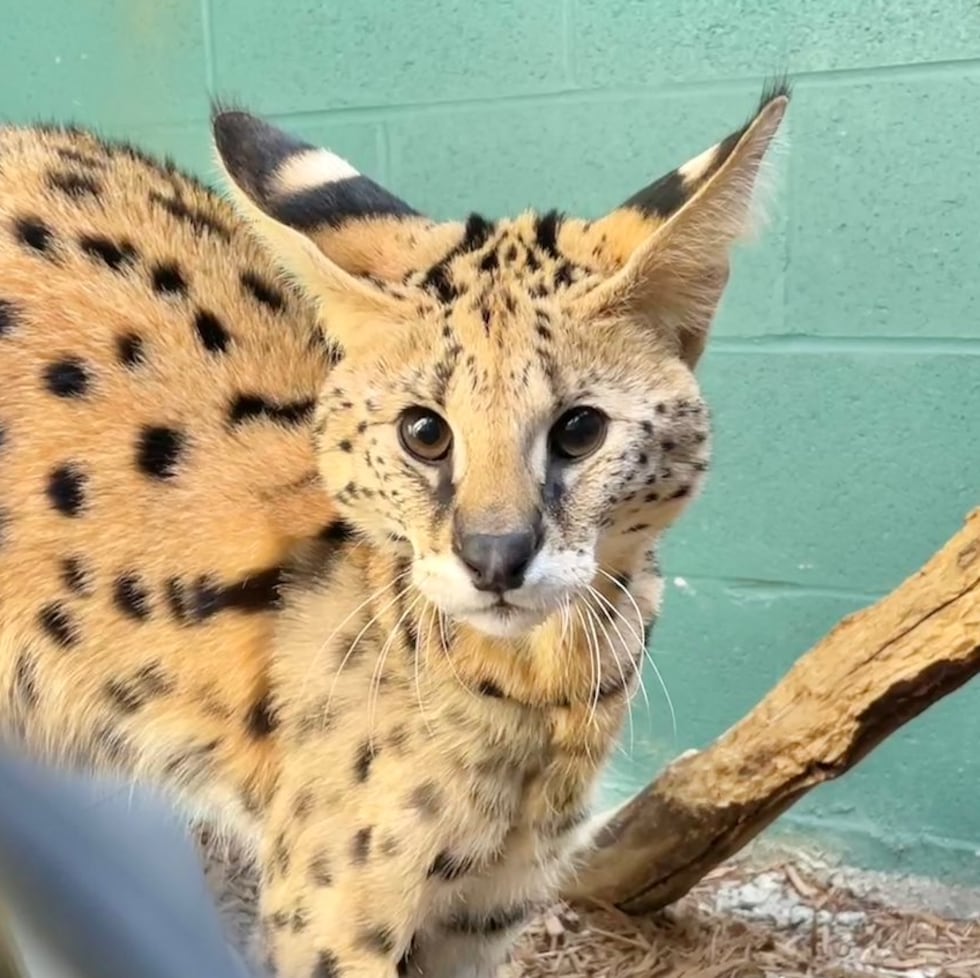 The Cincinnati Zoo, a leader in managed cheetah breeding, uses the CAP to educate visitors about the importance of cheetahs and other wild cats. Since 2002, 59 cubs have been born at the zoo's off-side cheetah breeding facility in Clermont County.
Servals and cheetahs are related, though experts believe the cheetah descended from the serval rather than the other way around.
Separately, Cincinnati Animal CARE released a Thursday update on the events that led Amiry, the "cocaine cat" (their words), to be in the zoo's care.
We previously reported Hamilton County Dog Wardens were called to Oakley on Jan. 28 after Amiry escaped his owner's car and fled up a tree during his owner's arrest.
The wardens responded believing Amiry to be a leopard and were surprised to find the serval. Ray Anderson with Cincinnati Animal CARE said Tuesday that with hindsight, the response might have involved "a whole lot more people."
Anderson said Amiry was 30-35 lbs. and was "not excited" to be removed from the tree. Amiry's leg was broken in the process of getting him down.
Amiry went to Cincinnati Animal Care, where the medical team had called in a cat expert who previously worked on the infamous 2011 Zanesville animal escape.
"Our initial thought was the cat was a hybrid F1 Savannah, which are legal to own in Ohio," a CARE spokesperson said Thursday, "but our expert was pretty certain Amiry was a serval, which are illegal."
The CARE team examined Amiry, took a sample for a DNA test and tested him for narcotics. The DNA test confirmed he was a serval, and the narcotics test confirmed he had cocaine in his system.
CARE explained Thursday why they performed the narcotics test in the first place:
"Last year, Cincinnati Animal CARE seized custody of Neo, a capuchin monkey that was given methamphetamine. In any sort of exotic case (and most of our law enforcement cases), testing for narcotics is now standard protocol. Especially if an animal is displaying any behaviors or illness that we cannot diagnose," a spokesperson said.
Anderson said Tuesday they could not say how the cocaine got into Amiry's system.
CARE sent Amiry to the zoo because the CARE facility is not equipped to house wildlife.
The Hamilton County Dog Warden conducted an investigation and considered charges, Anderson said Tuesday, but charges were not being filed: "Everybody was very cooperative in this case, and we didn't feel it was necessary."
CARE clarified Thursday that charges have not been filed "at this time," but the case remains open.
The spokesperson explained CARE's first priority was getting Amiry safely placed with the zoo immediately.
"The fastest way to accomplish this was for his owner to cooperate with our investigation and relinquish Amiry into our custody without getting tied up in court. His owner was cooperative and paid for Amiry's care until all ownership transfers were finalized, which is when this story went public. The case does remain open and the Ohio Department of Agriculture is also investigating."
CARE ended with this note:
"We remind our community that there will be thousands of dogs, cats, and other animals this year who will not receive this level of publicity. Please visit your county animal shelter before going to breeder when searching for your next pet!"
Anyone with information in the case is urged to call CARE at 513-541-7387."
See a spelling or grammar error in our story? Please click here to report it and include the headline of the story in your email.
Do you have a photo or video of a breaking news story? Send it to us here with a brief description.
Copyright 2023 WXIX. All rights reserved.