Xavier basketball is back in the NCAA Tournament: A look at the Musketeers' history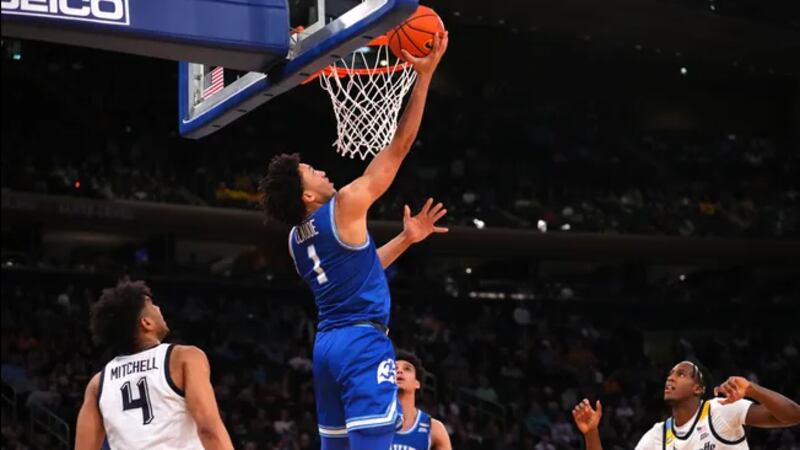 Published: Mar. 13, 2023 at 8:55 AM EDT
CINCINNATI (ENQUIRER) - The Xavier men's basketball team will be making its return to the NCAA Tournament Friday when the No. 3 seed Musketeers will face 14th-seeded Kennesaw State in Greensboro. It will be Xavier's first trip to the tournament since 2018.
It will be the 29th appearance in program history.
Among the highlights in the Musketeers' history are the first tournament win, beating Missouri in 1987, a now-legendary upset of mighty Georgetown in 1990, Elite Eight runs in 2004, 2008 and 2017 and its first No. 1 seed in 2018.
Along the way, Xavier has faced off with notable players such as Danny Manning, Glen Rice, Dikembe Mutombo, Alonzo Mourning, Allen Iverson, J.J. Redick, Adam Morrison, Greg Oden, Russell Westbrook, Kevin Love, Jimmy Butler and C.J. McCollum.
The Musketeers have also played against legendary coaches Wimp Sanderson, Norm Stewart, Mike Krzyzewski, Larry Brown, Steve Fisher, Lon Kruger, John Thompson, Jim Calhoun, Bob Knight, Kelvin Sampson, Gary Williams, Mark Few, Thad Matta, Bob Huggins, Bo Ryan, Tubby Smith, Scott Drew, Sean Miller and Leonard Hamilton.
Memorable Xavier NCAA Tournaments
1987: Xavier's first NCAA Tournament win
Xavier came into their first-round game as eight-point underdogs to a Missouri team that was ranked No. 14 nationally and left as 70-69 winners for the school's first tournament win in four trips.
Byron Larkin scored 29 points and Tyrone Hill grabbed 13 rebounds to lead Xavier at the Hoosier Dome.
"We never dreamed we'd be in the NCAA Tournament or win in the first round, to be honest," Xavier coach Pete Gillen said after the game. "This shows what you can do when you believe in yourselves."
The Musketeers ran into powerhouse Duke in the next round and fell 65-60.
Xavier led for most of the first half, but the Blue Devils went on a 13-4 run in the final 6:06 to close out the game.
"It's a 40-minute game, and we let down the last two minutes because of a lack of experience and a lack of poise," Gillen said after the game.
The loss to the Blue Devils also ended a chance of the Musketeers getting to play at home in the next round. The Midwest Regional was held at Riverfront Coliseum that year.
1988 and 1989: Xavier takes a shot at the best
In back-to-back seasons Xavier lost to the eventual national champions: Kansas in 1988 and Michigan in 1989.
Led by Danny Manning and coach Larry Brown, the Jayhawks bested Xavier 85-72.
Manning scored 24 points to lead Kansas and Larkin, who injured his right leg in the first half, was held to a season-low 16 points.
The next season against Michigan, Xavier was up 71-65 with nine minutes to play before the Wolverines came back to win, 92-87.
Glen Rice sparked the Michigan comeback, hitting a pair of 3-pointers to take the lead twice (at 81-80 and 84-82.)
"Those threes killed us," Xavier's Derek Strong said after the game.
Michigan's trio of future NBA players outdueled the Musketeers' future NBA duo.
Rice and Rumeal Robinson each scored 23 and Terry Mills had 18 for the Wolverines. Hill scored 21 points and Strong had 18 points and 10 rebounds for the Musketeers.
1990: Xavier's Georgetown upset and first Sweet 16
Following an opening-round win over Kansas State, Xavier upset mighty Georgetown, 74-71, in the second round to advance to their first-ever Sweet 16.
Led by center Dikembe Mutombo, the heavily-favored, and No. 8-ranked, Hoyas were shocked by the Musketeers.
"I learned there is a team called Xavier," Mutombo said after the loss. "I'd never heard of them before, I'd never seen them play before."
Mutombo scored nine points and added 12 rebounds and blocked two shots. Fellow future Hall-of-Famer Alonzo Mourning had 15 points, 10 rebound and two blocks.
Xavier's frontcourt of Strong (19 points, 10 rebounds) and Hill (13 points, 8 rebounds) more than held their own.
The duo impressed legendary Georgetown coach John Thompson.
"They hustle and they work very hard," Thompson said after the game. "They hit the offensive board hard. They create problems. They aren't just 6-10 guys standing on the block.
"When you have the mobility and flexibility they do, it puts and awful lot of pressure on your guards trying to come back and help."
Freshman Aaron Williams, himself a future NBA player, only scored two points for the Musketeers, but his rebound and putback of a Jamal Walker miss gave Xavier the lead for good at 72-70.
"It's just one game," Gillen said after the game, "But I think we got a little bit of respect (Sunday)."
Xavier's run would come to an end in the next round, a 102-89 loss to Texas.
"They were desperate for success," Gillen said after the game. "We wanted success. That was the difference."
1993: Xavier puts a scare into top-ranked Indiana
Following a first-round defeat of New Orleans, No. 9 seed Xavier met with the nation's No. 1 team — the Indiana Hoosiers coached by Bobby Knight.
Playing in the Hoosier Dome, the Musketeers went toe-to-toe with the Hoosiers and had the ball down two with a minute left in the game. Xavier was never able to get over the hump though, and lost 73-70.
"Everybody's saying, 'You played them really good; no one expected you to win, and you played them really great,' " Xavier's Brian Grant said after the game. "That's great, that they didn't expect anything. But we did. We expected to win."
Gillen opined after the game: "None of our guys were major recruits. We played the Number One team in the country with a bunch of dead-end kids. And we had a chance to win."
The Hoosiers managed to keep Grant in check, holding him to 5-for-13 from the floor for 11 points. Jamie Gladden scored a team-high 18 points and Aaron Williams had 17 and 10 rebounds.
Calbert Cheaney had 23 points and Greg Graham had 19 for Indiana.
The Hoosiers shot 26 free throws while the Musketeers shot 14. The foul discrepancy was a talking point after the game.
"They (the officials) weren't calling it (fouls) the other way," Xavier's Steve Gentry said. "Just because they're Indiana, the number one team in the country. Who cares? I think their name intimidated (the officials)."
2004: Xavier's first Elite Eight
Xavier made the tournament six times from 1994-2003, but never made it out of the first weekend.
All that changed in 2004.
Romain Sato scored 24 points in a first-round win over Louisville.
That meant the Musketeers, a No. 7 seed, would have to play No. 2 seed Mississippi State to reach the Sweet 16. Behind a career-high 31 points from Lionel Chalmers, Xavier was headed back to the Sweet 16.
At the Sweet 16 at the Georgia Dome, Xavier got a win over Texas, sending them to the first Elite Eight in school history.
"I didn't think we would be here," Xavier's Dedrick Finn said after the game, reflecting on a 10-9 record to start the season. "I didn't know where we were going to go. It feels great. This is what every team wants to do."
Xavier led by one with 16 seconds to go, but made seven free throws, aided in part to two technical fouls on Texas coach Rick Barnes, to clinch the win.
Just like in 1987, though, the Musketeers had to face Duke after making school history. Again the Blue Devils prevailed 66-63.
"It's hard because you have a team like this that you enjoy being with," Xavier coach Thad Matta said after the game. "The thought crosses your mind that there's no more practices. Put everything away. That's the hardest part as a coach because you've seen where these kids came from. To get to this point, 'proud' is the only word I can think of."
2007: The one that got away: Xavier vs. Ohio State
Following an opening round win over Hawaii, the Musketeers were facing No. 1 seed Ohio State and former coach Matta.
Xavier had the Buckeyes on the ropes, and had a 55-44 lead with 7:27 before Ohio State stormed back and forced overtime.
There was a controversial foul late in the game with Xavier ahead 61-59 with nine seconds left. Ohio State's Greg Oden shoved Xavier's Justin Cage to the floor after a fight for a rebound. Oden was called for a personal foul and not an intentional foul. Cage made the front end of a one-and-one, but missed the second. OSU's Ron Lewis made a 3-pointer to tie the game and force OT.
Cage thought the foul was intentional.
"They didn't call it I guess," Cage said after the loss. "I don't know how I fell on my own. They didn't call it, and we had the chance to make the two free throws to win the game, but it didn't turn out that way."
The Musketeers managed to take a 64-62 lead in overtime before Mike Conley sparked an Ohio State run that eventually ended up a 78-71 OSU win.
"Can't put it into words," Xavier's Stanley Burrell said after the loss. "To be that close to the Sweet 16, and now we're going home, can't put it into words.
"We were definitely the better team today."
2008: Xavier goes back to the Elite Eight
The season following the loss to Ohio State, the Musketeers made the Elite Eight for the second time in school history.
Following wins over Georgia and Purdue to reach the second weekend, the Musketeers faced a familiar opponent in the Sweet 16. Former Cincinnati coach Bob Huggins' West Virginia team awaited Xavier.
The game went into overtime, but Xavier got the best of the Mountaineers, thanks largely to a pair of 3-pointers from B.J. Raymond in the final 1:18 of overtime, and moved on with a 79-75 win.
Xavier's Josh Duncan scored a career-high 26 points, including 18 after halftime.
"I just tried to play aggressive," Duncan said after the game. "And you know, we didn't break down in tough situations. We all stayed together. That's been the key part for this team, just staying together and not getting frustrated or rattled."
The run came to an end in the Elite Eight, a 76-57 loss to a UCLA team that featured future NBA stars Russell Westbrook and Kevin Love.
The Bruins' defense held Xavier to 36% shooting from the field, including 4-for-19 on 3-pointers.
"The thing that amazes me about UCLA's defense is that they don't foul," Xavier coach Sean Miller said after the game. "I mean, they are physical. They blitz and trap every pick-and-roll you set. They trap the low post. They pressure the ball."
2010: Xavier's classic vs. Kansas State
Xavier reached the Sweet 16 for the third-straight season following wins over Minnesota and Pittsburgh in the first two rounds.
Facing Kansas State and coach Frank Martin, the Musketeers came out on the losing end of a classic double-overtime game, falling 101-96.
Terrell Holloway was fouled shooting a 3-pointer with five seconds left in regulation to send the game into the first overtime. Teammate Jordan Crawford forced the second overtime with a 3-pointer in the last seconds of the first OT.
"I think at times like that, you've got to make big shots," Crawford said after the game.
The game was tied at 94-94 with 50.8 seconds remaining, but Kansas State scored seven-straight to put the game away.
"So many people doubted us, said we weren't going to do this, that. We just kept battling all year," Xavier's Jason Love said after the game. "We had such a successful season."
2017: Xavier makes its third trip to the Elite Eight
Xavier defeated Maryland by 11 points and Florida State by 25 to open the 2017 NCAA Tournament, but faced a former coach again — this time it was Miller and Arizona in the Sweet 16.
The No. 11 seed Musketeers topped the West Region's No. 2 seed 73-71 following a Sean O'Mara game-winner with 40 seconds left.
Xavier's Malcolm Bernard scored 15 points on 5-for-6 shooting and said he played the best postseason game of his career.
"I just really didn't want our season to end," Bernard said after the win. "We worked so hard, not only in the offseason but throughout the year battling adversity. And I just didn't think it was time for our season to end."
With a Final Four shot on the line in the next round, the Musketeers faced Gonzaga. The Bulldogs entered the game with a 35-1 record and were just too much for Xavier, coming out on top 83-59.
"It's very special," Xavier's Trevon Bluiett said after the game. "Once you get past this feeling and you look back on it, to be the third team in history out of 95 Xavier basketball teams, to be third, I mean that speaks volumes. We're up here with good company. Who knows when we'll be able to make it to the Elite Eight game. Yeah, it's definitely real special."
2018: Xavier's first No. 1 seed
Xavier made school history in the 2018 NCAA Tournament, where it was a No. 1 seed for the first time in school history.
"Xavier was barely on the map when I was in high school," Xavier coach Chris Mack said during a press conference following the announcement.
"As I told (the team), this was well-earned. We played a very, very tough schedule all the way through and we were, by and large, pretty successful with that schedule," Mack said.
The Musketeers dispatched Texas Southern 102-83 in their opener before they were upset, 75-70 by Florida State in the next round.
"My high school coach, the late Dick Berning, said, 'No matter how bad you feel, the sun's going to shine tomorrow.' If this is the worst thing that happens to our group as individuals, we're going to live a pretty good life. I'm just sad I can't keep coaching them," Mack said after the loss.
Xavier NCAA Tournament results
1961
March 14, 1961: Morehead State 71, Xavier 66
1983
March 15, 1983: Alcorn State 81, Xavier 75
1986
March 14, 1986: Alabama 97, Xavier 80
1987
March 12, 1987: Xavier 70, Missouri 69
March 14, 1987: Duke 65, Xavier 60
1988
March 18, 1988: Kansas 85, Xavier 72
1989
March 17, 1989: Michigan 92, Xavier 87
1990
March 16, 1990: Xavier 87, Kansas State 79
March 18, 1990: Xavier 74, Georgetown 71
March 22, 1990: Texas 102, Xavier 89
1991
March 14, 1991: Xavier 89, Nebraska 84
March 16, 1991: Connecticut 66, Xavier 50
1993
March 19, 1993: Xavier 73, New Orleans 55
March 21, 1993: Indiana 73, Xavier 70
1995
March 17, 1995: Georgetown 68, Xavier 63
1997
March 13, 1997: Xavier 80, Vanderbilt 68
March 15, 1997: UCLA 96, Xavier 83
1998
March 12, 1998: Washington 69, Xavier 68
2001
March 16, 2001: Notre Dame 83, Xavier 71
2002
March 15, 2002: Xavier 70, Hawaii 58
March 17, 2002: Oklahoma 78, Xavier 65
2003
March 21, 2003: Xavier 71, Troy 59
March 23, 2003: Maryland 77, Xavier 64
2004
March 19, 2004: Xavier 80, Louisville 70
March 21, 2004: Xavier 89, Mississippi State 74
March 26, 2004: Xavier 79, Texas 71
March 28, 2004: Duke 66, Xavier 63
2006
March 16, 2006: Gonzaga 79, Xavier 75
2007
March 15, 2007: Xavier 79, BYU 77
March 17, 2007: Ohio State 78, Xavier 71 (OT)
2008
March 20, 2008: Xavier 73, Georgia 61
March 22, 2008: Xavier 85, Purdue 78
March 27, 2008: Xavier 79, West Virginia 75 (OT)
March 29, 2008: UCLA 76, Xavier 57
2009
March 20, 2009: Xavier 77, Portland State 59
March 22, 2009: Xavier 60, Wisconsin 49
March 26, 2009: Pittsburgh 60, Xavier 55
2010
March 19, 2010: Xavier 65, Minnesota 54
March 21, 2010: Xavier 71, Pittsburgh 68
March 25, 2010: Kansas State 101, Xavier 96 (2 OT)
2011
March 18, 2011: Marquette 66, Xavier 55
2012
March 16, 2012: Xavier 67, Notre Dame 63
March 18, 2012: Xavier 70, Lehigh 58
March 23, 2012: Baylor 75, Xavier 70
2014
March 18, 2014: North Carolina State 74, Xavier 59
2015
March 19, 2015: Xavier 76, Mississippi 57
March 21, 2015: Xavier 75, Georgia State 67
March 26, 2015: Arizona 68, Xavier 60
2016
March 18, 2016: Xavier 71, Weber State 53
March 20, 2016: Wisconsin 66, Xavier 63
2017
March 16, 2017: Xavier 76, Maryland 65
March 18, 2017: Xavier 91, Florida State 66
March 23, 2017: Xavier 73, Arizona 71
March 25, 2017: Gonzaga 83, Xavier 59
2018
March 16, 2018: Xavier 102, Texas Southern 83
March 18, 2018: Florida State 75, Xavier 70
This story was written by our media partners at The Cincinnati Enquirer.
See a spelling or grammar error in our story? Please click here to report it and include the headline of the story in your email.
Do you have a photo or video of a breaking news story? Send it to us here with a brief description.