Miami Twp confirms both fire chief and his wife are on paid leave amid 'investigations'
Published: Mar. 15, 2023 at 7:49 PM EDT
|
Updated: Mar. 16, 2023 at 6:31 PM EDT
MIAMI TOWNSHIP, Ohio (WXIX) - The fire chief of this western Hamilton County community is on paid administrative leave amid an investigation and now township leaders confirm his wife, who works for him as a lieutenant, is as well.
Fire Chief Brien Lacey was suspended Friday, Miami Township Trustees said in a prepared statement sent to FOX19 NOW Monday.
We asked about his wife then, too, but they would not confirm that for another two days. They also confirmed they hired an outside law firm to oversee their investigations.
There are legal requirements in Ohio to end the employment of a fire chief. One is having an outside person or fire chief investigate allegations.
Assistant Fire Chief Robert Street is serving as the acting fire chief.
Trustee Jack Rininger read a brief statement aloud at the township's meeting Wednesday night:
"On Friday 3/10/2023, Fire Chief Brien Lacey and Lieutenant Shelley Lacey were placed on paid administrative leave. This action was due to two independent, third-party investigations that are occurring within the Miami Township Fire Department. As these investigations are ongoing the Board of Trustees cannot comment any further as it could compromise the work of the investigators."
Resident Jason Hughes attended Wednesday's township trustee meeting and asked the acting chief how he planned to cover shifts and fire responses with both the chief and his wife out now.
Hughes urged Street to lean on neighboring fire agencies for help.
"I hate to see this going on in Miami Township. It's a great department. They've got great people," said Hughes, whose father is the township's safety director, Jim Hughes.
"I hope this passes soon so they can get back to being the great department they've always been."
On Thursday morning, the township added a line to their statement and re-sent it to us: "We want to assure our residents that they can expect the same excellent level of service from our Fire Department they have experienced.
FOX19 NOW has requested multiple public records from the township since Monday including documentation to justify suspending the chief and his wife and copies of their personnel files, the township's nepotism policy, and minutes from recent trustee meetings.
Township officials are staying mum on what prompted the investigation. They also won't say if it's administrative or criminal, who or which agency is conducting it, and when it began.
FOX19 NOW reached out to the Ohio Ethics Commission on Monday, but the agency's policies and procedures prohibit them from discussing investigations and even confirming or denying the existence of one.
The Hamilton County Sheriff's Office, whose deputies provide law enforcement services to the township, and the Special Investigations Unit at the State Auditor's Office are not involved, according to representatives of those agencies.
We have not heard back yet from a spokeswoman for the Hamilton County Prosecutor's office and the Ohio Attorney General's Office.
Brien Lacey and his wife also have not responded to multiple requests for comment so far this week.
Both began working at the township as firefighters/EMTs more than 20 years ago.
Brian Lacey was promoted to fire chief in December 2020 and served as acting chief when the former one retired, according to Miami Township Fire & EMS Facebook page.
His current annual salary is $90,500.80, the township said Thursday as they began to respond to some of our questions and record requests.
Lacey was named assistant fire chief in December 2019. He was hired part-time at the fire department in June 2001 and became a full-time employee on Feb. 15, 2002, township records show.
His wife, Shelly Lacey, was hired part-time by the fire department in March 2001 and became full-time in July 2002.
She was promoted to lieutenant in early 2021, according to a Jan. 20, 2021 post on the same Facebook page.
Her annual salary was $72,774.14 in 2022, township officials said Thursday, and she is paid $26.57 hourly in 2023. If she works 40 hours per week and 50 weeks per year, that's an annual salary of $53,140.
Several of their relatives also work at the fire department, according to township records requested by FOX19 NOW.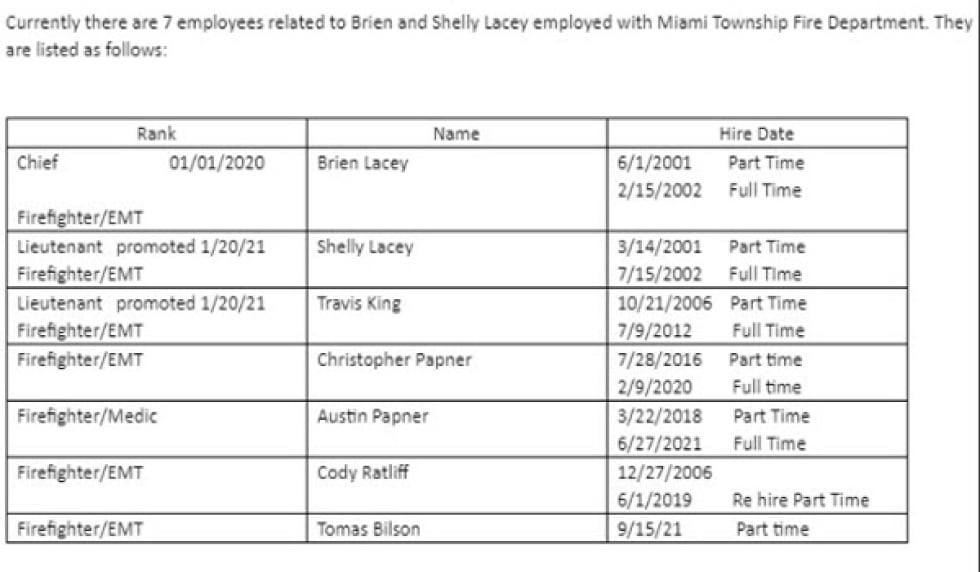 A new nepotism policy went into effect in the township late last year: "It shall be recognized that the practice of nepotism has the potential to cause conflicts of interest and, therefore, is not in the best interest of Miami Township."
Except in cases of "extremely extraordinary or unusual circumstances, the Township shall not employ any more that one (1) member of an immediate family in full-time or part-time permanent, temporary, seasonal or intermittent positions where that family member is in direct chain of command," the policy states. "The term 'immediate family' shall include the husband, wife, child, step-child, parent, step-parent, or sibling of an employee."
The township administrator now reviews and recommends the appointment of all employees to the Board of Trustees
There is an exception to this policy: When an immediate family member of an existing employee is elected to the Board of Trustees for the Fiscal Officer's position.
Brien Lacey and Shelly Lacey are the second and third members of the fire department to be put on paid administrative suspension in the past five months, township records show.
A review of trustee meeting minutes on the township's website shows its three elected trustees met behind closed doors in "Executive Session for Personnel" on Oct.19, 2022.
When they emerged, they unanimously voted to approve a motion placing Lt. Scott Hinson on "paid administrative suspension."
Further details on Hinson's suspension and his current employment status were not immediately available.
The Miami Township Fire Department has combined full-time and part-time paid firefighters at three stations, according to its website.
The department serves the nearly 16,000 residents in Miami Township, according to the 2020 Census, and also provides fire and EMS services under contract for the villages of North Bend, Cleves, and Addyston.
The agency has multiple boats for water rescue and marine fires and staffs a technical rescue trailer for Hazmat, Confined Space Rescue and Rope Rescue responses, the website states.
See a spelling or grammar error in our story? Please click here to report it and include the headline of the story in your email.
Do you have a photo or video of a breaking news story? Send it to us here with a brief description.
Copyright 2023 WXIX. All rights reserved.