Do the Reds have multiple aces in their starting rotation?
Amid dismal expectations, Cincinnati could show some sneaky depth on the mound in 2023—and the most interesting of the bunch might be the least heralded.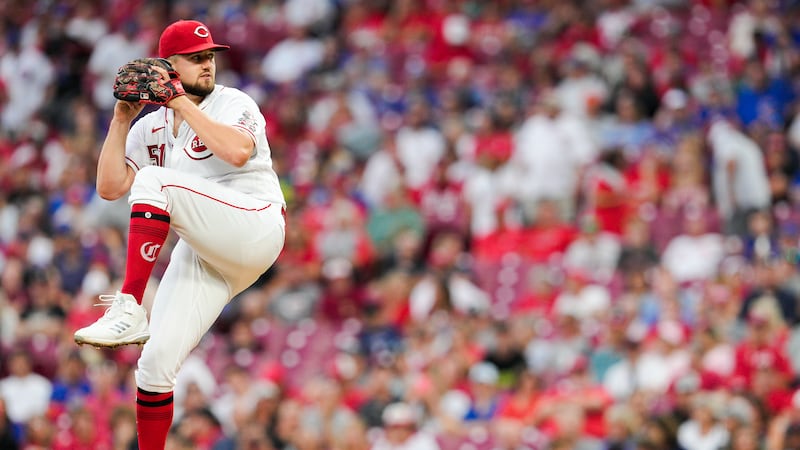 Published: Mar. 27, 2023 at 9:34 PM EDT
CINCINNATI (WXIX) - Reds opening day starter Hunter Greene enters 2023 with the burden of sky-high expectations.
But he might not have to bear that burden alone. In fact, he might not even be the best pitcher in the rotation when all is said and done, according to Joey Votto.
"Our young three [starting pitchers] are potential star pitchers," Votto said. "Legitimately."
Votto offered an extremely Votto-like response when asked Monday who he believes will be the best among Greene and fellow starters Nick Lodolo and Graham Ashcraft.
"All of these guys are starting from such a high ceiling in terms of their stuff," Votto said. "You know, you have to start from such a high ceiling to make those adjustments and lose some of your stuff but still have enough to compete or dominate at this level."
Greene, 23, went second overall to the Reds in the 2017 MLB Draft. He occasionally dazzled last year in his rookie campaign, showing the highest average four-seam fastball velocity (98.9mph) in the MLB. [More]
He also had early struggles with consistency, going 1-5 with a 7.62 ERA and allowing 11 home runs in his first six starts. But Greene improved over the next few months and was lights-out to end the year after sitting all of August and part of September with a right shoulder strain.
"Hunter Greene has a tremendous amount of athleticism and he's a very powerful pitcher and he wants to be great," Votto said.
Greene has used this spring training to work on his changeup and slider, which was already a potent weapon in 2022. Batters whiffed on that pitch 38 percent of the time last year and made weak contact otherwise, according to Baseball Savant.
Lodolo, 25, went seventh overall to Cincinnati in the 2019 MLB Draft. He made his first start for the Reds on April 13, 2022 and finished the season with a 3.66 ERA.
Like Greene, Lodolo grew stronger throughout the year, finishing with a 2.92 ERA through his last 13 starts. He finished the season leading the MLB in hit batsman (19) but showed increased control, walking fewer batters as the year progressed.
Lodolo's deception, unusual arm angle and movement across each of his four pitches made him appear unhittable for stretches. In mid-September, he became the first Reds player and fourth left-handed pitcher in the MLB since 1901 with 11 or more strikeouts and no walks in consecutive starts.
"I get the wildest feedback at first base in terms of, 'Wow, this guy is such a handful to face,' from some of the best hitters," Votto said. "So that's a great sign."
Health has been an issue for Lodolo. A shoulder strain sidelined him for the Louisville Bats in August 2021, and a back strain caused him to miss time early in 2022.
Still, one MLB.com writer believes Lodolo will break out as a top-15 pitcher in 2023.
Ashcraft, 25, could be the most interesting of the bunch, if only in terms of his surprise factor.
Selected by the Reds in the sixth round of the 2019 MLB Draft, Ashcraft made his first start on May 22, 2022 and finished the season with a 5-6 ERA.
"[He] may not have gotten as much fanfare and attention coming up," Votto said of Ashcraft. "But he's in the same boat, where guys are at first base saying how challenging he is. Players love playing behind him. He's a very good athlete. He wants to get better. He's gotten better."
Ashcraft's best pitch is his cutter (fastball), which has earned a reputation around the clubhouse. But his strikeout rate last year was about half those of Green and Lodolo.
Ashcraft has also been making waves in spring training, however, thanks to a new 92mph slider. The pitch has helped him to three consecutive dominant performances (against lesser competition) and could generate more whiffs from batters in 2023.
See a spelling or grammar error in our story? Please click here to report it and include the headline of the story in your email.
Do you have a photo or video of a breaking news story? Send it to us here with a brief description.
Copyright 2023 WXIX. All rights reserved.