FC Cincinnati returns to TQL Stadium for Inter Miami CF date
FCC, unbeaten through five matches, is 3rd overall in the MLS power rankings.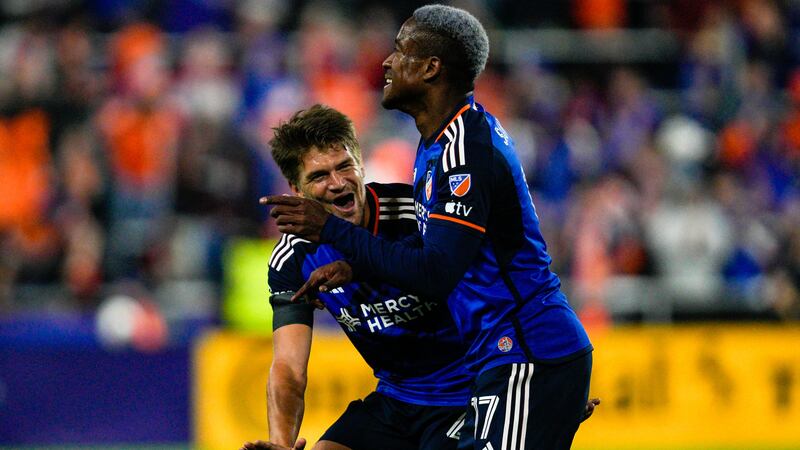 Published: Mar. 31, 2023 at 9:03 PM EDT
CINCINNATI (Enquirer) - There's no doubt that FC Cincinnati is still learning how to win but the education process is bearing fruit early in 2023.
Sure, FC Cincinnati was a winner by definition in 2022 but the manner in which the club won seldom felt comfortable or sustainable. You never really knew what you were going to get over the course of last season, which saw FCC lose seven one-goal games and draw 13 times.
As prolific as FC Cincinnati's attack was with 64 goals scored, it tied with Inter Miami CF for the most goals conceded among MLS Cup playoff qualifiers (54). That, too, added to the unstable milieu of the club's first-ever postseason berth.
FC Cincinnati was pummeled in its 2022 opener, 5-0, at Austin FC. By the end of the year, it had claimed a 6-0 rout of San Jose Earthquakes. Those two results illustrated the vast spectrum of highs and low FCC was capable of producing last season. Again, you never knew quite what to expect.
The hope in 2023 is for fewer deviations from what the club deems to be normal, and lows that aren't quite so low.
By contrast, the early stages of 2023 have seen FC Cincinnati win and draw by slim margins but with a greater sense of control over the proceedings.
The club's three wins all came via one goal. Only the home match at TQL Stadium against Seattle Sounders FC March 11 produced a truly nervy ending.
FCC had to scramble for a late draw March 18 at Chicago Fire FC but even the final 30 minutes of that contest saw Cincinnati firmly in control. And while head coach Pat Noonan's team labored to create consistent chances March 4 against Orlando City SC, the team's defending left little doubt of at least a draw on the night.
The sample size in 2023 is admittedly small but the improvement, and especially in close games, is marked.
"I think that the easiest one to point to in terms of growth is the ability to win one-nothing games, or one-goal games," FC Cincinnati head coach Pat Noonan said during a Thursday news conference. "You prefer when you're talking about winning by a goal that it's with a shutout, and we've had three shoutouts through our five games, and two of those are one-nil victories. So there's growth, certainly, in that regard. Because at this time last year, and for majority the year really, it was a struggle for us to see out games and win one-nothing. So, I'm pleased with that early on."
The next phase of FC Cincinnati's development in learning to win comfortably is winning by greater margins.
However steady the club's defense has been and will be, slip-ups are inevitable over the course of a 34-match season. Larger leads will allow margin for error, and for the slip-ups to cost the team less in the standings.
"How can we find a second goal in some of these games where I think the opportunities were still there in the Nashville game and in the Seattle game, to an extent, to not have to hang on at times?," Noonan said. "And so I think that's the next step, is now turning those one-goal leads into something more when the opportunity is there for us."
With players like Brandon Vazquez, Luciano Acosta and Brenner Souza da Silva slow to amass goals early in 2023, it stands to reason the club should improve in this area.
The Next Test
FC Cincinnati on Saturday hosts Inter Miami CF, a team it has typically struggled against which is now battling struggles of its own. Miami side will be boosted by the return of a notorious FCC killer, though.
The "Herons" enter the match sitting ninth in the Eastern Conference (2-3-0), and having conceded more than a goal per game through five outings. The club is on a three-game skid and winless since a March 4 win against Philadelphia Union. That run included losses to New York City FC, Toronto FC and Chicago Fire FC.
Unlike last weekend against Chicago, Miami will bring to Cincinnati former Atlanta United star Josef Martinez, who should play and will be looking to add to his six career goals against FC Cincinnati. Only Miami's now-retired Gonzalo Higuain has more career goals against Cincinnati (seven).
Martinez is goalless in four 2023 matches with Miami but his goal-scoring prowess is beyond question after tallying 98 goals over six decorated seasons in Atlanta.
Martinez returned to Miami this week week following a two-match international break with the Venezuela men's national team where he played alongside FCC's Junior Moreno and scored a goal in a March 24 win against Saudi Arabia.
"The last game, (Miami is) missing, you know, an important striker," Noonan said of Martinez's impact on his current team. "So you have to factor that into the equation, but they have that addition of a proven goal scorer and winner in our league. That makes them different."
Noonan said he was impressed with aspects of how Miami played in its first five matches despite coming to Cincinnati with a losing record.
Miami also claims a victory against Philadelphia Union on March 4. That's something to be respected with Noonan and other ex-Union staffers now at FCC.
"I think a little bit of the intensity of how they get to the ball in certain ways," Noonan said. "They've shown to space to field in ways where when they're attacking and teams are pinned in, they've been pretty good with getting pressure immediately higher up the field. I think that was something that from our two games last year looked a little bit different. But I do think the defensive side of the ball, they look very narrow and compact in a couple of their games, I think the moments where they maybe were opened up or got caught is when they're with the ball and expansive. But that part's impressed me, despite maybe the results not going their way, I think that's something that stood out in the recent games."
FC Cincinnati remains unbeaten through five matches. It's coming off a 1-0 victory against Nashville SC, which stands as a second signature victory on the young season.
Cincinnati is expected to have Moreno and Ecuador international Marco Angulo for the match, with Noonan saying the players won't be limited after their respective international sojourns.
If Moreno and Angulo, along with the injured Yuya Kubo (out), aren't available to start against Miami, Malik Pinto proved himself worthy of starting in his professional debut at Nashville.
Kickoff: 7:30 p.m., Saturday | TQL Stadium
Stream/radio: Apple TV; ESPN1530
Series info: Inter Miami CF leads the all-time series with FC Cincinnati, 4-1-1.
Cincinnati.com prediction: FC Cincinnati 2, Inter Miami CF 0.
See a spelling or grammar error in our story? Please click here to report it and include the headline of the story in your email.
Do you have a photo or video of a breaking news story? Send it to us here with a brief description.
Copyright 2023 WXIX. All rights reserved.