Fire causes 'significant damage' to The Monkey Bar & Grille restaurant
Published: May. 3, 2023 at 6:13 AM EDT
|
Updated: May. 3, 2023 at 8:50 AM EDT
HAMILTON TOWNSHIP, Ohio (WXIX) - An overnight two-alarm fire caused "significant damage to the kitchen area" at a popular restaurant and bar along the Little Miami River, Hamilton Township fire officials say.
No one was hurt when flames broke out around 12:15 a.m. Wednesday at The Monkey Bar & Grille on the Old 3C Highway.
Monkey Bar & Grille Owner Mark Altemeier says the damage might have been much worse if not for his beverage manager, Roy Dillow. . . and the Cincinnati Reds.
"He called me last night at 9:45 before we closed and says, 'Hey, do you mind if I stay here and watch the Reds's game?' So, I said, 'no problem,'" Altemeier explained.
The Reds were in San Diego Tuesday to take on the Padres so the game did not start until 9:40 p.m.
A few hours later, Altemeier says Dillow was watching the Reds game when he smelled smoke and called 911.
"The fire chief said last night that the kitchen was maybe 1,000 degrees," Altemeier said. "There was no place for the flame to go because the roof's concrete, the floor's concrete, the walls are all concrete."
Hamilton Township fire officials say they are still investigating the cause of the blaze.
Altemeier said they plan to rebuild and reopen eventually.
The Monkey Bar & Grille also uses food trucks, so they may rely more on those for the immediate future.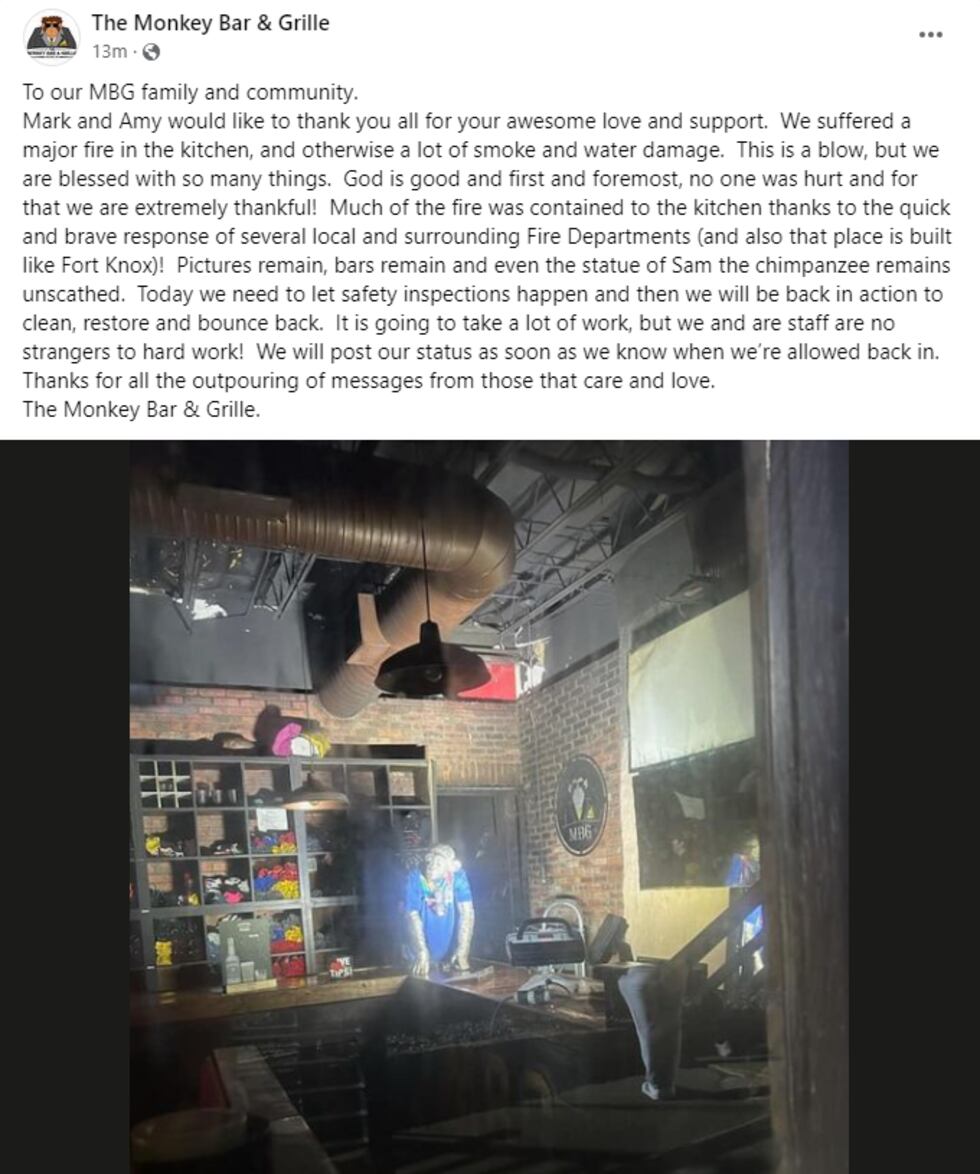 The Monkey Bar & Grille was founded at the "Train Stop Inn" in the 1840s and burned down twice, according to its website.
The building was rebuilt with brick in the 1970s so it would never catch fire again.
It became known for having a monkey named "Sam" who drank grape pop and beer and smoked cigarettes, according to its website.
It changed hands in 2016 and underwent a major reconstruction in recent years into a family-friendly full restaurant and bar with live music.
They also host fundraisers including "Paws on the Patio" this Saturday, May 6 for Myles Ahead Animal Sanctuary and Rescue.
"This year has been especially brutal. Every rescue and shelter is busting at the seams. Inflation has skyrocketed and costs of basic supplies have increased dramatically," reads the latest post on the restaurant's website, from Tuesday.
"More families than ever are struggling and needing help with vetting and supplies. Many breeders are leaving the business and getting rid of animals due to cost. Rescues are being hit from all directions. This Paws on the Patio event is more important than any other year. The funds will drastically help us get much-needed supplies. And let's be real, all of us can use the fun and sweet animals. So come see us at Paws on the Patio from 12 p.m. to 5 p.m. and bring a friend or two!"
See a spelling or grammar error in our story? Please click here to report it and include the headline of the story in your email.
Copyright 2023 WXIX. All rights reserved.