Cincinnati veterans honored in Washington D.C.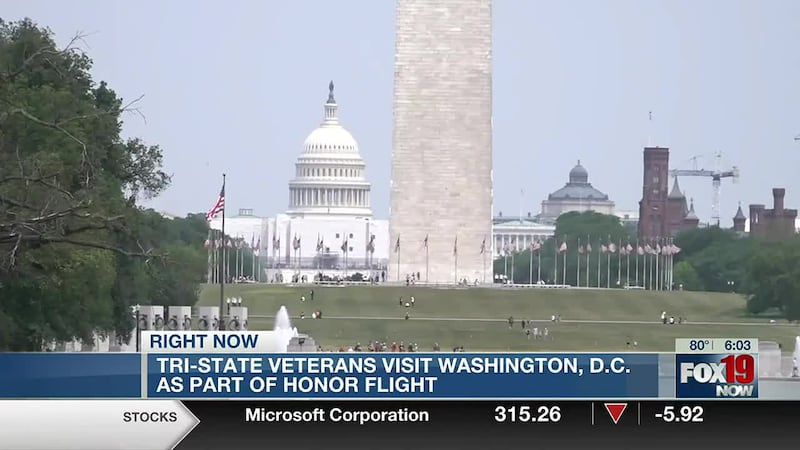 Published: May. 23, 2023 at 8:23 PM EDT
WASHINGTON (Gray DC) - Honor Flight Tri-State brought 90 veterans to the Nation's Capitol. The flight had two WWII veterans on board who got to see the memorial built to honor their fallen brothers in arms.
96-year-old Bill Quarve joined the military to fight for the United States 78 years ago.
"At that time, when we were in high school, we could hardly wait to get out to join the services," Quarve said.
But in his 96 years, Quarve never saw the World War Two Memorial built for those he served with until he participated in the Honor Flight Tri-State.
"I think it's a privelage," Quarve said. "It's awesome."
This was the last Honor Flight Tri-State of the spring, before the program picks up again in the fall. The flight carried veterans who served in the Korean and Vietnam Wars, several of which had never seen the memorials in person before.
"I've seen photographs of them and so on, but actually seeing them, this is beautiful here," WWII veteran Robert Kester said.
The experience gives veterans a chance to bond and pay their respects to their fallen brothers in arms.
They are also honored for their achievements, like Quarve, who received a Purple Heart in World War Two after being shot while fighting in an artillery shell hole with his fellow soldier.
"He got shot in the rear end, and I got nicked on my eye," Quarve said. "And I helped carry him out, and when I got to the medic area, the blood had coagulated, so I couldn't see out of my eye, and they cleaned it."
Unlike many of the WWII vets who see the memorials, Quarve walked the entire outing. Quarve said he still lives a fairly active life and frequently has friends over for happy hours.
Copyright 2023 Gray DC. All rights reserved.