Miami Township launches independent probe into fire chief, wife amid allegations
Published: Jun. 2, 2023 at 11:53 AM EDT
|
Updated: Jun. 2, 2023 at 12:03 PM EDT
Video from previous coverage.
MIAMI TOWNSHIP, Ohio (WXIX) - The Miami Township Board of Trustees will hire an outside investigator to look into allegations against Fire Chief Brien Lacey and his wife, Lt. Shelly Lacey.
The board voted on a resolution to hire the investigator at a special board meeting Friday. The meeting announcement explained it was convened to "consider the investigation of charges or complaints against a public employee."
The Laceys have been on paid administrative leave since March 10 due to two third-party independent investigations. The board on Friday confirmed they will remain on leave pending the outcome of the new investigation.
Earlier this week, FOX19 NOW reported one of the investigations has resulted in a 17-page report we obtained that summarizes its findings and offers recommendations that include disciplining the chief and assistant chief.
The township hired an outside law firm to investigate after Lt. Lacey filed a complaint with the township on Feb. 28 alleging sexual discrimination and harassment that has led to a hostile work environment.
The investigative report concluded that, while her complaint had untruthful claims and/or older ones, Chief Lacey and Assistant Chief Robert Street both "failed to act" and as a result, Lt. Lacey could make viable claims of sexual harassment, sexual discrimination, and a hostile work environment for which the township could be liable.
It also says: "The Township has a legal and moral obligation to investigate the issues that were brought forward. Although some of the allegations relate to incidents that occurred a few years ago, the Township cannot ignore allegations of sexual harassment and sexual discrimination in the workplace, regardless of when the misconduct occurred. Workplace misconduct, including but not limited to sexual harassment threatens a public entity's ability to carry out its mission."
The report also determined the chief was aware of a sexual harassment complaint from a female firefighter involving a veteran male lieutenant at the department last year but did not begin his investigation until the township administrator received notice from two other sources, one internal and one external, "that the chief was covering up the alleged sexual harassment."
By that point, the incident had already occurred and weeks had gone by. The chief alleged he was still investigating it. No disciplinary action was taken against the chief, "but it is undisputed that the chief did not notify the township administrator of the complaint at the time it occurred," the report states.
The township administrator determined "that inappropriate and purposeful sexual touching took place in the workplace."
Lt. Lacey's complaint alleges "that she feels that she does not have support within the department and that her husband, the Chief, and the Assistant Chief cannot intervene because intervention looks like favoritism. The Chief and Lacey were married on November 9, 2005," the report states.
FOX19 NOW reported earlier this year that the chief and his wife are related to five other family members in the fire department, which has 20 full-time firefighters, four lieutenants, one assistant chief, one chief and 15 part-time paid firefighters.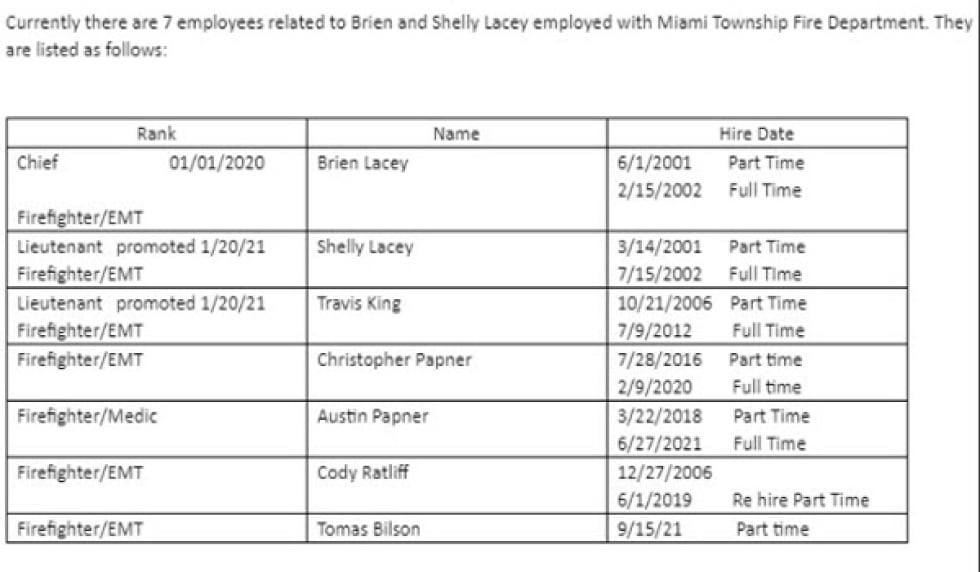 Lt. Lacey is currently one of two female firefighters at the department, is the only female officer and she also conducts the training. Her direct supervisor is the assistant chief, township records show.
The second probe that prompted the township to put Chief Lacey and Lt. Lacey on leave is an "investigation of an Ohio ethics violation," according to the 17-page report.
FOX19 NOW reported back in March there were nepotism concerns at the fire department with the chief and his wife being related to multiple employees.
"A significant portion of MTFD employees are related by blood or marriage, and, specifically, related to Lt. Lacey. Lt. Lacey is married to Chief Brien Lacey," the report states. "Her brother, Chris Papner, and her nephew, Austin Papner, are both firefighters within the department. Lt. Travis King is her stepson-in-law (the Chief's son-in-law). FF Cody Ratliff is the Chief's nephew. Her son-in-law, Tomas Bilson, is a part-time firefighter within the department. Members of the MTFD, including the Laceys, during their interviews, collectively call the related employees 'the Family.'"
Chief Lacey signed off on the promotions of his wife and son-in-law Lt. Travis King shortly after he was appointed chief in late 2020, indicating his alleged involvement in their promotions, township records show.
Last year, the township adopted new policies regarding hiring after Trustee Mike Robison was elected and wanted to professionalize township operations, the 17-page report shows.
"He expressed concern at the number of employees throughout the Township who are related to one another and concern that the Township needs to ensure that it is following the law," the report states.
It concluded that while there is a perception Lt. Lacey was promoted because she is married to Chief Lacey, she "appears to have been promoted fairly in a competitive process; she has exhaustive certifications. I found no indication that Lt. Lacey was promoted because she is married to the chief."
The investigation did conclude, however, that the chief advocated for a third relative, Bilson, to be promoted from part-time to full-time firefighter.
Bilson is married to Lt. Lacey's daughter.
At the time of the investigation, Bilson lived with Lt. Lacey and Chief Lacey in their basement.
Last week, the township received a notice of a change of Bilson's address.
The chief recused himself from the promotion/hiring process, but his wife, Lt. Lacey, did not, the investigation found, according to the report.
"She prepared the written exam using a test generator. The chief was told Bilson would not be considered for promotion because of the nepotism policy," the report states. "His response was, 'What am I going to tell my wife?' He also reportedly said, 'How am I going to get him out of my basement?'"
The report also found, according to a copy of it:
The chief sent emails to Township Trustee Jack Rininger and Township Administrator Dan Reid requesting that the decision be reconsidered, writing that the highest-scoring candidate (Bilson) should be hired.

Chief Lacey advocated that the second-ranked scorer on the test be passed over.

The chief's wife, the chief's son-in-law and a firefighter who is the chief's brother-in-law were all involved in the evaluation process.
Ohio's nepotism law says no public official shall "authorize, or employ the authority or influence of the public official's office to secure authorization of any public contract in which the public official, a member of the public official's family, or any of the public official's business associates has an interest."
A "family member" is defined as (1) spouse; (2) children (whether dependent or not); (3) siblings; (4) parents; (5) grandparents; (6) grandchildren; and (7) any other person related by blood or by marriage and living in the same household.
Ohio also prohibits a public official or employee from using their authority or influence to secure a thing of value, including any matter that directly impacts the employment of a family member.
The Ohio Ethics Commission does not confirm or deny investigations according to state law, a spokeswoman said when we contacted them about Miami Township earlier this year. The spokeswoman repeated this to us on Friday when we checked again.
Chief Lacey and his wife share the same lawyer who told FOX19 NOW earlier this week they categorically deny all allegations of wrongdoing. The attorney, Jon Allison, declined further comment.
There are legal requirements in Ohio to end the employment of a fire chief.
One is having an outside person or fire chief investigate allegations.
Should the chief is placed on unpaid leave, the township must then hold a public hearing on the allegations within 15 days, according to Ohio law unless the chief waves that time period.
Then it can be held at a mutually-agreeable date.
The report recommends:
Transfer Lt. Lacey to another station "but make it clear this is not a retaliatory action for her participation in the investigation and/or reporting her concerns, but in response to her request," the report states.

"Family members involved in corrective actions of other family members should excuse themselves and transfer the situation to a less-biased officer. People charged with a disciplinary issue should generally not be subjected to decision-making by relatives."

"Conduct non-discriminatory and non-harassment training for all MTFD employees, and send the chief and assistant chief to supervisory training. Some sort of discipline should be noted in their files."

"Reissue the township harassment policy such that it includes clear guidance on how to report sexual harassment concerns and includes anti-retaliatory language."

Establish a clear chain of command through the Township Administrator, and upon hiring a new Township Administrator, have the new Administrator serve as Lt. Lacey's supervisor for administrative and disciplinary issues. "This will mitigate against claims within the fire department that there is 'favoritism' and provide additional oversight of the fire department to ensure that sexual harassment claims are investigated and addressed, the report states.
Lt. Lacey filed a grievance over being placed on paid leave, noting that she was not informed why as the union contract stipulates.
The status of her grievance is not clear.
In her complaint to the township, she named a long list of former and current Miami Township employees who worked with relatives and says hers have all earned their positions.
"Miami Township has a long history of related people working together, only we (my family) are being harassed and penalized for it though," her complaint states.
She also wrote that relatives working for the same fire department "is a tradition in the fire service. Most cities, including the city of Cincinnati, give "legacy points" to family members to bump them higher in their process.
"We do nothing like that. Each of my family members have earned their position free and clear of any relation, favoritism, nepotism, or partiality. This is fact and easily proven by written records and documentation of their qualifications. Although some of these other relationships noted above and employment opportunities given do violate nepotism laws with the Ohio Ethics Commission."
Lt. Lacey's complaint says she planned to make an inquiry with the Equal Employment Opportunity Commission (EEOC) "and am waiting the time for my scheduled appointment to file the claim through this entity."
Miami Township's fire department serves nearly 16,000 township residents with three fire stations, one of which is open 24 hours a day.
The fire department operates multiple boats for water rescue and marine fires and staffs a technical rescue trailer for hazmat, confined space rescue and rope rescue responses.
The agency also provides fire and EMS services under contract for the villages of North Bend, Cleves, and Addyston.
See a spelling or grammar error in our story? Please click here to report it and include the headline of the story in your email.
Do you have a photo or video of a breaking news story? Send it to us here with a brief description.
Copyright 2023 WXIX. All rights reserved.