Cincinnati officials begin exploring streetcar expansion, new uptown loop
Early talks are underway with the feds about how to move forward.
Published: Jun. 21, 2023 at 3:25 PM EDT
CINCINNATI (WXIX) - Conversations are happening among local stakeholders and elected leaders about the future of Cincinnati's suddenly thriving streetcar system, including an extension of the current line or even an entirely new loop uptown.
"The next step is to get the uptown loop functional," Cincinnati City Council member Jeff Cramerding said, adding an extension of the current line could follow or proceed independently.
Cincinnati City Council member Mark Jeffreys characterizes the talks as part of a larger process to determine what to do with the system next.
"Over the last six months, we have been deeply engaged with the [U.S.] Department of Transportation and talking to Kansas City as one of our peer cities—they have expanded their streetcar—about what their model is for expanding," Jeffreys said.
Cincinnati's Department of Transportation and Engineering is planning a survey to direct future plans for the existing loop, according to Lori Burchett, deputy director for streetcar services.
"DOTE remains focused on maintaining the streetcar system's reliability and safety while exploring opportunities to improve the customer experience. We are planning to do a customer satisfaction and rider/non-rider survey, likely this fall. The survey will help shape our future," Burchett said.
Jeffreys says the survey is an initial step required by USDOT as the process moves forward.
"In parallel [with the survey], we've started a discussion among different stakeholders of, if there were an expansion, what would the potential models be," he said. "The next steps are doing more community surveys, engaging stakeholders on potential routes and, the third step is developing a financial model for what that could look like."
The survey comes as Uptown Consortium is looking into a range of mobility solutions for pedestrians, cyclists, drivers and transit users around uptown's five neighborhoods, specifically the Martin Luther King Jr./Reading Road interchange, according to Beth Robinson, president and CEO of Uptown Consortium.
"We are engaged in many conversations to create a fully connected district that caters to the needs and mobility of residents, employees and visitors, with an eye on positioning for next-generation transportation technologies and innovative solutions in 2023 and beyond," Robinson said.
An uptown streetcar could connect bus riders and uptown's 47,000 residents to the University of Cincinnati, UC Health, Cincinnati Children's Hospital, The Christ Hospital and the Cincinnati Zoo as well as uptown's 1,100 businesses.
Cramerding, a labor attorney at UC, says those institutions, many of which run their own transit systems, would be incentivized to help finance the project. He calls UC's existing shuttle system "haphazard and unreliable" and argues a streetcar would improve campus connectivity and pedestrian safety. He also says it would allow the university, which is currently landlocked and in need of additional real estate, to expand outside its current footprint.
"We expect UC to be a lead partner and advocate, working with Uptown Consortium," he said. "I think that's where the conversation is going. For too long, UC has been an island. It needs to be a partner engaging the other institutions and engaging the rest of the city."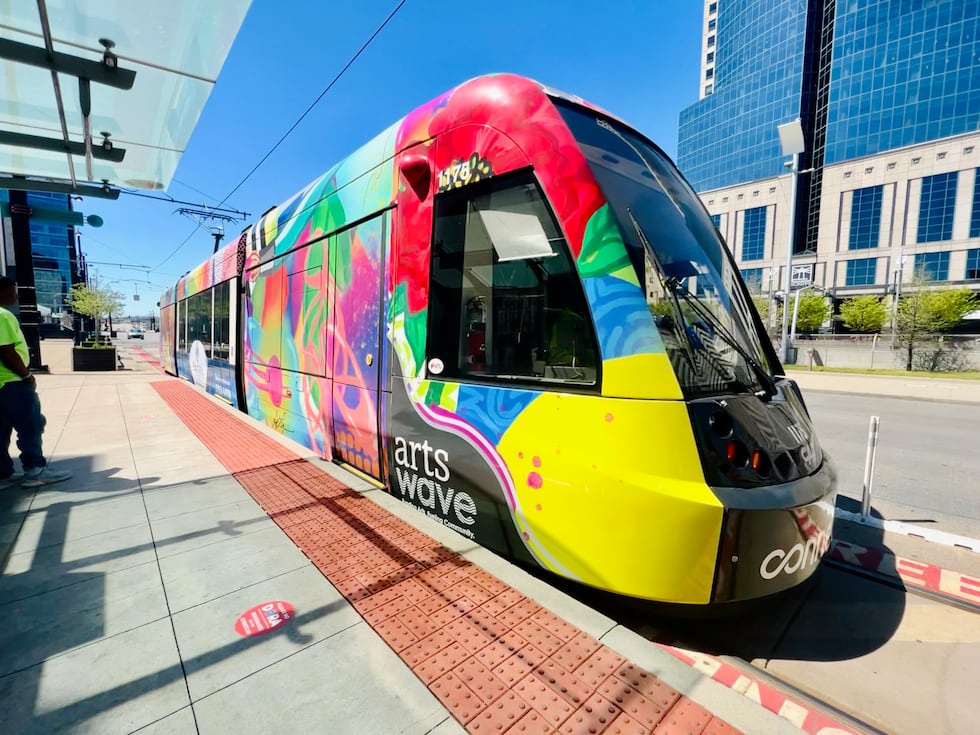 The cost of the project, which at this point remains hypothetical, is unclear. The downtown/OTR loop cost around $150 million to build in 2014 dollars, including $45 million in federal grants. The city committed $5.9 million for operating costs in 2024, or 0.4% of the total operating budget.
Cincinnati City Council member Liz Keating stresses there's no appetite among voters to provide public support for the project given the city's long list of deferred maintenance projects and cash-strapped financial picture.
"We don't have the money," she said. "But there are a ton of federal dollars out there right now, so if we can get the private sector to provide those matches, because it could benefit those businesses, I think it would be phenomenal."
Meanwhile, Metro is planning two bus rapid transit lines that will go up Vine Street before splitting uptown, one proceeding along Hamilton Avenue, the other along Reading Road. Cramerding sees the BRT as a catalyst for further investment.
"We've got the streetcar downtown, which is great. But uptown connectivity is poor. We've got great institutions but a hodgepodge of vans and shuttles and they're not coordinated, which is frustrating," Cramerding said. "Bus rapid transit could link it into a unified system. It's a critical component and the next step. BRT and the streetcar could work together."
Jeffreys is tepid with regard to an uptown loop given BRT's potential to absorb demand for uptown-downtown transit riders.
"We need to think about, with uptown, what are we solving for? We already have a plan to bring BRT to uptown, which in effect is a rail-type system. It has signal priority and a transit-only lane," he said. "We have to think what additional transit do we need uptown to meet the needs of jobs. And sure, that may be one of the options we consider.
A Metro spokesperson says no determinations have been made on how the two systems "might align and complement one another moving forward."
The university did not return our request for comment.
Run of Success, Room for Improvement
The post-pandemic performance of Cincinnati's existing streetcar has been impressive, to say the least.
The Connector tallied 5,000 daily riders four times in 2019 and just once in 2021. It did so 13 times in 2022 and has already done so 12 times in 2023, including seven of the last 10 Saturdays.
Monthly ridership paints a similar picture. The Connector will likely set a new June ridership record when the month ends, just as it has done every month but one since November 2021. The lone month it did not was last June, when a partial building collapse on Main Street in Over-the-Rhine forced the system half-closed.
The 102,189 riders last month (May 2023) reflected a 26% increase from May 2022 and a 117% increase from May 2019. Last April's 90,165 riders reflected a 38% increase from April 2022 and a 150% increase from April 2019. And so on.
The system, which connects Over-the-Rhine's northern reaches to The Banks, is on track for more than a million total rides this year.
Some share of them will comprise Reds and FCC fans (and "Swifties"). But the rise in weekday ridership reflects increased use by urban core residents and workers for the quotidian schlepping of everyday life.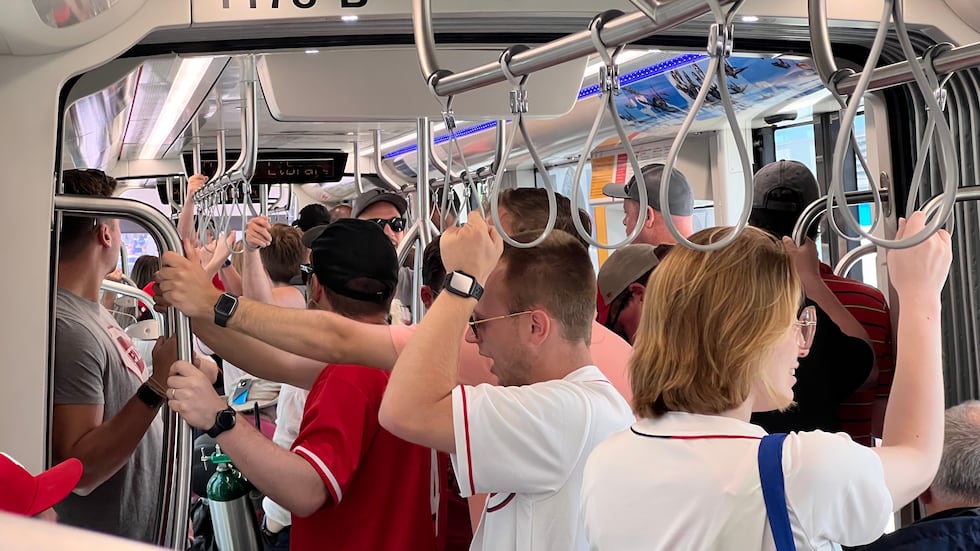 Critics point out the Connector still hasn't met rosy ridership projections contained in a 2007 feasibility study (page 16). But streetcar advocates like Brad Thomas, a local transit policy expert, says those projections were flawed from the start and should be ignored.
Nor is ridership the only metric of the system's success. Real estate development in the vicinity of the loop continues to swell, bringing in more money for the Connector's operating costs through voluntary tax incentive contribution agreements (VTICA). Private developers pay 15 percent of abated property taxes on improvements to their properties to a nonprofit that distributes the money to the city for streetcar operations.
For example, the Findlay Parkside project will bring 12 buildings back to productive life at the "doorway to downtown" with units LEED certified for environmental sustainability, and the city will earn more than $430,000 in income taxes from jobs created at the site. The VTICA will bring in added money for the streetcar over the life of the abatement, and an additional 25 percent of the abated value will go to Cincinnati Public Schools.
VTICA contributions were negligible when the streetcar opened but are quickly rising—$130,000 in 2019; $330,000 in 2020; $505,000 in 2021; and $705,000 in 2022.
The successes are a stark contrast to the system's early days, when it faced challenges including faulty air compressors, broken ticket vending machines, incessant track blockages, a murky leadership structure and little support from city hall.
Cincinnati City Council voted to the reopen the Connector in August 2020 with free fares following the pandemic shutdown. The change has improved headways (how often a streetcar arrives at a stop) and bolstered the systems overall reliability.
Under Burchett's leadership, the city administration is now working to better service. City Council has authorized state and federal grant applications for nearly $5 million in recent months for streetcar improvements.
Supporters say more changes are needed, such as bolstered signal prioritization at some intersections and transit-only lanes through busy thoroughfares like Walnut and Main streets south of Central Parkway. Track blockages also remain an issue, and the digital boards showing arrival times at the system's stations remain nonfunctional.
That hasn't stopped many of those same supporters from pressing for extensions, whether they're feasible or not.
Bringing more streetcars to Cincinnati
Plans that surfaced in the early 2000s for the return of streetcars to Cincinnati envisioned a downtown/OTR loop as phase one and an uptown connection as phase two.
The 2007 streetcar feasibility study offered several routes for an uptown connection. Some, like Clifton Avenue and Ravine Street, were immediately out because of their steep grades. The study favored Vine Street.
So the story goes, Ohio Gov. John Kasich yanked $52 million in state money for the system, torpedoing the uptown connection and forcing the city to decide whether to abandon the project altogether or move forward with a perceived half-measure.
John Schneider, dubbed Cincinnati's "Mr. Streetcar," says the Vine Street route was never likely to happen.
"The whole Vine Street streetcar route has, in my view, been fatally flawed almost from the get-go," he said. "We put it in as a placeholder."
Schneider, a retired real-estate developer and long-time member of the Cincinnati Planning Commission who proposed Fort Washington Way, says there are several problems: Vine Street is too narrow, it's twisty, it's two-way, it would be prone to blockages, it has little economic development potential, and getting the streetcar there from Findlay Market would require too many redirections. He also says Metro's BRT route would turn an unlikely project into an infeasible one.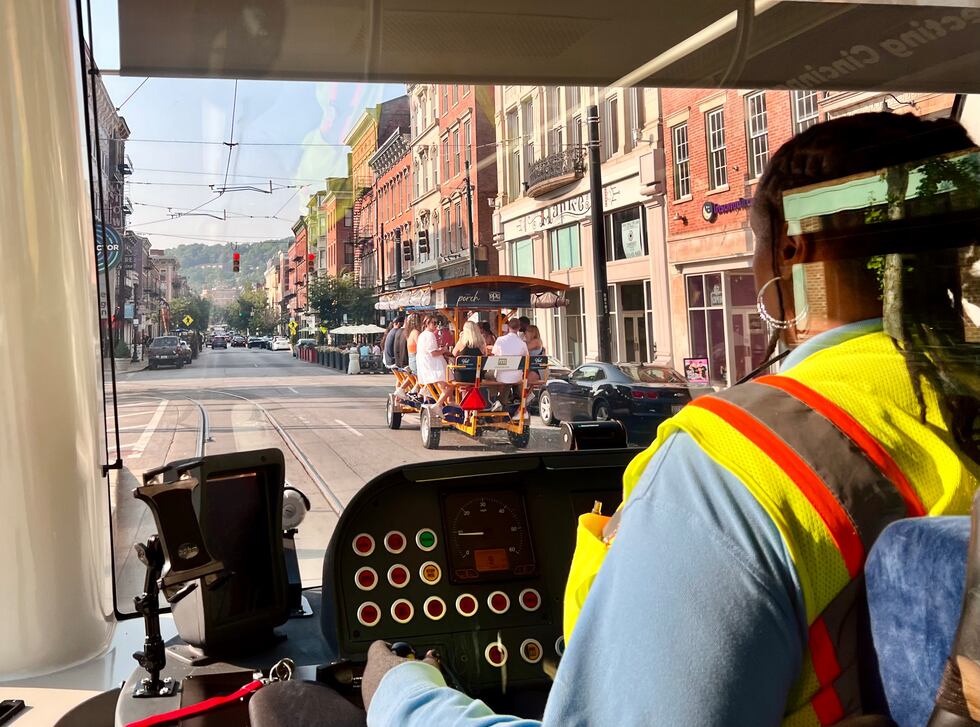 Streetcar advocates are looking at alternatives in the urban basin. An extension of the existing loop into Mohawk toward Brighton would be a "layup," per Schneider.
"There's tremendous development happening there, and it's a very short extension," he said. "If we'd known in 2007 how quickly northern Over-the-Rhine would have developed, I think we would have built it up to Mohawk to begin with."
The extension would require more tracks and stations as well as two more streetcars, but the existing maintenance facility, built to accommodate 15 vehicles (the city currently owns five) wouldn't require an addition. Expanding toward Camp Washington and eventually Northside could be worked out in later phases.
"A lot of people think Mohawk, Brighton, Camp Washington is sort of the logical extension of what is going on in Over-the-Rhine today. There's a lot of vacant land. It's flat. I think that area has great potential for repopulation."
Jeffreys maintains every option is on the table: uptown, Camp Washington, Northside, Union Terminal or Covington/Newport.
Keating is less sure.
"I think voters want the deferred maintenance taken care of. They want the capital investment in what we already have. Right now, we struggle paving our roads, taking care of crumbling infrastructure. We have rec centers that haven't been updated in decades. We've got parks falling into the river. That's where people want us to spend our money," she said.
Schneider acknowledges that reality but has faith that the city will see more streetcars.
"I'm unaware of any of the 15 cities with streetcars in the country that have said they're not going to expand it. Every city that has started down this road is more or less—Cincinnati in the less category—talking about expansion," he said. "The momentum is going to build here. As more people use it and like it, it's not going to just be streetcar advocates. It's going to be people on the street saying, 'Can we have more of this?'"
See a spelling or grammar error in our story? Please click here to report it.
Do you have a photo or video of a breaking news story? Send it to us here with a brief description.
Copyright 2023 WXIX. All rights reserved.