How Cincinnati became the hottest housing market in the nation
Prices appear to be spiking across the market, and available homes are few and far between. Is there something wrong underneath the hood?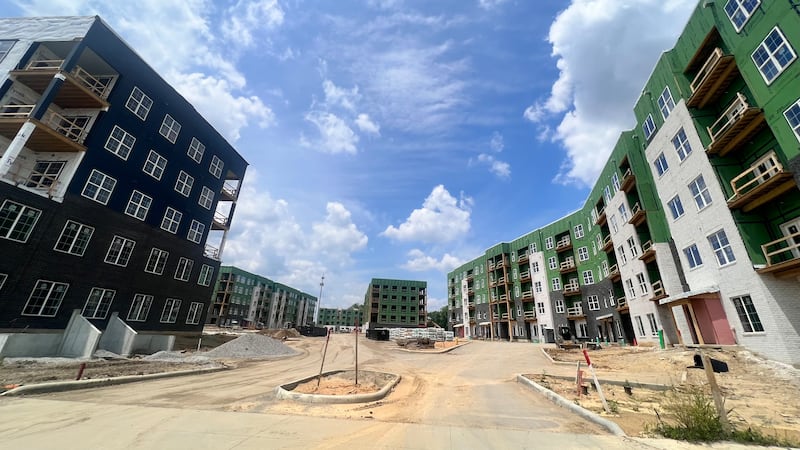 Published: Jul. 5, 2023 at 1:38 AM EDT
CINCINNATI (WXIX) - Greater Cincinnati developers are on track to do something this year that hasn't been done in a long time.
The Tri-State has produced more single-family homes than multifamily housing units—often twice as many—every year since 2000, the earliest year for which data is available from the U.S. Department of Housing and Urban Development.
But through May 2023, private developers are building as many of one as of they are of the other.
If the year-to-date data hold, Greater Cincinnati ("Cincinnati") is on track to permit around 3,350 multifamily units in 2023. That would be the most multifamily units built in Cincinnati during any single year since at least 2000. It would mark a 10% increase in multifamily permitting since the previous high mark of 2021, when apartment developers around the country rushed to accommodate people moving during the pandemic. It would also be a highly unusual turn for a city where multifamily housing comprises just over 15% (136,767 units) of total housing supply.
"We believe that it is a strong sign of the city's economic strength that more multifamily housing is being permitted and built," said Brandon Rudd, director of the Cincinnati USA Regional Chamber's Center for Research and Data. "We know that it takes an all-of-the-above housing strategy to maintain our appeal as an affordable region, and housing density around transit lines and in our business districts and employment centers will help us to continue to grow our economy."
On the other side of the coin, Cincinnati is set to build just around 3,450 single-family homes in 2023, its fewest since the Great Recession.
The trends are independent but interrelated. Juxtaposed, they paint a succinct picture of Cincinnati's bottlenecked housing market, supposedly the hottest in the nation.
'SO WHERE'D YOU GO TO HIGH SCHOOL?'
Can't talk about housing without talking about population growth—and Cincinnati's population isn't just growing, it's changing. In 2019, net migration to Cincinnati surpassed net natural increase (births-minus-deaths) as the largest component of the metro's population growth for the first time in the new millennium, U.S. Census Bureau data show.
"One big difference between now and ten years ago is that we are increasingly seeing in-migration from large metros across the country," Rudd explained. "Ten years ago, people were moving here from smaller Ohio and Kentucky cities. Now, we still have migration from places like Dayton and Lexington, but also New York City, Chicago, San Francisco, and Seattle. Additionally, we are seeing strong migration from Asia and other international locations."
More than 20,000 people moved to Cincinnati in 2022 alone, according to IRS data compiled by the Chamber. Census data show Cincinnati's net migration was only around 4,630 people in 2022, but those data are almost always revised later, and Rudd notes the annual population releases have understated Cincinnati's growth in the past.
"We know anecdotally, and from migration data, that we're fast becoming one of the most desirable destinations in the Midwest," Rudd said. "We expect that the Census estimates through the rest of the decade will show that."
Jon Leckie, a researcher at Rent.com, notes people are leaving more expensive metros in the northeast and west coast for places like Cincinnati that are comparatively more affordable. His housing leads for the first quarter of 2023 largely mirror the Chamber's 2022 data, indicating the trend of relocations is ongoing. Those relocations play a key role in increasing housing prices.
"When people come from more expensive metros, they're so much more willing to pay, because it's so much cheaper than where they've come from," Leckie said. "That's going to drive up prices as well."
Cincinnati homebuilders also report they're seeing a significant uptick in what they term "relocation purchases."
Some might be left scratching their heads—Cincinnati's reputation isn't untarnished. But the metro consistently outperforms in rankings of livability, which national analysts like Dave Meyer, vice president of growth and analytics at Deeper Pockets, say work in tandem with affordability in luring people from the coasts.
"I think we're going to start seeing a lot of cities in the Midwest that are affordable start to grow, and quality of life is going to be a major predictor of where people are going to live," Meyer said. "Everyone defines that differently, but generally speaking, cities that rank high in quality of life will start to see big trends."
Good news for the region, but housing remains a hurdle. At the start of 2022, the Chamber estimated Cincinnati had a total demand over the next three years for 25,300 new housing units. A year and a half later, the region has permitted just over 9,000.
CINCINNATI'S APARTMENT BOOM
The region's rental market has been tight since 2017, when the local vacancy rate dipped below the national vacancy rate (then 7.5%) for the first time in the new millennium, according to HUD data.
People moving during the pandemic gobbled up most of the metro's excess inventory. In 2021, the metro's apartment vacancy rate plummeted to 3.6%, the lowest on record. Rents rose, but home prices rose more. In March 2022, based on average monthly payments, it became cheaper to rent in Cincinnati than to buy a home for the first time on record, according to Zillow.
Vacancy has steadily climbed since 2021, as the metro gained more than 3,500 multifamily units over the last year with 6,100 more now under construction, according to local real estate brokerage Lee & Associates. But Cincinnati's current vacancy rate of 6% remains below both its pre-pandemic average and the current national rate.
Rent increases appeared to level off nationwide at the end of 2022 and even drop some places in 2023, signaling a "return to characteristic price patterns," Redfin's Lily Katz wrote last month.
Why? For one, like Cincinnati, apartment construction is up. But on the demand side, it's anyone's guess. Metro-specific data is all over the place, prompting housing experts to conjecture: Renters are moving less, signing longer leases, doubling up with roommates, negotiating better with landlords, feeling the burn of diminished savings and/or fretting about economic uncertainty.
Getting a read on Cincinnati's rental market is similarly difficult. The metro-specific data is frothy and inconsistent. Zillow, Redfin and Rent.com all have Greater Cincinnati's median rent around $1,570. But Zillow says local rents have grown by 7.9% over the last year, the largest increase in the country, while Redfin says rents have decreased by 1.9% since last year, and Rent.com says they've decreased by 6.5%, the sixth largest decrease in the nation.
There's so much variance because the data are sourced primarily from asking prices on active listings. They don't count, for example, tenants resigning existing leases or the thousands of apartment units—often at the lower end of the affordability spectrum—that are owned by smaller landlords.
"Everyone is using a different methodology, pumping different listings into their calculations, estimating price based on inventory," Leckie said. "The customers tend to be larger corporate apartment buildings, and those prices tend to be more expensive than your mom and pop landlords."
HUD data has real rents around 20% below the Zillow average. And stripping out single-family homes for rent, which spiked higher and crashed harder than the multifamily market in 2022, the average Cincinnati rent is only $1,173, according to Lee & Associates. All that is consistent with findings that even Zillow, whose price index attempts to smooth out fluctuations, is nonetheless oversensitive to new listings.
Consider this: Zillow data show Cincinnati's largest pandemic rent spike came in the third quarter of 2022, several months after the national spike in the first quarter. The timing of Cincinnati's peak specifically coincides with a summertime glut of 1,400 multifamily units coming online, fittingly around 17 months after Cincinnati's most prolific month of multifamily permit issuances since at least 2000.
The spike in permitting and production came without warning. Cincinnati went from permitting 773 multifamily units in the six months preceding February 2021 to permitting 778 in that month alone. Similarly, the region saw just 700 multifamily units come online in the second quarter of 2022 before the third quarter glut of 1,400 units—hence the abruptness of Cincinnati's rent spike. Prices eased afterward in part because deliveries eased: Just 400 multifamily units came online in the fourth quarter.
And new multifamily units, according to Leckie, are almost always class-A "luxury" properties due to rising input costs—labor, materials, land and credit.
Cincinnati made headlines for astronomical rent increases last July and August. And to be sure, rents are climbing, raising affordability concerns. But the data also indicate those eye-popping 2022 figures actually reflected a spike in multifamily production rather than an acute seismic shift in the region's rents, which remain 20-30% below the national average.
"The sticker prices might bump up because of all these new apartment buildings, but in the long term, what needs to happen is more building and more available apartments," Leckie said. "Cincinnati is doing what it needs to do to solve these problems."
THE HOMEBUILDING BOTTLENECK
Propping up Cincinnati's tighter-than-average rental market is its tighter-than-anywhere market for single-family homes.
Data compiled by Redfin show Cincinnati is seeing annual home price increases of 8.3%, second highest in the nation.
Early in the pandemic, according to Leckie, inflated home values and low interest rates meant homeowners were all too eager to sell their homes and become renters while things settled down.
"But now it's sort of flipped," he said. "Interest rates are so high, people who are locked into that lower interest rate aren't wanting to sell. It doesn't make sense for them to sell and then rebuy."
High rates are pulling demand out of the market. Home sales are down 24% from last May, according to the Realtor Alliance of Greater Cincinnati.
There are also far fewer homes available. Many would-be first-time buyers are forced to keep renting; those hoping to move into larger homes are forced to keep their starters; older adults looking to downsize face the unappealing prospect of paying more for less space... so they don't. Homeowners are living in their homes on average for more than 12 years, double what they were pre-pandemic. The so-called "lock-in effect" is clogging the market. Cincinnati's active inventory of around 4,000 homes is down 18% since 2022 and nearly 52% since pre-pandemic, Zillow's second-largest decline in the nation.
"It's not a good experience to buy or sell a house right now," Meyer said. "It's really stressful. People are avoiding it."
Cincinnati's market is now pared down to buyers who are need-based, meaning they're starting a family or relocating and don't have another option, which further inflates prices and adds velocity to home sales. Homes go from listing to pending in Cincinnati in just three days, the lowest average nationwide and a 62.5% decline from pre-pandemic, according to Zillow.
Cincinnati homebuilders face high borrowing costs, high labor costs and not enough land to build on. Lumber prices are at a three-year low and are expected to climb. But Cincinnati's available existing homes aren't appealing at their price points, and the certainty of cost increases means those who can afford it are building homes now. New home sales in Cincinnati comprise the highest share of total sales on record, and homebuilder confidence is surging as summertime home sales pick up.
Cincinnati's market is balanced in the sense that 99.5% of homes listed are sold. But local homebuilders recognize it's becoming less affordable over time with disruptive upstream effects. Whether the market's historic tightness is just a correction rippling out from the pandemic's generational upheaval or the inevitable result of an historically cheap region growing itself into a competitive one remains to be seen.
See a spelling or grammar error in our story? Please click here to report it.
Do you have a photo or video of a breaking news story? Send it to us here with a brief description.
Copyright 2023 WXIX. All rights reserved.