BCI declines Clermont County sheriff's request to review allegations about judge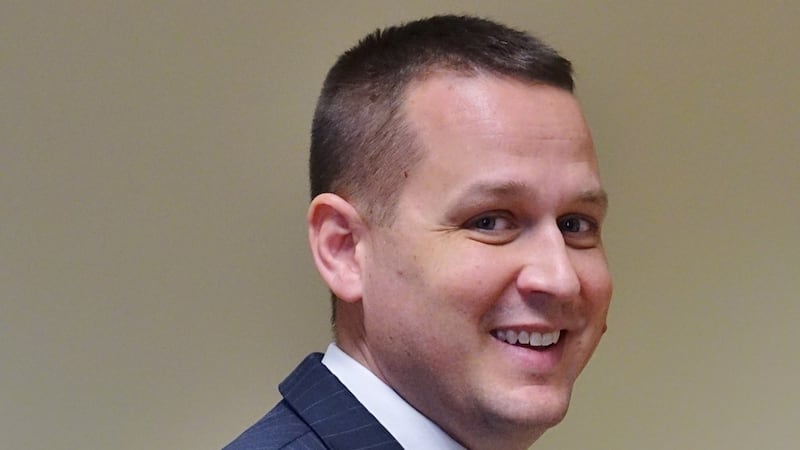 Published: Jul. 25, 2023 at 6:48 PM EDT
|
Updated: Jul. 25, 2023 at 6:49 PM EDT
BATAVIA, Ohio (WXIX) - The Ohio Attorney General's Bureau of Criminal Investigation has declined Clermont County Sheriff Steve Leahy's request to review allegations related to a county municipal court judge and an administrative assistant, the sheriff tells FOX19 NOW.
BCI notified Sheriff Leahy in writing on Monday, according to a copy of the public record released Tuesday to FOX19 NOW.
"Consideration was given to the type and level of the alleged offense, available evidence, solvability factors and prosecution concerns and limitations. Due to internal request prioritization, our assistance in this matter cannot be provided," reads a letter to the sheriff from Special Agent Jeffery A. Cook, supervisor of BCI's Integrity Unit.
"Because every request for assistance is evaluated on a case-by-case basis, this denial will have no effect on any future requests received from your agency. You are encouraged to contact BCI if any future needs arise or additional information becomes available regarding the present request which you feel may alter our decision," the letter continues.
"Thank you for considering the skills and expertise of BCI in helping you resolve this important matter. I appreciate your concerns in handling this matter in a way that promotes the public trust. Should you have any questions, please feel free to contact me directly....."
The sheriff's office launched an investigation after a Clermont County resident who is the aunt of the administrative assistant's husband gave the sheriff's office a July 14 statement involving allegations related to the assistant, Allison Kersker and Judge Jesse Kramig.
Sheriff Leahy said last week the case was in the early stages and it was too soon to say if it would rise to a criminal level.
He invited BCI to take the case to avoid any perceived conflict of interest with the sheriff's office.
Two high-ranking officials - the second-in-command chief deputy and the captain assigned to the case - were involved in the judge's reelection campaign earlier this year by either circulating or signing petitions for him, county records show.
The sheriff had no reaction Tuesday to BCI declining the case.
"I can't say I am surprised one way or another," he responded. "It's a request. They can either do it or they can't."
Kramig worked at the Ohio Attorney General's Office in 2015 as a senior assistant attorney general.
The position required him to travel to different Ohio counties, trying and convicting multiple offenders for white-collar crimes, corrupt activity and theft from the elderly, according to his biography on Clermont County Municipal Court's website.
Sheriff Leahy said he called Warren County's sheriff and asked his agency to review Clermont's investigation so far and Warren County's sheriff agreed.
This mutual aid request made sense, Sheriff Leahy said, because the special prosecutor already appointed in this matter is Warren County Prosecutor Dave Fornshell.
If Warren County Sheriff's Office sees a need to look into the case further, Sheriff Leahy said, their investigators will handle it from there.
Scott Croswell, the judge's attorney, has said a "third party" made an unfounded allegation against the judge that has prompted the appointment of a special prosecutor.
On Tuesday, he said "I have repeatedly indicated that the allegations made by an unnamed person are unfounded. BCI's letter simply confirms that.
"If there were a scintilla of proof or a legal theory that a crime had occurred, BCI would have taken the investigation. Because the whole issue is a lot to do about nothing, they chose not to get involved in what could be perceived as a witch hunt. As I have stated before, I have every confidence that the matter will be resolved without further action."
What's his reaction to the Waren County sheriff's office reviewing Clermont's case now?
"They can have 100 agencies review it. Nothing occurred. As I stated before, there are no facts. Nothing occurred. The matter will be closed without further action."
FOX19 NOW has made multiple attempts to obtain comment from the administrative assistant, her husband, their attorney and other relatives, to no avail. One relative agreed to an interview and then canceled the following day.
On July 12, Clermont County Prosecutor Mark Tekulve requested Warren County Prosecutor Dave Fornshell, or an assistant prosecuting attorney designee, be appointed a special prosecutor to investigate allegations about "J/A."
His motion was filed one day FOX19 NOW requested multiple public records related to the judge, 42, and Kersker, 25.
Clermont County Common Pleas Court Judge Kevin Miles appointed Fornshell special prosecutor at no cost to Clermont County, court records show.
The judge's order appointing Fornshell or a designee from his office special prosecutor says he will "investigate, prosecute and adjudicate, as necessary, all proceedings that may arise from this appointment, including but not limited to grand jury, pretrial and trial court proceedings, appeals and post-conviction proceedings and any and all other prosecutorial duties which may arise herein relating to the allegations involving J/A."
Kersker began working in Clermont County Municipal Court in February 2021, according to her personnel file.
Kramig has been a judge in Clermont County since 2016.
He also worked in the county prosecutor's office at one point as an assistant prosecutor of felony cases.
In 2014, he was promoted by then-County Prosecutor Vincent Faris to supervisory assistant in the common pleas felony division.
He handled the office's most serious cases and supervised other assistant prosecutors and other staff and for making recommendations on presentment of cases to the grand jury, according to his biography on the court's website.
Kramig began working at the Ohio Attorney General's Office in 2015 as a senior assistant attorney general.
The position required him to travel to different Ohio counties, trying and convicting multiple offenders for white-collar crimes, corrupt activity and theft from the elderly.
In 2016, then-Gov. John Kasich appointed Kramig to complete the final year of Clermont County Municipal Court Judge Anthony Brock's six-year term.
Kramig was elected the following year to serve a six-year term of his own.
He currently presides over his regular municipal court docket and the county's OVI court.
Clermont County Board of Elections records show Kramig filed for re-election in November.
See a spelling or grammar error in our story? Please click here to report it.
Do you have a photo or video of a breaking news story? Send it to us here with a brief description.
Copyright 2023 WXIX. All rights reserved.