Darbi Boddy asks appeals court to attend Lakota school board meetings amid appeal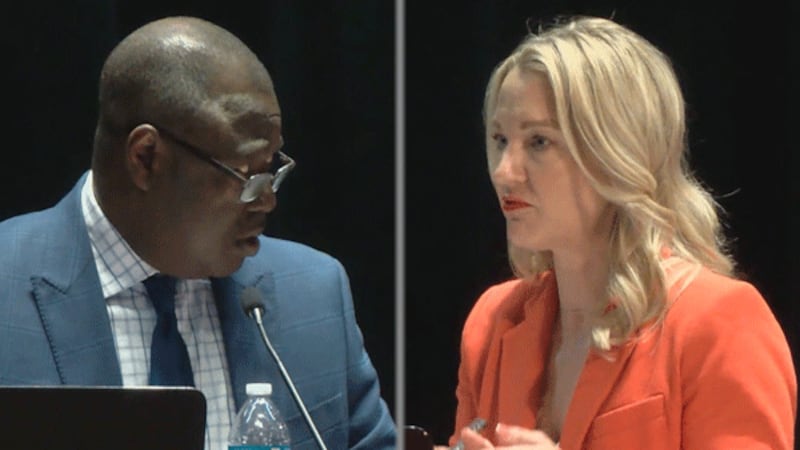 Published: Sep. 22, 2023 at 1:01 PM EDT
Video from previous coverage above
LIBERTY TOWNSHIP, Ohio (WXIX) - Lakota School Board Member Darbi Boddy wants an appeals court to let her attend board meetings while she appeals a civil protection order that requires her to stay away from a fellow board member.
Her lawyer filed an emergency motion Friday to the Twelfth District Court of Appeals seeking an immediate modification of Isaac Adi's protection order.
It requires her to stay 500 feet away from him at all times and that includes school board meetings.
The next is Oct. 2.
"While Darbi Boddy has little doubt that, upon the expedited typing of the record and placing it before this court, this order will be reversed as erroneously granted," the motion states, "that remedy will be too late for her public duty to school board meetings that are taking place in the interim (the first of which takes place on October 2, 2023).
"Therefore, she makes this emergency motion to modify the protective order to make it clear that she may attend school board meetings in the interim while adhering to the order in all other respects."
"Her lawyer, Robert Croskery, tells FOX19 NOW: "Political speech and activity in America rightfully enjoys the highest degree of judicial protection This motion is filed not only on behalf of Darbi Boddy but also on behalf of her constituents who elected her to be their voice in school board meetings. We hope and expect that this matter will be promptly heard and favorably resolved."
We reached out to Adi's lawyer, Robert Lyons, for comment Friday morning and will update this story once we hear back.
Darby Boddy protection order
READ THE EMERGENCY MOTION HERE:
Interim Superintendent Dr. Elizabeth Lolli said Wednesday they would review the protection order and make any needed adjustments.
Under current state law, public officials must be physically present at meetings to vote and be counted as part of a quorum.
School board members who miss meetings for 90 days and "each absence is found to be for reasons declared insufficient" by a two-thirds vote of the remaining board, can be removed and someone else could be appointed, according to Ohio Revised Code 3313.11 "Vacancy in board."
Adi and Boddy campaigned together in 2021 but he claimed in court records filed last month that he was under "mental distress" because their relationship "has deteriorated to the point that Ms. Boddy is "extremely aggressive toward me and has become very confrontational."
The protection order was issued Wednesday after a hearing last week where Adi testified his distress over all of this resulted in his hospitalization in July.
If Boddy violates the court order, she will be arrested, the county prosecutor and sheriff declared in a joint statement Thursday.
"There will be no preferred treatment no matter your elected position, if you violate a civil protection order, you will be arrested on site," both said in a news release.
Violation of a protection order is a first-degree misdemeanor.
Anyone found guilty of violating a protection order in Ohio could be punished by being ordered to pay up to a $1,000 fine and serving up to six months in the county jail (180 days).
See a spelling or grammar error in our story? Please click here to report it.
Do you have a photo or video of a breaking news story? Send it to us here with a brief description.
Copyright 2023 WXIX. All rights reserved.