Court rejects Darbi Boddy's request to attend Lakota school board meetings during appeal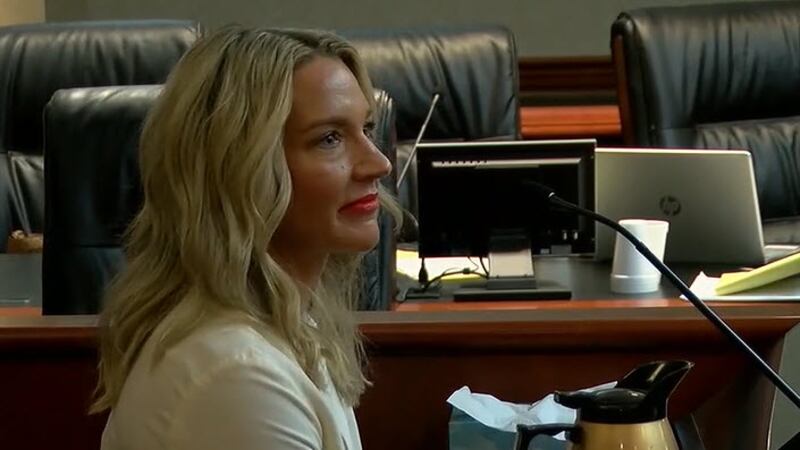 Published: Sep. 26, 2023 at 6:34 PM EDT
|
Updated: Sep. 27, 2023 at 6:20 PM EDT
LIBERTY TOWNSHIP, Ohio (WXIX) - An appeals court rejected Lakota School Board Member Darbi Boddy's emergency request to attend board meetings while she tries to overturn a civil protection order requiring her to stay away from a fellow board member.
Her emergency motion to the Ohio Twelfth District Court of Appeals was denied because it did not follow normal court procedure, according to a copy of the order filed in the court record late Tuesday afternoon.
"....a stay or injunction sought in a civil matter must ordinarily be presented first to the trial court, not the court of appeals," wrote the appeals court's administrative judge, Robert Hendrickson.
That would be Butler County Common Pleas Court, where Magistrate Matthew Reed and Judge Greg Howard both signed the civil stalking protection order Isaac Adi against Boddy.
"During the arguments of counsel, it was stated that granting a protection order on behalf of Isaac Adi as to Darbi Boddy would disenfranchise Boddy's constituents. The Court however finds that it was, and is, the behavior of Boddy that has disenfranchised her constituents. (Adi) has demonstrated, by a preponderance of the evidence, that (Boddy) knowingly engaged in a pattern of conduct that caused, and will continue to cause him mental distress," Magistrate Reed wrote in his decision.
The protection order requires Boddy to stay 500 feet away from Adi at all times, including school board meetings, so she can no longer attend them in person.
FOX19 NOW requested comment from attorneys for both Boddy and Adi.
Her attorney, Robert Croskery, said Tuesday night will refile the emergency motion in the lower court by the opening of business Wednesday.
On Wednesday, he said they complied with that.
"The Court's interim decision and direction is not a finding on the merits and has no effect on Darbi Boddy's underlying Appeal, which is still active," he said.
READ THE APPEALS COURT ORDER HERE:
Boddy's lawyer filed a notice of appeal on her behalf last week.
If that appeal is not successful, this protection order could result in her removal from the school board.
The protection order remains in effect until Sept. 20, 2025, which is most of the rest of her term in office.
Boddy was elected in the fall of 2021 and began serving in January 2022. School board members in Ohio serve four-year terms.
Under current state law, public officials must be physically present at meetings to vote and be counted as part of a quorum.
School board members who miss meetings for 90 days and "each absence is found to be for reasons declared insufficient" by a two-thirds vote of the remaining board, can be removed and someone else could be appointed, according to Ohio Revised Code 3313.11 "Vacancy in board."
The next school board meeting starts with public comment at 5:30 p.m. on Oct. 2.
It will be held at Lakota East Freshman School's auditorium, 7630 Bethany Rd, Libery Township 45044.
Darby Boddy protection order
DARBI BODDY EMERGENCY MOTIONS:
Adi and Boddy campaigned together but he claimed in court records filed last month that he was under "mental distress" because their relationship "has deteriorated to the point that Ms. Boddy is "extremely aggressive toward me and has become very confrontational."
The protection order was issued on Sept. 20 after a four-hour hearing on Sept. 15 where Adi testified his distress over all of this resulted in his hospitalization in July after she followed him out of an executive session, filming and confronting him, and he swatted her hand down to stop her from filming him.
"I was leaving," she testified. "And -- and I can just go ahead and go through it right now, actually. I was leaving and I heard him following behind me. And so I turned around because, while we were in there, he said your brain is empty and was very verbally aggressive and attacking me. And so this has happened multiple times, and so I wanted to catch it on -- on video because I was tired of the way that he talked to me."
She posted the video on Facebook and called him out, which he claimed added to his stress.
He said on the stand he was "rushed to the hospital and they took -- did every test. My blood pressure shot up. My system -- everything in my body was almost shutting down. And I was in the hospital for three days -- two nights and three days."
School Board Chairmwoman Lynda O'Connor, School Board Member Julie Shaffer and Assistant Superintendent Stacy Maney all took the stand without being forced to via subpoena and gave sworn testimony on his behalf.
Chairwoman O'Connor said on the stand: "The Board has made it a practice now not to be alone with Mrs. Boddy in the room." She also said: "We make a conscious effort not to leave Mr. Adi alone with Mrs. Boddy."
Magistrate: "Has there been a concern -- since Ms. Boddy has been on the board, have there been concerns regarding safety, not about Ms. Boddy, but just -- let's just talk about the board first. Since she's been on the board, have there been concerns about safety?"
She responded: "Yes, Your Honor."
Magistrate: "Have those concerns been because of Ms. Boddy, or are they in general?"
O'Connor: "I would say both."
Adi's lawyer, Robert Lyons, asked: "Because there have been safety concerns regarding Ms. Boddy, what actions has the board taken regarding those safety concerns?"
Boddy's lawyer objected: "We still don't know what those concerns are...or if he's..."
Lyons: "That's what we're trying to find out, Your Honor."
Magistrate: "Yeah. I'll give you a little leeway here."
Lyons: "Thank you."
Magistrate: "So let's -- let me -- what were the concerns regarding specifically Ms. Boddy?"
O'Connor: "Volatility of behavior. Unpredictability of behavior."
Boddy was the only one to testify in her defense. One of the things she's accused of doing is harassing Adi at a leadership conference the district paid for them both to attend in Sarasota in April by repeatedly calling him out for voting and acting in a way on the school board that she didn't feel was conservative and he should be.
On the stand, she read aloud what she confronted him with at the conference so everyone in the room at the conference would know:
"This man right here is not a conservative. He is actively working to ensure that individual board members do not have random access to classrooms -- cla -- classrooms, which is the only way to endure -- or ensure accountability, and that teachers are teaching what they should be teaching. He voted to harm our children by voting to mask our students and push vaccines. He supported a pedophile superintendent, voted to get rid of public comment in a board meeting, and is currently allowing boys to use the girls' bathroom, and will not protect our daughters' competitive athletics and is allowing the indoctrination of our students through SEL and DEI."
Her lawyer argued in court that this case is really about "whether or not the court wants to take a young mother, essentially destroy her life, disenfranchise her constituents, and interfere with board politics by keeping her from representing conservative viewpoints in Lakota schools. It's that simple.
" My client was elected by people. The only places where this so-called stalking has occurred are places where Ms. Boddy is supposed to be. She is not hunting down Mr. Adi in the local Kroger. She is not attempting to waylay him at a football game. She is simply going to board meetings and places where she's supposed to be and then attempting to record Mr. Adi, a public figure, saying things that she believes that he has said."
He contended that if Adi can't take criticism, maybe he's in the wrong job and Ohio's stalking law is being twisted "into a pretzel."
"My client bears no ill will whatsoever towards Mr. Adi. She wishes him well. Now that she knows he doesn't want to be videoed, she will not video him. But she has to do her job, and he has to do his job. And part of doing that job is understanding that there will be criticism, whether warranted or unwarranted.
"And if that criticism causes him great, great distress, maybe Mr. Adi is in the wrong job. Maybe he should resign from the board. Maybe he should not be attending these meetings. But it is improper to use a stalking order as a sword and not a shield in order to injure my client, upend her life, disenfranchise her constituents, and generally twist the statute into a pretzel."
A transcript of the hearing was released Wednesday morning. Her lawyer ordered it as part of her appeal. A copy of it is embedded at the end of this story.
If Boddy violates the court order, she will be arrested, the county prosecutor and sheriff declared in a joint statement last week.
"There will be no preferred treatment no matter your elected position, if you violate a civil protection order, you will be arrested on site," both said in a news release.
Violation of a protection order is a first-degree misdemeanor.
Anyone found guilty of violating a protection order in Ohio could be punished by being ordered to pay up to a $1,000 fine and serving up to six months in the county jail (180 days).
PROTECTION ORDER:
Boddy has been the subject of many controversies since she joined the school board in January 2022.
She was elected after campaigning on a platform opposing Critical Race Theory, which Lakota officials have repeatedly said is not in the schools. Boddy also is a staunch believer in and insists on parents' rights.
While Boddy clearly has supporters, a recall effort has been underway to try to remove her from the school board for more than a year.
In the spring of 2022, she was censured by the school board after accidentally posting a link to a pornographic website while advocating for abstinence.
They also asked her to resign.
She refused and walked out of the meeting.
Then a school resource officer served Boddy with a letter notifying her that she was trespassing when she showed up, unannounced, at two schools in Liberty Township: Lakota East High School and Liberty Early Childhood School.
The letters warned her if she did it again, she would be formally charged.
She took several photos inside the schools while she was there, from civil rights timeline projects of students to messages that all are accepted in the building or classroom, FOX19 NOW has confirmed.
Some of the photos also show projects that appear to have a rainbow-colored theme.
Boddy claimed in a Facebook post that she did not sneak into the schools and the visits were not a secret.
More recently, Lakota's former superintendent, Matt Miller, quit and blamed Boddy for being on a "crusade" that "destroyed my career."
Boddy told FOX19 NOW in an interview at the time she felt Miller was not fit to be the superintendent. Allegations that originated from his ex-wife were investigated by the sheriff's office last year.
Miller told a sheriff's detective during an interview that he and his ex-wife engaged in consensual sexual encounters while they were married with other consenting adults, not minors, according to the investigative report and a copy of his interview transcript.
The report also states Miller said he and his ex-wife would "role play" and engage in "pillow talk" and, on one occasion, that included a discussion of "drugging, molesting and recording three juveniles but that was during a role-play/pillow talk session."
The sheriff's office announced a year ago this month they were closing that case as well after consulting prosecutors with no charges being filed.
Most of the school board publicly supported Miller during the investigation and a separate one the district paid for that also determined no laws were broken.
Still, Miller left early this year, writing in his January resignation letter to the school board that Boddy created "a nightmare" for him and his family, told "outright lies about him" and the rest of the board did not protect him from "her harassment which continues to this day."
"Her crusade to force me to resign is direct retaliation for my efforts to protect Lakota students of all genders and races from her destructive efforts."
TRANSCRIPT OF SEPT. 15 PROTECTION ORDER HEARING:
See a spelling or grammar error in our story? Please click here to report it.
Do you have a photo or video of a breaking news story? Send it to us here with a brief description.
Copyright 2023 WXIX. All rights reserved.