FC Cincinnati beats Toronto FC to clinch 2023 Supporters Shield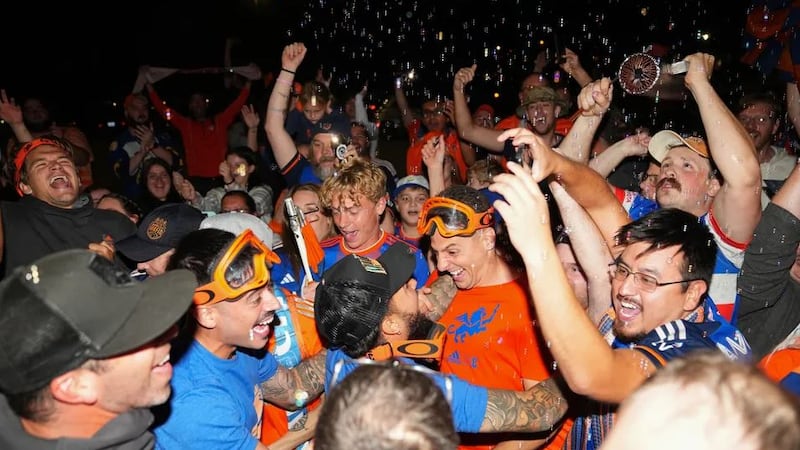 Published: Oct. 1, 2023 at 10:54 AM EDT
TORONTO (CINCINNATI ENQUIRER) -Where were you when FC Cincinnati clinched the 2023 Supporters Shield?
That's the question FC Cincinnati fans will ask one another years from now, and they'll smile as they recall the details of FCC's historic 3-2 win Saturday against Toronto FC at BMO Field, according to our media partners at the Cincinnati Enquirer.
In winning, FC Cincinnati improved to 19-4-8 and 65 points in the standings. Regardless of what happens over the final three regular-season matches, Cincinnati will have its name engraved on the Supporters Shield trophy as the club with the best regular-season record based on the league's point system.
"This was a really, really neat moment to experience and share with the players, the staff members that are here," FC Cincinnati head coach Pat Noonan said. "Certainly, a lot of people to thank. A lot of work that's gone into this. All those people will be recognized in the coming days. For Carl (Lindner III) and the entire ownership group and the support this club's been given to the staff members, the players, the fans, this is really neat. I want people to really enjoy this, and I know the guys in the other room are right now. We look forward to sharing this with our fans on Wednesday."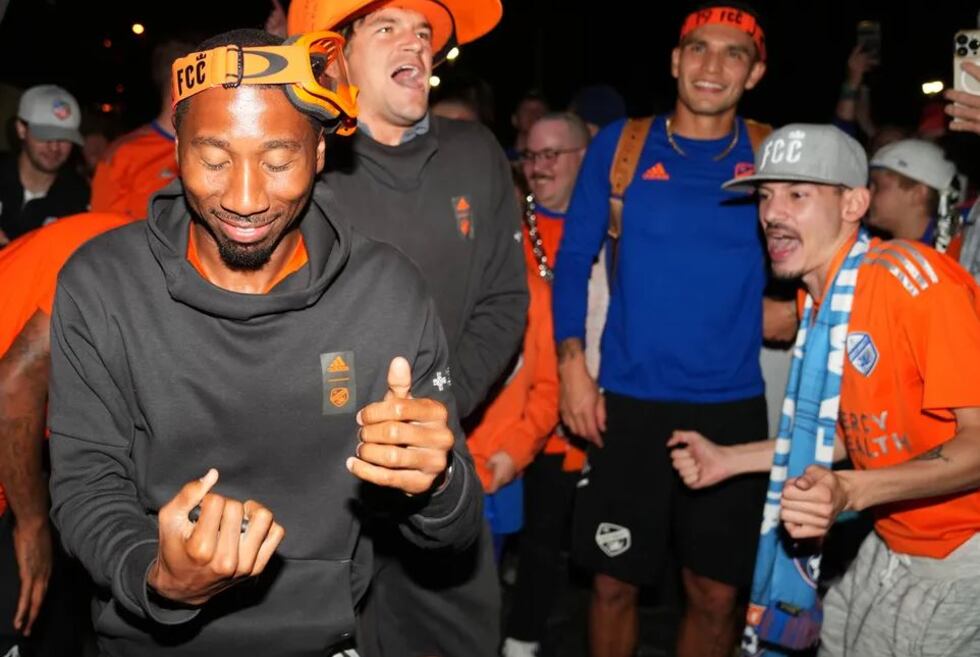 With the match tied at two, Aaron Boupendza rifled home a goal in the 71st minute that eventually clinched the first major trophy in FC Cincinnati's history in Major League Soccer. Fittingly, Luciano Acosta, the presumed favorite for the 2023 Landon Donovan Most Valuable Player Award, dribbled from near midfield to break Toronto's defense wide-open before dishing the ball to Boupendza.
The assist was Acosta's 13th of the season, giving him an MLS-leading 28 goal contributions (goals, plus assists).
It was also fitting the clinching goal would come from Boupendza, too, as he was acquired by FC Cincinnati during the secondary transfer window this past summer in order to expedite Cincinnati's pursuit of championships. Seeing as Boupendza had five goals in eight appearances by the end of Saturday's match, the move was clearly a wise one
FC Cincinnati is planning to announce a celebration of the Supporters Shield victory at Wednesday's match at TQL Stadium against New York Red Bulls. More details of the celebration will be unveiled in the coming days.
After the match, a raucous celebration commenced. It was complete with champagne and top-shelf spirits and Cincinnati-made beer in the form of an assortment of Rhinegeist cans.
Players wore customized Oakley-brand ski goggles for the inevitable spraying of alcohol around the room, and many pictures of the celebration were snapped. There were full-team pictures, an all-staff picture, and close friends pictured together. All the while, music blared.
Champagne and beer dripped from the ceiling tiles, although it should be noted FC Cincinnati left the visitors' locker room at BMO Field in generally good condition.
The locker room party was so lively and enjoyable for the players that a brief debate ensued about whether or not the team should spend the night in Toronto to continue partying. In the end, the club opted to fly home Saturday night. They were expected to be greeted by fans at the Cincinnati/Northern Kentucky International Airport.
Before the team departed, a few interviews took place.
"That's my family. That's my second family. When you (achieve) something like this with your family, it's very (proud), it's very (gratifying)," Acosta said. "I don't have enough words to explain how I'm feeling, but if I need to say something, I want to say thank you to everybody. I want to say thank you to the fans, thank you to my family. Everybody who made this city my family make this club my family. Those are the only words I need to say."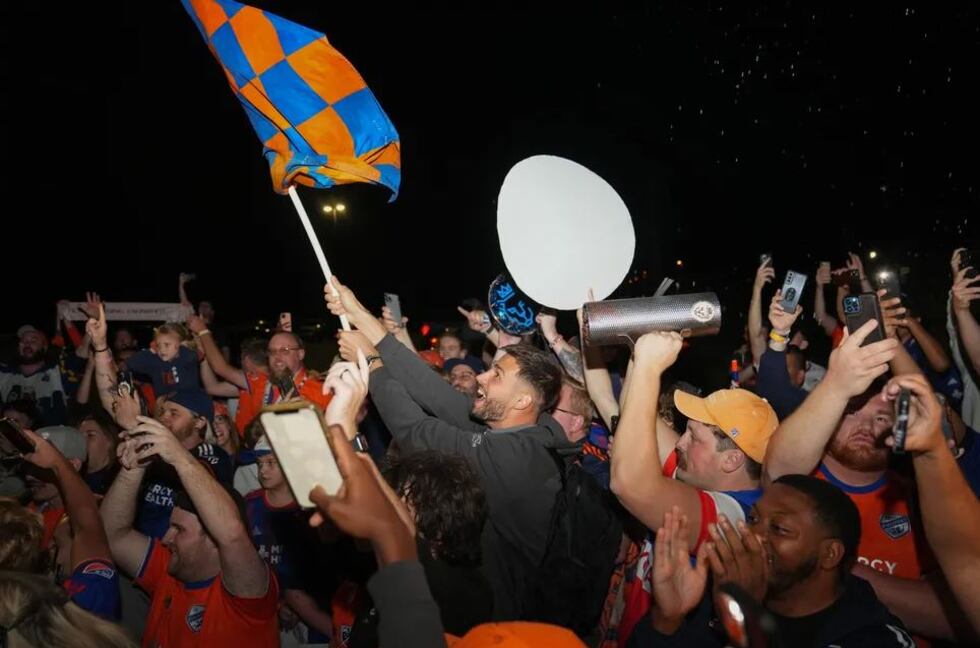 Boupendza's goal broke a second-half stalemate that followed a wild first half.
Brandon Vazquez scored twice in the 28th and 35th minutes, respectively. His 14th and 15th goals of the season for the club across all competitions seemed to have Cincinnati in an early position to clinch the Shield comfortably.
But Toronto's Jonathan Osorio scored two quick goals to knot the match before halftime.
The torrid pace of the match slowed in the second half. Eventually, FC Cincinnati grew in momentum and found the late Boupendza goal to see out the Shield-clinching victory.
In winning the Shield, FC Cincinnati completed a complete on-field turnaround in less than two full seasons. In 2021, FC Cincinnati finished last in MLS for the third consecutive year. As that season unfolded, it necessitated the hiring of General Manager Chris Albright from the Philadelphia Union.
Albright then hired Noonan, a noted Union assistant coach, to by FCC's manager. Noonan was hired in December 2021, and FC Cincinnati claimed the Shield 21 months later at around 9:40 p.m. Saturday.
Asked after Saturday's game if he thought the worst-to-first turnaround was possible in such a short period of time, Noonan said: "You think it's possible. Your ego, the belief always has you thinking big, and whether people think it's realistic or not, it doesn't matter. You work to try to achieve these accomplishments. It's just a credit to a lot of people... and really the players in the way they performed. The way they've grown as a group. Our entire technical staff, the front office - everybody.
"Hopefully, it's the beginning of more success and more trophies for this club."
FC Cincinnati still has more to play for in the regular season. Victories in each of its final three matches would give the club the league's single-season points record. New England Revolution's 2021 team holds the record with 73 points. Now on 65 points for the year, FC Cincinnati can finish with 74 if it wins out against New York at Inter Miami CF's DRV PNK Stadium on Saturday and at TQL Stadium Oct. 21 against Atlanta United in the season finale.
The Supporters Shield belongs to FC Cincinnati
A 19-4-8 record through 31 games was enough to clinch the Supporters Shield in 2023. That's how Major League Soccer will remember this season and FC Cincinnati's dominance of it. FCC holds on for the 3-2 win. Time to party and gird for the postseason.
FC Cincinnati is back in title-clinching position (71′)
We might look back and say there was something fitting about Aaron Boupendza scoring this particular goal if it's the one that clinches the Supporters Shield for FC Cincinnati. Boupendza, the player acquired in the secondary transfer window to expedite Cincinnati's chance at titles, blasted the ball into the side netting on a feed from Luciano Acosta. It's a 3-2 lead. FCC is close.
An attacking stalemate has broken out (60′)
A four-goal first half has given way to a much less entertaining second half. FC Cincinnati hasn't had any real threats and could look to its bench soon in order to liven things up.
Halftime
Incredibly, we're tied at halftime. FC Cincinnati dominated long stretches of the first half and looked like the better team but Toronto capitalized late on FCC errors to even the score.
Toronto pulls even (44′)
Last place Toronto still has some pride, as evidenced by turning around its two-goal deficit. Jonathan Osorio headed home for his second score of the night to cap a Toronto counterattack. FC Cincinnati argued that Aaron Boupendza was fouled near the midfield line but the goal stood.
Toronto is on the scoreboard for 2-1 (38′)
Unfortunate break for FC Cincinnati after largely dominating the game in the first half. Goalkeeper Roman Celentano fumbled the ball on a shot that should have been saved. TFC's Jonathan Osorio was there to pounce on the error with a simple, unopposed tap-in from close range.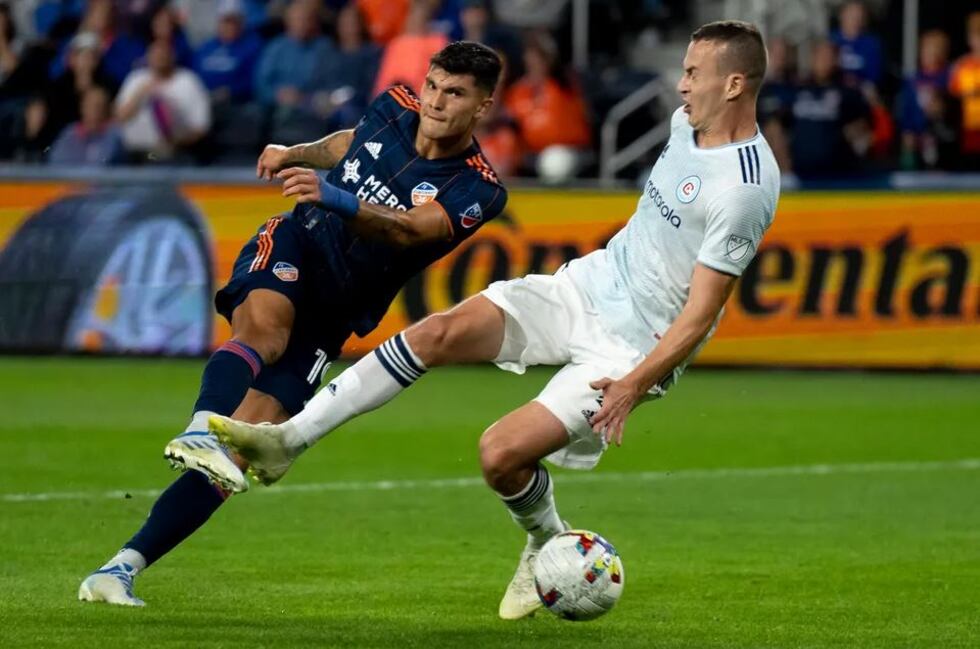 It's Vazquez again (35′)
Brandon Vazquez is in classic form for him, and that means clinical poaching and finishing. He banged home the rebound off an Aaron Boupendza shot that was saved, making it eight tallies in MLS play and 15 across all competitions.
Brandon Vazquez score a potentially historic goal (28′)
FC Cincinnati had been buzzing around the Toronto net for almost 20 minutes and finally made good on an opportunity via Brandon Vazquez. The score was his seventh of 2023 in league play and his 14th across all competitions (including the U.S. Open Cup and Leagues Cup tournaments). As of now, FC Cincinnati will clinch the Supporters Shield, but there's plenty of soccer left to play.
FC Cincinnati growing into the match (15′)
Toronto hit the post early, but FC Cincinnati is picking the hosts apart now. It feels like there could be a goal coming after close chances by Aaron Boupendza and Yerson Mosquera.
Is tonight the night for FC Cincinnati? (1′)
We're underway in Toronto, where FC Cincinnati can make club and MLS history and where BMO Field has quite a few empty seats. That's to be expected at the tail end of a season that's so far netted them four wins.
FC Cincinnati, Toronto FC starting lineups
FC Cincinnati starting XI: Roman Celentano (GK), Alvaro Bareal, Yerson Mosquera, Matt Miazga, Ian Murphy, Santiago Arias, Obinna Nwobodo, Junior Moreno, Luciano Acosta, Brandon Vazquez, Aaron Boupendza.
Cincinnati bench: Alec Kann (GK), Alvas Powell, Nick Hagglund, Yuya Kubo, Marco Angulo, Dominique Badji, Malik Pinto, Ray Gaddis, Bret Halsey.
Toronto FC starting XI: Luka Gavran, Aime Mabika, Michael Bradley, Them Antonglou, Alonso Coello, Jonathan Osorio, Kobe Franklin, Latif Blessing, Federico Bernardeschi, Deandre Kerr.
Toronto bench: Romero, O'Neill, Gutierrez, Marshall-Rutty, Ibarra, Mailula, Vazquez, Mbongue, Owusu.
Pre-match updates
Starting lineups and dress lists are expected at around 6:45 p.m.

FC Cincinnati unavailable for the match: Stiven Jimenez, Quimi Ordonez.
Toronto FC unavailable for the match: Adama Diomande, Lorenzo Insigne, Sean Johnson (GK), Raoul Petretta, Greg Ranjitsingh (GK), Brandon Servania.
Referees/match officials: Alex Chilowicz (center referee), Jeremy Kieso (assistant referee one), Jeffrey Swartzel (assistant referee two), Fabrizio Stasolla (fourth official), Allen Chapman (video-assistant referee (VAR)), Claudiu Badea (assistant VAR).
See a spelling or grammar error in our story? Please click here to report it.
Do you have a photo or video of a breaking news story? Send it to us here with a brief description.
Copyright 2023 CINCINNATI ENQUIRER. All rights reserved.