Joey Votto wants to play again but doesn't know if it will be with Reds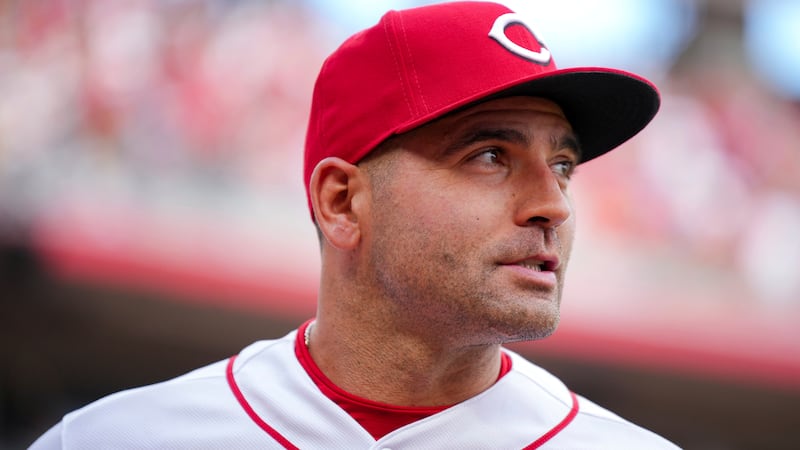 Published: Oct. 6, 2023 at 12:32 PM EDT
CINCINNATI (WXIX) - Joey Votto wants to play one more year, but he does not know if that will be as a member of the Cincinnati Reds.
Votto was a guest Friday on the "Dan Patrick Show" and talked about what is next for him.
The start of the interview might give Reds fans a panic attack.
Dan Patrick opened by jokingly saying, "He's here to announce his retirement."
Votto laughed and said the only retirement announcement he had for Friday was he would be retiring from appearing on Patrick's show.
When asked what his current status is, Votto bluntly said, "Unemployed."
He explained that the Reds have an option for the 2024 season, which gives them the choice to bring back the former MVP or let him go.
The 17-year veteran made it clear he does not want to retire.
"I want to play again, one more," Votto said. "At least one more year... The last couple of years crumby. I wasn't healthy for two years, so I'd like to play well. It's not the taste I want to leave in my mouth."
The 2010 National League MVP said his preference would be to be back with Cincinnati, but again, that decision is in the hands of the Reds' front office.
So, if the Reds choose not to bring him back, what's next?
Votto explained, "If not, then I'll have a new experience. I'll be a free agent for the time in my professional baseball career. I don't know how excited I am about that."
Reds fans, like Votto, knew he might not be back with Cincinnati when the team played their final home game of the 2023 season.
The Toronto native got a standing ovation in the city that cheered him on for nearly two decades.
"I very nearly cried," Votto said in his Sept. 24 post-game press conference when talking about his relationship with Reds fans.
See a spelling or grammar error in our story? Please click here to report it.
Do you have a photo or video of a breaking news story? Send it to us here with a brief description.
Copyright 2023 WXIX. All rights reserved.