Bengals fans support 11-year-old with rare brain cancer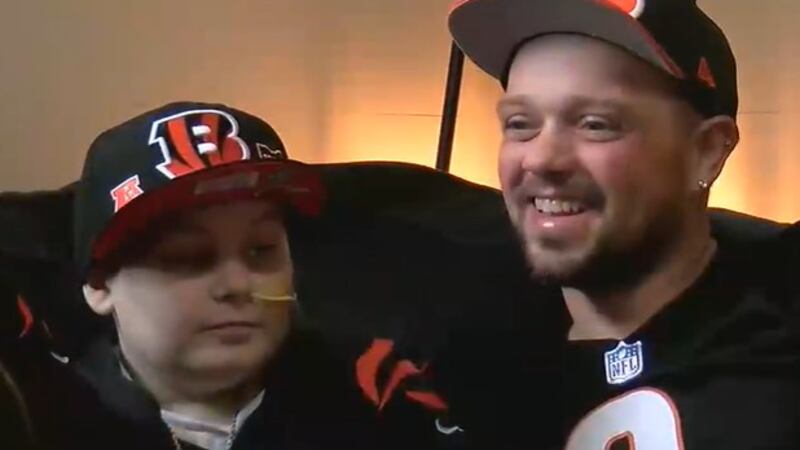 Published: Oct. 15, 2023 at 2:52 PM EDT
CINCINNATI (WXIX) -Bengals fans are supporting an 11-year-old boy who was diagnosed with an aggressive form of brain cancer, reminding everyone that there is more to the game of football.
Bengal Jim hosted a Before the Roar Tailgate Experience prior to the Bengals game against the Seattle Seahawks in honor of Gavin Hogie, a northern Kentucky boy who has been battling medulloblastoma group three and trying to live life to the fullest.
Organizers of the tailgate say it's not about the Bengals winning or losing, but it is about raising money for charities and kids like Gavin.
Gavin's family said in September that he went through several weeks of radiation treatment and intensive chemotherapy treatments.
During the chemo, Hogie underwent several surgeries, but the fourth and last treatment landed him in the ICU. He eventually had to have an emergency MRI, and through the MRI, doctors found out that the cancer had been growing, Gavin's father, Darren Hogie, said.
With nothing left to do, doctors gave Gavin and his family a final message.
"Go home and make as many memories as possible with him," Darren said.
One of those memories was getting to meet, talk, and get autographs from the Bengals' stars he calls "family members."
Burrow, Chase, Tee Higgins, and other Bengals stopped to meet Gavin in late September.
"I didn't know what to think," Gavin said of when he met the Bengals players. "I was just so excited because, I mean, no one's ever done that for me."
Gavin's parents say it is extremely important to make as many memories with him as possible, and they were able to do that with the support of the Bengals.
See a spelling or grammar error in our story? Please click here to report it.
Do you have a photo or video of a breaking news story? Send it to us here with a brief description.
Copyright 2023 WXIX. All rights reserved.