Caught on cam: Man stomps on several mailboxes in NKY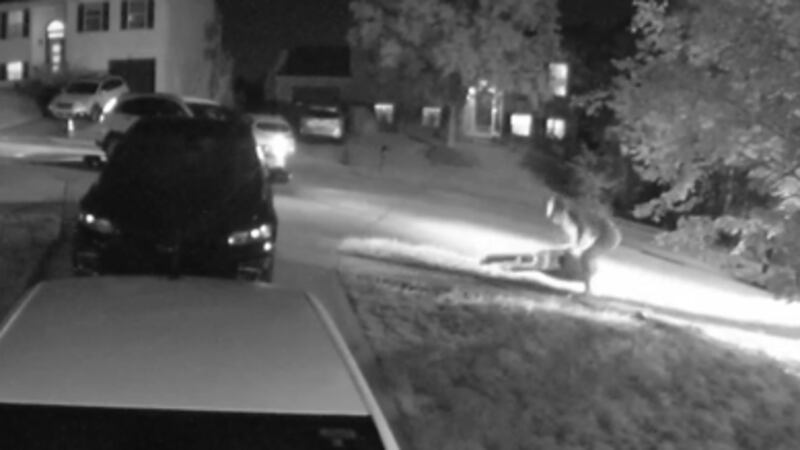 Published: Oct. 23, 2023 at 5:22 PM EDT
COVINGTON, Ky. (WXIX) - Several people in a Covington neighborhood woke Sunday morning to see that someone had broken their mailboxes.
Neighbors say they could hear loud thumps the night before but it was so dark they didn't know what happened.
It wasn't until Sunday that they came outside and noticed their mailboxes had been broken.
A neighbor's Nest doorbell camera caught a man running into a mailbox with his vehicle.
The mailbox did not fall all of the way, so he pulled it to the ground, sat on it twice, and ran away.
At first, neighbors said they thought a drunk driver caused the damage.
Lacey Cain lives on Blueridge Drive and Hands Pike.
Cain says when she came outside Sunday morning she saw her neighbor's green mailbox broken.
Just down the street, she noticed her nephew's mailbox was also damaged.
"Well, they moved out a couple of weeks ago, so at first, I was like, oh maybe they just put their box down so they wouldn't get mail, but then when we walked up the street, my nephew was actually at the house. He got his mailbox demolished too," Cain said.
The woman who sent the video to FOX19 says this is all part of a TikTok trend where kids break random mailboxes and then run away.
"I honestly think it's just local kids with nothing better to do. It's really quiet around here usually, especially at night. I think that more police shouldbe monitoring our subdivisions," Cain said.
Lieutenant Justin Bradbury with the Covington Police Department says breaking a mailbox can be a federal offense depending on the cost of the mailbox. He says if you're caught, you will be arrested.
See a spelling or grammar error in our story? Please click here to report it.
Do you have a photo or video of a breaking news story? Send it to us here with a brief description.
Copyright 2023 WXIX. All rights reserved.