So cute! NKY police department introduces new K-9 puppy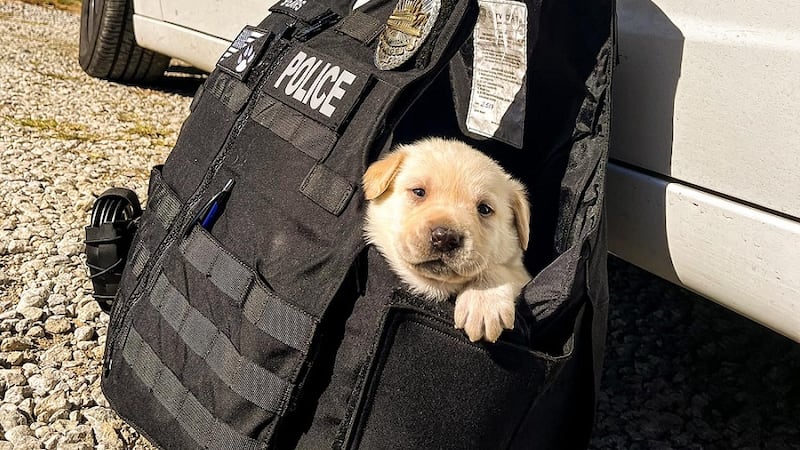 Published: Oct. 24, 2023 at 3:34 PM EDT
DAYTON, Ky. (WXIX) - The Dayton, Kentucky police department has a new K-9 recruit named Cooper.
The Labrador puppy was born on Sept. 26 at Bucks Run Labradors in Ghent.
Cooper's handler, Officer Robert Spears, went to pick him out of the litter.
Officer Spears says Cooper will be a "single purpose K-9″ so he will be trained to detect narcotics only, however, "We chose a Labrador so that he could be involved with community outreach. So he will get to go to all the city events I can get him to and interact with the people he serves."
Cooper will be coming home with Officer Spears in about three weeks and he will start kennel training and housebreaking.
"He will be on the road with me a couple of shifts a week to get used to the car and get socialized," Spears said. "He will start obedience training shortly after that with a local company."
Officer Spears says at around 6 months old, they will see if Cooper is mature enough to start narcotics training, and as a new handler Spears will learn alongside him.
The K-9 should be on the road working full-time by next summer, Spears said.
Cooper was donated by the breeder, medical care will be donated by a local vet, and his food will be provided by Pet Wants in Fort Thomas.
Officer Spears wants people to know it wasn't just the police department alone but the community as a whole that made this happen.
See a spelling or grammar error in our story? Please click here to report it.
Do you have a photo or video of a breaking news story? Send it to us here with a brief description.
Copyright 2023 WXIX. All rights reserved.