NKY family hopes benefit can pay for life-saving surgery for toddler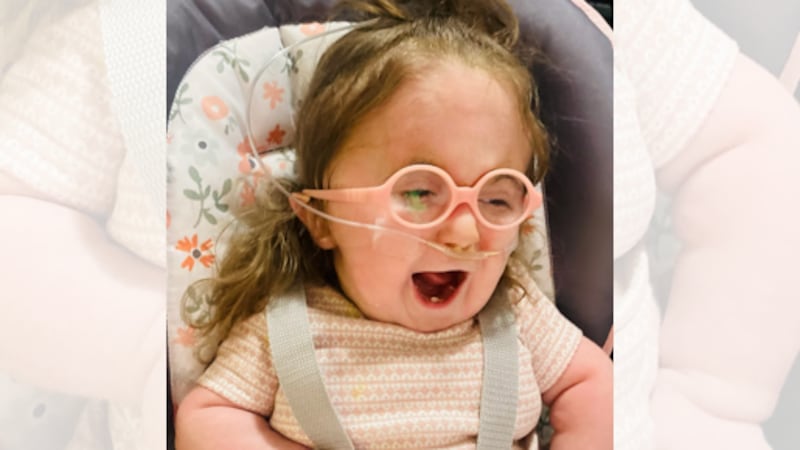 Published: Oct. 26, 2023 at 9:24 PM EDT
WALTON, Ky. (WXIX) - A Northern Kentucky family is hoping to raise enough money at a benefit Saturday to pay for a life-saving trip to Boston Children's Hospital for their 1.5-year-old daughter.
Life has been a constant fight for Oakleigh Wise. The toddler has battled constant illness and endless hospital stays before she's turned two. Wise was born at 29 weeks after her mother, Samantha Courtney, caught COVID-19.
Wise has Pulmonary Vein Stenosis on top of other medical issues and complications. Courtney said doctors have given her a chance of living only 1-to-5 years because of the rare condition. Boston Children's Hospital is one of two hospitals in the country that treat the disease, but it's expensive.
The toddler is scheduled to be treated at the hospital starting Nov. 10 and is hoping to raise the funds needed for their stay at a benefit at the Holiday Inn in Bellevue, Ky. on Saturday. The benefit runs from noon to 10 p.m.
Local businesses have pitched in with food and there will be prizes and raffles along with ways for people to donate money to help with Wise's surgery and care.
"We have to drive because Oakleigh can't fly," Courtney said. "It's $75 a night, but it adds up. We will be there at least a month, maybe longer."
Courtney said the family has struggled financially already. Wise has two brothers that Courtney cares for. Because of her daughter's condition, she's forced to stay home while her husband works and the family navigates a never-ending sea of bills and expenses.
She said she's been so focused on her own family and taking care of Wise she was overwhelmed by those taking an interest in her daughter's health and trying to help out.
"I've been stuck in my own world," Courtney said. "To see everyone come together and try to fight for Oakleigh - it's overwhelming."
The Holiday Inn in Bellevue, Ky. donated the room for the event. She said a list of local businesses and restaurants have donated prizes, food and other items to be auctioned off or to feed people who attend. Courtney said there will be raffles, games and other prizes and she hopes the event can bring a big crowd.
Courtney said her daughter has been a fighter since she's been born, despite her multiple complications. Besides PVS, she's battling cerebral palsy, brain bleed, heart disease and a condition that's kept her skull from fully forming. Despite the challenges, Courtney said her daughter has been a blessing to her whole family and she's going to continue fighting to improve her health.
"She's definitely changed our life for the better," Courtney said. "This little girl has given us strength we didn't know we had."
The benefit has a $10 door charge and is free to children 12 years old and under.
See a spelling or grammar error in our story? Please click here to report it.
Do you have a photo or video of a breaking news story? Send it to us here with a brief description.
Copyright 2023 WXIX. All rights reserved.