FC Cincinnati cruises to MLS Cup playoff win in first game against New York Red Bulls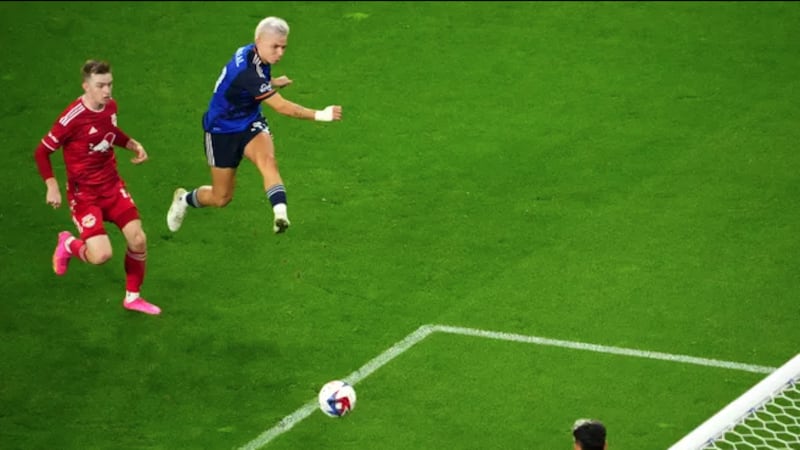 Published: Oct. 30, 2023 at 8:16 AM EDT
CINCINNATI (ENQUIRER) - FC Cincinnati's job in the first round of the MLS Cup playoffs is halfway completed, writes our media partners at the Cincinnati Enquirer.
Top-seeded FC Cincinnati brushed aside the New York Red Bulls, 3-0, on Sunday at TQL Stadium in Game One of the best-of-three first round playoff series before a crowd of 24,022.
The match was the first home playoff game for FC Cincinnati at TQL Stadium and Sunday's victory ensured the venue would host at least one more postseason match this year. A Cincinnati win in Game Two at Red Bull Arena on Saturday would secure the club's progression to the conference semifinals while a loss would force a decisive Game Three against New York back at TQL Stadium on Nov. 11.
"A good start to the postseason and a very physical game," FC Cincinnati head coach Pat Noonan said after the match. "A lot of duels and just a game where guys just needed to roll up their sleeves and battle and hope that we could get a couple moments of quality, which we did. So, very pleased with the overall performance from the guys and starting off with a strong win."
FC Cincinnati is in position to deliver the knockout blow to the Red Bulls in the next game after a rare lopsided win in the all-time series between the club.
Defender Alvaro Barreal got the scoring started hit a wide-angle goal that brought the crowd to life in the 23rd minute. Junior Moreno assisted on the play. The two players both bleached their hair ahead of the game and celebrated together after the goal.
Luciano Acosta doubled FCC's lead in the 35th minute when he lofted a shot into an empty net from 40 yards out. A slow-rolling back pass to RBNY goalkeeper Carlos Coronel forced Coronel to dart off his line to clear the ball away from an on-rushing Dominique Badji. The clearance fell straight to Acosta about 10 yards away, and he one-hopped the ball into the gaping net for 2-0.
"I did not hit it well but, yeah, you know I just saw that the goal was open and I had to hit that," Acosta said via a team interpreter. "It all came from great pressure from (Badji), so that goal is really all thanks to Dom... I think we played a great game tonight. I think we played a different game than we've played in the past couple. I thought the first half especially, we were really, really good. A really good game from us. We did not play the way they wanted us to play, which was key."
The score was the second of Acosta's postseason career with FCC. Both were scored against the Red Bulls, including one in last season's single-elimination first-round game at Red Bull Arena.
Cincinnati's performance from start to finish didn't leave fans wanting for much. The club answered critics who pointed out FCC hadn't played well down the stretch in the regular season.
"I will say over the past month, we haven't been our strongest," Noonan said. "Maybe it was what was at stake and the start of the playoffs, but they stepped up and knew the challenges that were in front of them and I thought managed the game in a pretty strong way. We found some moments of quality in the form of Alvaro and just a selfless moment of running with Dom (Badji) to create Lucho's opportunity, which is something he always provides for us. So, an impactful moment that obviously gives you the second goal, which was important."
After scoring the goal to take the lead and adding another as insurance against being dragged into penalty kicks by RBNY, absorbing pressure was the main job in the second half. FCC saw out the win without much fuss – a skill it honed throughout the regular season.
Cincinnati goalkeeper Roman Celentano had a strong night in earning the first postseason shutout of his career, making five saves.
Then, in the closing moments of the 90 minutes, Barreal netted again, scoring on a volley that secured a comprehensive win.
"Really, really happy with the game. Happy with the way we played as a team and obviously to score two goals," Barreal said via a team interpreter. "On both goals, the moment just came to me and I struck but just happy to score two goals."
Only Matt Miazga and Barreal picked up yellow cards from referee Rubiel Vazquez. A suspension in the postseason only results from three yellow cards through the conference semifinal round. Card totals then reset for the conference final round.
FC Cincinnati finds itself 90 minutes away from advancing to the second round of the MLS Cup playoffs for the second straight year.
"Well, we don't deserve to go on (yet) because we've only won one and you need to win two. That's been the approach for this first series," Noonan said. "Yeah, there's been a lot of conversations around the format, but everybody has to deal with the same format. We can't think about what we do or don't like about it. We just have to go and play, and if we do that in a strong way like we did tonight, then we get to the portion of the playoffs that looks familiar and then it looks a little different because you have to perform on the night or your season is over. Hopefully, we're in a position to be talking about an elimination game, a one-off, but we have to do our job to finish off this best of three."
Game One to FCC
FC Cincinnati will for the knockout blow at Red Bull Arena next week. The club has advanced from its last two knockout-round matches at the venue, including last year's MLS Cup playoffs first round win and this past summer's U.S. Open Cup game decided on penalty kicks.
The finishing touch for FCC (89′)
Alvaro Barreal scored his second of the night on a sweet volley. That'll do it this game. FC Cincinnati can eliminate the Red Bulls next weekend.
Is New York digging in or packing up?
RBNY started the second half with three substitutes on the field. Exiting the match were Sean Nealis, Dru Yearwood and Omir Fernandez. Dylan Nealis, Peter Stroud and Cameron Harper came on for them. A 2-0 deficit is hardly insurmountable, so these are likely reinforcements for a comeback push. But if the deficit gets worse or RBNY starts to run short on time, you could see them close up shop tonight and look to Game Two on Saturday since aggregate scoring isn't being used in the new playoff format.
FC Cincinnati leading at the break
A shoving match between FC Cincinnati's Dominique Badji and RBNY's Sean Nealis preceded the halftime whistle. FCC should expect more physicality and invitations to act recklessly given the playoff format and the fact that RBNY could determine the match a total loss and cut its proverbial bait. If the outcome is essentially decided, the score won't matter. A lopsided win counts the same as a narrow one.
A wild goal for 2-0 (35′)
Luciano Acosta lobbed a shot in from about 40 yards to cap quite a sequence of events. RBNY goalkeeper Carlos Coronel was out of position after he charged off his line and slid in to beat FCC's Dominique Badji to the ball. Coronel's attempted clearance didn't really avert any of the danger as the ball fell to Acosta, who took a couple touches and lofted the ball into an empty net. The goal was Acosta's second playoff goal in his Cincinnati career.
First blood to FC Cincinnati (23′)
Alvaro Barreal scored on a slick, side-angle finish for 1-0. It was the first postseason goal in MLS and the 18th of his FC Cincinnati career across all competitions.
The first TQL Stadium MLS Cup match begins (1′)
At 8:09 p.m. in a light mist and some heavy smoke cover from the pre-game pyrotechnics, FC Cincinnati kicked off its first-ever home playoff match at TQL Stadium. It's the first home playoff game for the organization since in over five years (October 2018, USL Cup playoffs).
Starting lineups for FC Cincinnati, New York Red Bulls
FC Cincinnati starting XI: Roman Celentano (GK), Yerson Mosquera, Matt Miazga, Ray Gaddis, Alvaro Barreal, Ian Murphy, Obinna Nwobodo, Luciano Acosta (captain), Junior Moreno, Dominique Badji, Brandon Vazquez.
Cincinnati bench: Alec Kann (GK), Yuya Kubo, Marco Angulo, Aaron Boupendza, Sergio Santos, Malik Pinto, Isaiah Foster, Bret Halsey, Gerardo Valenzuela.
New York Red Bulls starting XI: Carlos Coronel (GK), Andres Reyes, Kyle Duncan, Sean Nealis (captain), John Tolkin, Frankie Amaya, Dru Yearwood, Omir Fernandez, Elias Manoel, Tom Barlow, Luquinhas.
Red Bulls bench: Peter Stroud, Jorge Cabezas, Dylan Nealis, Cameron Harper, Ryan Meara, Wikelman Carmona, Serge Ngoma, Daniel Edelman.
See a spelling or grammar error in our story? Please click here to report it.
Do you have a photo or video of a breaking news story? Send it to us here with a brief description.
Copyright 2023 Enquirer. All rights reserved.