Joe Burrow, other NFL players dress up for Halloween. Here are the best costumes of 2023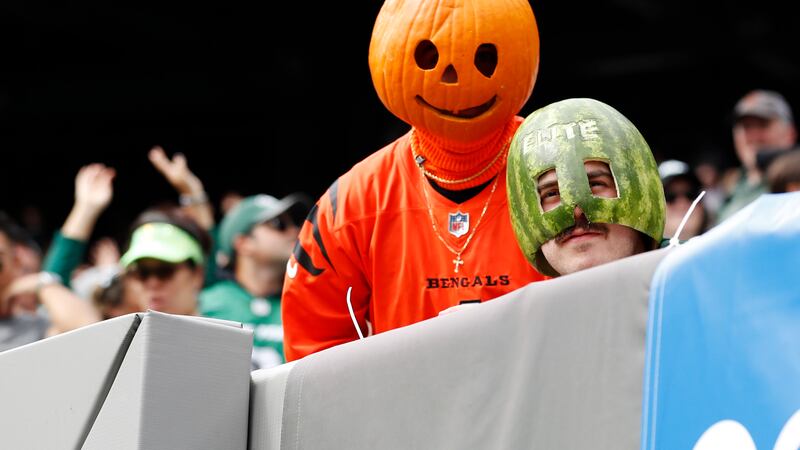 Published: Oct. 31, 2023 at 9:21 AM EDT
|
Updated: Oct. 31, 2023 at 9:22 AM EDT
CINCINNATI (ENQUIRER) - The NFL is embracing the Halloween spirit again this year.
Several players, including Cincinnati Bengals quarterback Joe Burrow, have been celebrating spooky by showing up to their games dressed in their best costumes. Some teammates coordinated while some stars made their own scary statements.
Here are the best NFL player Halloween costumes of 2023, according to our media partners at The Cincinnati Enquirer.
Myles Garrett - The Creeper
Starting with my personal favorite: Myles Garrett's Creeper costume.
The Cleveland Browns defensive end showed up as The Creeper from the 2001 horror film "Jeepers Creepers" with a full mask, gloves, bloodied shirt and tattered coat.
Micah Parsons - Lion
Take a seat Bengals fans. There's a new king of the jungle.
Dallas Cowboys linebacker Micah Parsons is known for being ferocious on the field. So, it's no surprise that Parsons would show up in a lion onesie.
Kyler Gordon - Spider-Man
Kyler Gordon was ready to sling some webs against the Chargers in this Spider-Man suit. The Chicago Bears cornerback even mastered the Marvel hero's signature stance.
Jordyn Brooks - Fresh Prince
Seattle Seahawks linebacker Jordyn Brooks, born in 1997, channeled the 1990s for his Halloween look. The boom box, bucket hat and graffiti details were a tribute to the classic sitcom "The Fresh Prince of Bel-Air."
Cameron Thomas - Mr. Incredible
Mr. Incredible, a.k.a linebacker Cameron Thomas, is here to save the Cardinals season. Or at least bring some smiles.
Joe Burrow - Alien
Joe Burrow was in the Halloween spirit this weekend, sporting an alien mask with a NASA sweatshirt as the team arrived in San Francisco.
"We always knew he wasn't human," read the caption from the Bengals' official Instagram account.
Jets defenders - Akatsuki from 'Naruto'
Jermaine Johnson, Will McDonald IV and Bryce Huff dressed up as members of the Akatsuki from "Naruto," causing a stir on social media this weekend. Johnson wore an orange spiral mask as Obito Uchiha and McDonald IV wielded a large blade.
Cordarrelle Patterson, Quincy Williams - Joker
Atlanta Falcons running back Cordarrelle Patterson and New York Jets linebacker Quincy Williams both showed up as Joker during Week 8 of the NFL regular season.
Laviska Shenault Jr. - Minion
Carolina Panthers wide receiver Laviska Shenault Jr. went all out in a blow-up Minion costume.
Preston Smith - Michael Myers
Green Bay Packers linebacker Preston Smith looked extra spooky in the Lambeau Field parking garage in this Michael Myers costume.
Aidan Hutchinson - Sharkboy
Aidan Hutchinson wore a Sharkboy costume from the early 2000s movie "Sharkboy and Lavagirl," complete with a full-body shark suit and black wig to resemble a young Taylor Lautner, per the Detroit Free Press. The costume even drew the attention of Lautner himself, who complimented the Detroit Lions defensive end's effort on Instagram.
Tracy Walker - Slickback
Hutchinson wasn't the only Lions player in the spooky season spirit. Tracy Walker, a safety, also arrived at the Monday Night Football game dressed as Slickback, the Katt Williams character from the animated series "Boondocks," sporting a purple cheetah print suit and purple top hat to match.
This story was written by our media partners at The Cincinnati Enquirer.
Copyright 2023 Cincinnati Enquirer. All rights reserved.