An unsolved crime leads to the installation of a new Capitoline Wolf statue
Published: Nov. 3, 2023 at 12:10 PM EDT
|
Updated: Nov. 3, 2023 at 5:53 PM EDT
CINCINNATI (WXIX) - It has been over one year since someone stole the historic Capitoline Wolf statue from Eden Park, but on Friday, that empty pedestal where the original bronze sculpture once stood was filled again.
The City of Cincinnati held a rededication ceremony for the symbol as a new statue was shipped over from Italy and recast in the Twin Lakes area.
"We are thrilled now that it's back, and as you saw today, the number of people that came out just to celebrate the return of the statue," said President of Cincinnati Park Jim Goetz.
Dozens of Cincinnatians came out to Eden Park for the rededication this morning.
"It's been very heartwarming for me. It's been a 16-month effort we had to go through - it's been a lot of hiccups. A few times we didn't think it was going to happen," said President of the Sons and Daughters of Italy in America Joe Mastruserio.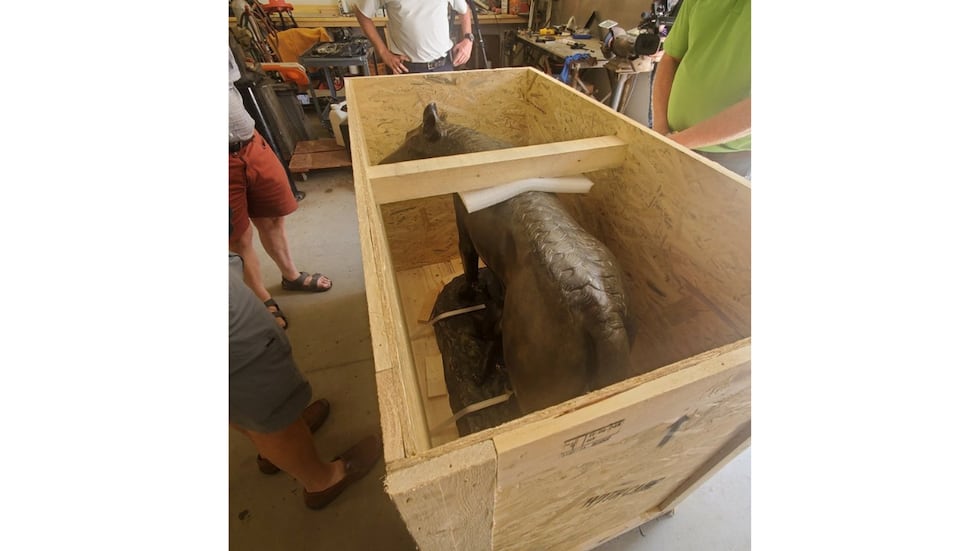 Gifted to Cincinnati from the City of Rome in 1931, the Capitoline Wolf represents the everlasting relationship between the two cities and is a replica of the Etruscan statue on Capitoline Hill in Rome.
People will see the infants Romulus and Remus, who were the mythical founders of Rome, underneath a mother wolf. Legend says the she-wolf saved the twins after they were sent into the Tiber River to die.
On June 16, 2022, the Roman gift was stolen after someone(s) cut the wolf from its paws and removed it from its platform.
Information as to where the wolf is and who stole it is a mystery to this day.
See a spelling or grammar error in our story? Please click here to report it.
Do you have a photo or video of a breaking news story? Send it to us here with a brief description.
Copyright 2023 WXIX. All rights reserved.