Ja'Marr Chase wants to recreate Chad 'Ochocinco' Johnson's famous camera TD celebration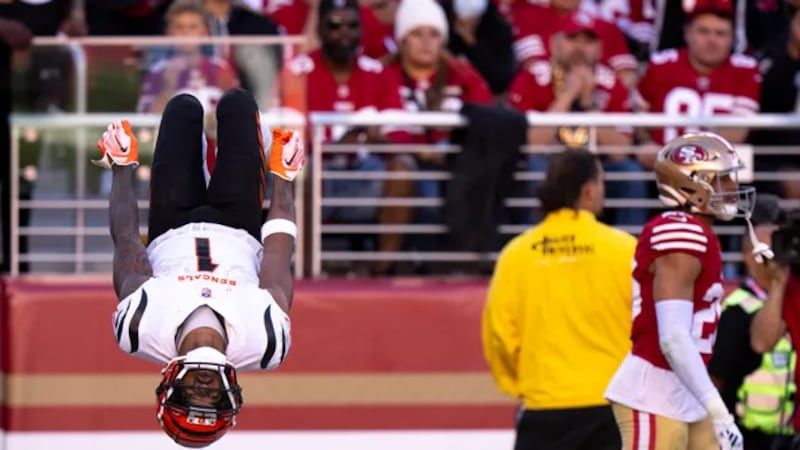 Published: Nov. 3, 2023 at 3:33 PM EDT
|
Updated: Nov. 3, 2023 at 3:34 PM EDT
CINCINNATI (ENQUIRER) - Cincinnati Bengals star wide receiver Ja'Marr Chase has a request for former Bengals wideout Chad "Ochocinco" Johnson ahead of Sunday's game against the Buffalo Bills at Paycor Stadium.
The request is that if Chase replicates Johnson's famous touchdown celebration, Johnson pay the fine the NFL would likely send Chase's way. Chase is known for his wildly popular touchdown celebrations and on Thursday, he said the one celebration he would like to do is dependent on Johnson, according to our media partners at The Cincinnati Enquirer.
The 23-year-old and two-time Pro Bowler wants to go grab the TV camera in the end zone and grab control of it if he scores a touchdown. He doesn't want to pick up the fine that would come with it, though.
Seattle Seahawks wide receiver DK Metcalf did the same thing and was fined $6,131 dollars for his touchdown celebration.
The NFL has strict rules on touchdown celebrations, and this would fall into the category of unsportsmanlike conduct, according to the league's policy.
Johnson responded to Chase's request and said to go ahead with the celebration and that he would pick up the fine.
Chase is re-writing the Bengals' record books and wants to recreate Johnson's famous touchdown celebration in his own way. Perhaps it could be this weekend if Chase finds his way into the end zone against the Bills.
This story was written by our media partners at The Cincinnati Enquirer.
Copyright 2023 Cincinnati Enquirer. All rights reserved.