Joey Votto out as Cincinnati Reds decline 2024 option on franchise icon's contract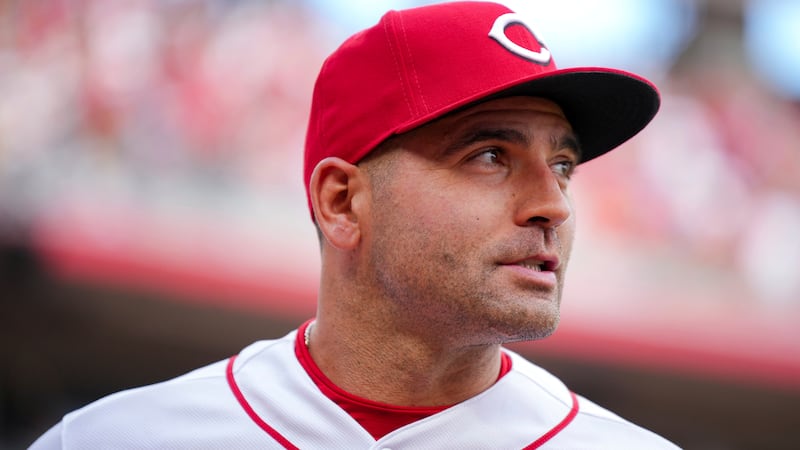 Published: Nov. 4, 2023 at 12:35 PM EDT
|
Updated: Nov. 4, 2023 at 2:07 PM EDT
CINCINNATI (CINCINNATI ENQUIER) -Wherever the Cincinnati Reds' youth movement takes them in 2024, they'll get there without Joey Votto.
The Reds declined the franchise icon's $20 million contract option for next season, making Votto a free agent and ending a 22-year relationship with the six-time All-Star and 2010 MVP with a Saturday morning announcement minutes ahead of the day's first college football kickoffs, according to our media partners with the Cincinnati Enquirer.
They elect instead to pay the $7 million buyout on the franchise-record 10-year, $225 million contract.
"For 17 seasons, Joey has been the heart of Reds baseball as a Most Valuable Player, All-Star, and respected clubhouse leader," team president Nick Krall said in a statement released with Saturday's announcement. "His contributions to our team and his extraordinary generosity toward those in need throughout our region and beyond cannot be measured.
"At this point of the off-season, based on our current roster and projected plans for 2024, as an organization we cannot commit to the playing time Joey deserves. He forever will be part of the Reds' family, and at the appropriate time we will thank and honor him as one of the greatest baseball players of this or any generation."
Votto, who returned this season from a 10-month shoulder injury, said early last month he wanted to play next season.
His hometown, Toronto Blue Jays, could be a possible destination after the retirement of left-handed first baseman/designated hitter Brandon Belt following the season.
Only four other players have spent their entire careers, for that many seasons, with the Reds: Dave Concepcion (19 seasons), Barry Larkin (19), Bid McPhee (18) and Johnny Bench (17).
"Being from the area, he's the first player who comes to mind as somebody who's represented the franchise throughout my life," said Reds catcher Luke Maile, who graduated from Covington Catholic two years after Votto debuted with the Reds.
Votto, a second-round draft pick of the Reds in 2002 out of Toronto, a few months after teammate Elly De La Cruz was born, was part of four Reds playoff teams during his career.
After returning from the injury this season, he hit .202 with 14 homers — including 13 in his first 39 games back — and a .747 OPS.
He later spent another two weeks on the injured list to strengthen the shoulder and returned to hit his final home run as a Red on his 40th birthday, Sept. 10.
On the Reds career leaderboards, the franchise's all-time leader in walks (1,365) also ranks:
Second to Joe Morgan (.415) in on-base percentage at .409.

Second to Pete Rose (4,645) in total bases at 3,706.

Second to Johnny Bench (389) in home runs at 356.

Second to Frank Robinson (.943) in OPS at .920.

Fourth in WAR (baseball-reference.com) at 64.4, behind Rose, Bench and Larkin.

Sixth in slugging at .511, behind Robinson, Adam Dunn, George Foster, Ken Griffey Jr. and Ted Kluszewski.

Sixth in games, with 2,056, behind Rose, Concepcion, Larkin, Bench and McPhee.

Also fifth in plate appearances (8,746), fifth in hits (2,135), fourth in runs (1,171), third in RBIs (1,144).
And perhaps first in the hearts of teammates.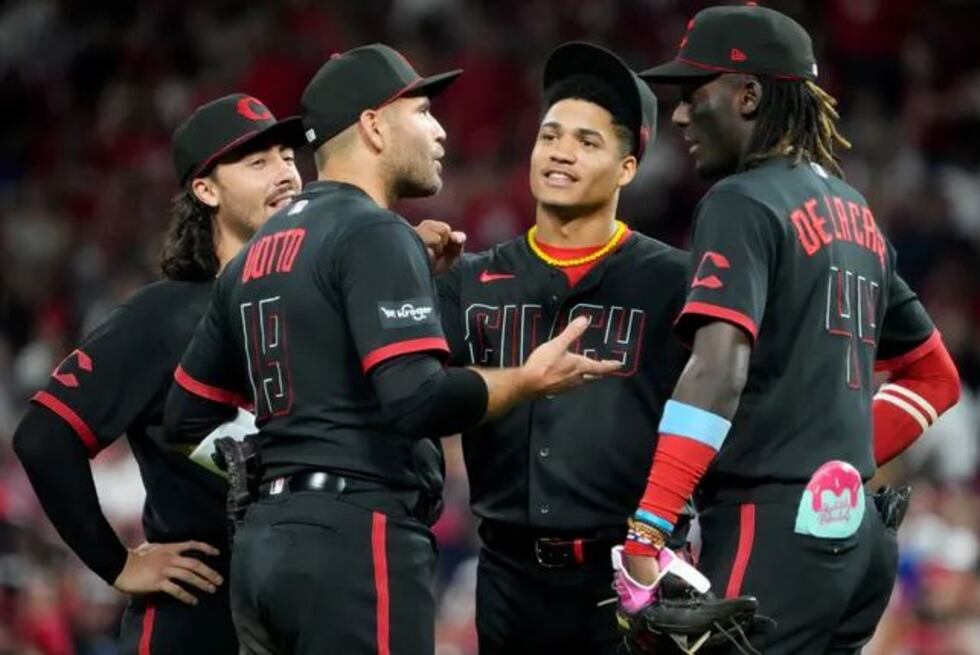 Young Reds players, from infielders Jonathan India and Matt McLain to starting pitcher Hunter Greene lined up to tell stories about Votto's influence behind the scenes on a group that found itself in contention for a playoff spot until the second-to-last game of the season.
"He brings a lot of value to this team. And this clubhouse," said Greene, the only player who ended the season under contract for next year ($3.3 million).
"I want him back," McLain said.
Votto's value to the Reds' bottom-line has been apparent from the time he gained popularity as an intriguing young All-Star and MVP all the way through 2023, when sales of his replica jerseys ranked 13th in the majors, higher than any other Reds player — despite spending the first 11 weeks on the injured list returning from shoulder surgery.
"The economics are there," said Karen Forgus, the Reds' senior vice-president for business operations.
And without Votto in the organization, the loss of that part of the team's brand is just as real.
"Absolutely. There will be change," Forgus said during a conversation last month with the Enquirer. "If he wasn't with us in '23, there wouldn't be a Votto City Connect jersey. The minute he leaves your arsenal, you lose your ability to offer that reason for people to come to the ballpark."
Votto's esteem and value have reached far beyond the Reds' fan base and clubhouse during his 17 years in Cincinnati.
"He's a great baseball player. He's a great human being," Hall of Fame-bound hitter Miguel Cabrera said in September. "I'm glad I played a lot of years against him. And I see a lot of greatness about him. He's got my admiration. I respect him a lot."
Cabrera, who announced his retirement before the 2023 season began, also seemed to view the Reds decision on Votto's contract as an easy call once Votto decided he wanted to play next season.
"I hope if he wants to play for a couple years, they say, 'OK, let him play,' because he does so much for Cincinnati, for the city," Cabrera said. "People have to appreciate what he did for a lot of years in Cincinnati."
See a spelling or grammar error in our story? Please click here to report it.
Do you have a photo or video of a breaking news story? Send it to us here with a brief description.
Copyright 2023 WXIX. All rights reserved.