Chad Johnson shows his Bengals pride, leaves 2K tip at restaurant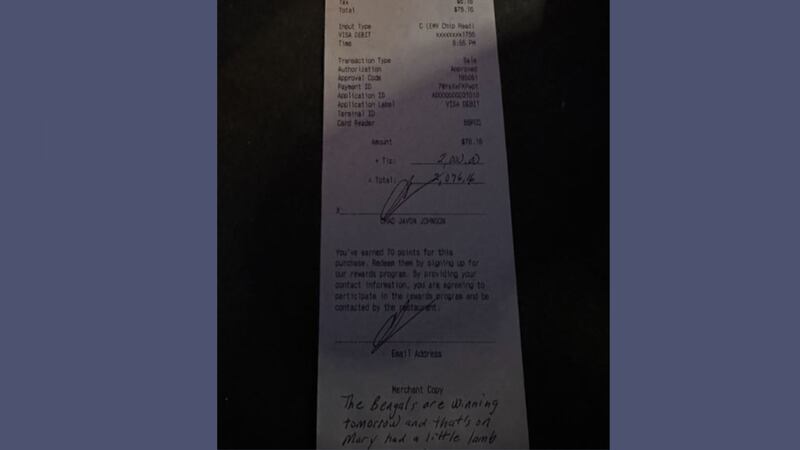 Published: Nov. 4, 2023 at 10:26 PM EDT
CINCINNATI (WXIX) - Once again, former Bengals wide receiver Chad Johnson left behind a generous tip at a local restaurant.
Johnson left a $2,000 tip at E+O Kitchen - The Banks for a bill just over $78 Saturday, the day before the Bengals face the Buffalo Bills at Paycor Stadium.
"The Bengals are winning tomorrow and that's on Mary had a little lamb," Johnson wrote on the merchant copy of the receipt.
After the tip, Johnson's bill came to $2,076.16 for medium well surf and turf, shrimp tempura and espresso.
Johnson posted the receipt on his Twitter account with the caption, Proverbs 11:25 (Bengals edition). According to the Bible, Proverbs 11:25 reads, "A generous person will prosper; whoever refreshes others will be refreshed.
The Miami, Florida native has been known for his generosity. In January and September 2023, he visited Holy Grail Restaurant and tipped $1,000 both times. He also left $1,000 to a North Carolina server in 2022.
See a spelling or grammar error in our story? Please click here to report it.
Do you have a photo or video of a breaking news story? Send it to us here with a brief description.
Copyright 2023 WXIX. All rights reserved.