Joey Votto posts farewell video to Reds fans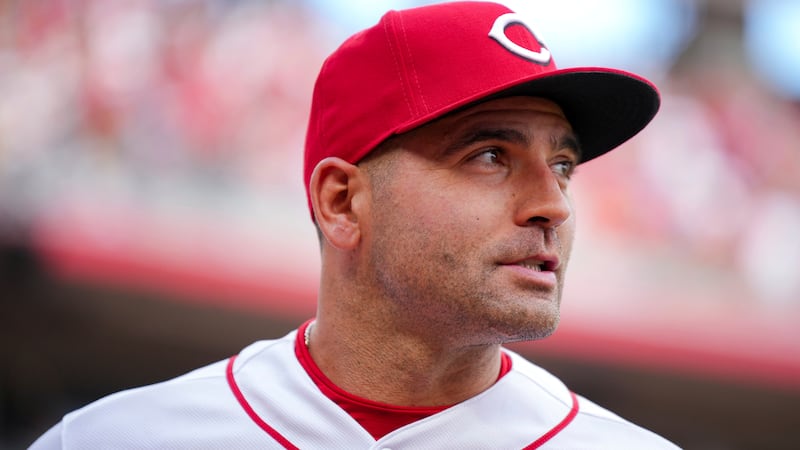 Published: Nov. 5, 2023 at 10:13 AM EST
|
Updated: Nov. 5, 2023 at 10:15 AM EST
CINCINNATI (WXIX) -Joey Votto took to X, formerly known as Twitter Sunday, to bid a heartwarming farewell to Cincinnati Reds fans one day after the Reds declined Votto's $20 million contract option for next season, making him a free agent.
Votto spent 17 seasons with The Reds.
"Happy Sunday morning," Votto said. "I wanted to speak directly to you all. After yesterday's news, I just wanted to say thank you. If this is the last time I speak as a Cincinnati Red, I want to speak out loud my gratitude. I want to thank the community. I want to thank Cincinnati for being so welcoming."
Votto goes on to talk about how intimidating it was to move to the U.S. from Toronto when he was 18 years old and how he eventually made it to the Queen City.
"That was another intimidating experience, but it blossomed into the best stretch of my entire life, and it's because of the Cincinnati community that I felt welcomed," Votto said. "The people on the street that would say 'hello' that would wish our team well. The first responders in the community that were always available and made me feel safe and cared for. Coming from a big city, it was such an enjoyable experience living the daily routine in Cincinnati."
He goes on to thank the Cincinnati community, including the first responders. Votto then talks about how he enjoyed his daily routine in Cincinnati.
"I couldn't have loved an experience more. And I'm so proud to have played for a team, the oldest Major League team, to play for a team that was just endless gifts coming my way. I'm so humbled. I'm so grateful. And it couldn't have happened without all of you. Without the Cincinnati community.
He then ends the video by stating how humble he is and how thankful he is to the Cincinnati community.
"I'm so humble, I'm so grateful, and it couldn't have happened without all of you, without the Cincinnati community. I'll always be a Cincinnati Red. The memories are endless," Votto said. "The growth as an individual, I'm so thankful, but I just want to say thank you, and I'll always, always a great deal of love. Cincinnati has such a special meaning to me. So thank you, and until next time."
See a spelling or grammar error in our story? Please click here to report it.
Do you have a photo or video of a breaking news story? Send it to us here with a brief description.
Copyright 2023 WXIX. All rights reserved.